Facebook Lookalike Audience: A Step-By-Step Manual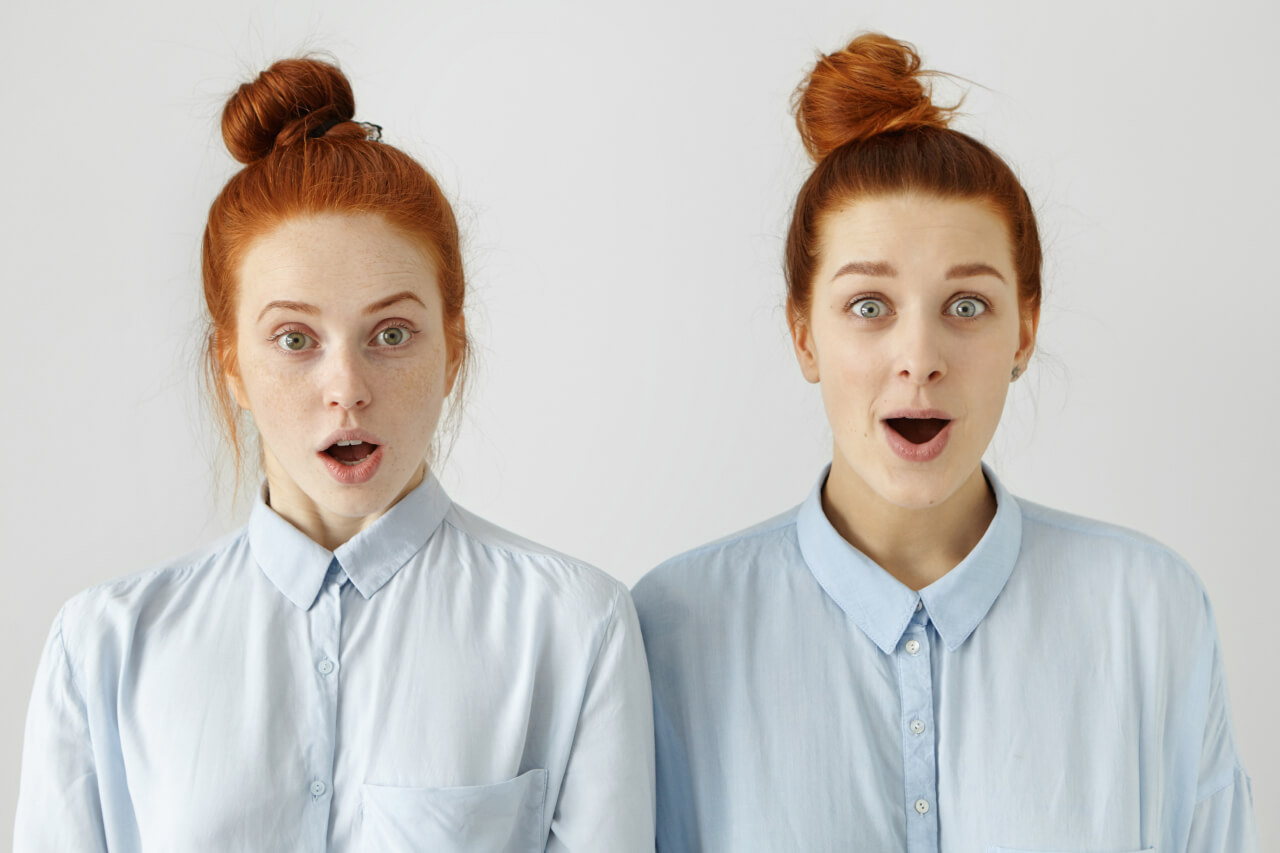 Do you want to know how you can attract more potential customers to your online store using Facebook advertisements? Well, with the help of Facebook lookalike audiences, it gets super easy to find more people that might be interested in your products.
Today, we will try to establish how to work with your already existing customers to find new potential buyers through Facebook Lookalike audiences.
What is a Facebook Lookalike audience?
A lookalike audience is created on the basis of your current audience's specific features. Analyzing your audience's actions (browsing and navigating your store, adding products to cart, placing orders, etc.) and behavior patterns, the system tries to see what these people have in common.
The collected data is then used to scan other Facebook users to find those who have similar behavioral patterns and to target them so they could see your ad campaigns.
Let's look at some of the benefits of setting up lookalike audiences:
Conversion rate boosts – this is possible because you are targeting not everyone at random, but only the people who are most likely to buy something from you
Opportunity to find new loyal customers – by configuring the lookalike audiences correctly, you'll make your ads seen by people who have some kind of interest in your offers
Lower marketing expenses – your budget is taken care of more efficiently since you target only the people you need.
Let's see how you can use Facebook's lookalike audiences to your advantage.
Creating a custom email audience
It is commonly agreed that using emails as the basis for creating lookalike audiences is the most effective way that will bring the most satisfying results. Why? Well, because you're going to be using the list of current customers' emails as a base to create your custom lookalike audience. So, you're almost cloning your client base.
Creating a Custom Email Audience
In Facebook Ads manager, head to the "Audiences" tab.

Click "Create audiences" and select "Custom Audiences" from the menu.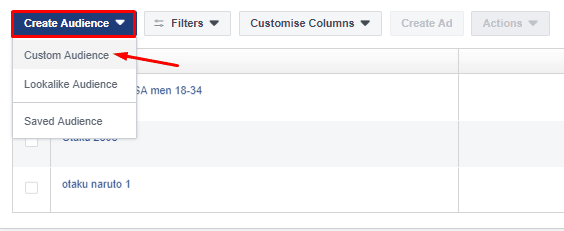 In the first window, find the "Customer File" option and click on it.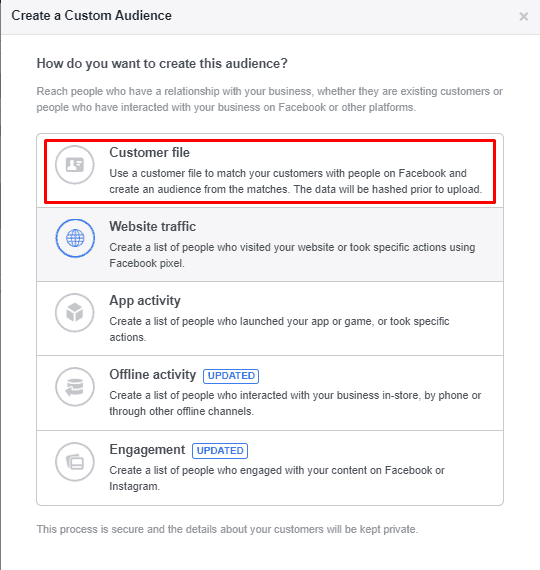 There you will see 2 options of adding email data:
Uploading your data as your own file and pasting the data
Importing the data from Mailchimp
Since you'll be uploading your list of emails, you need to choose the first option.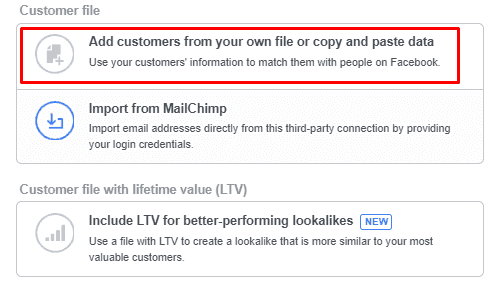 In the next window, in the Original data source tab, you need to choose the Directly from your customers option.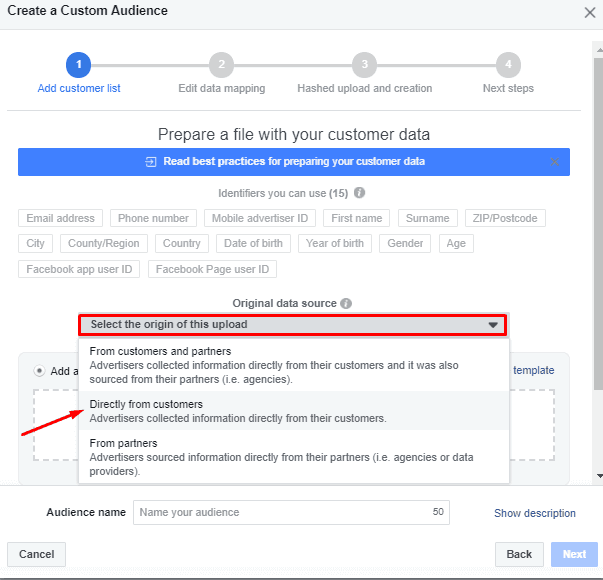 Then, upload your file with the email list. Remember that the file has to contain information about your customers' countries of residence. Then press "Next".
Once you have clicked the "Upload & Create" button, you will see a progress bar showing how the file is being uploaded.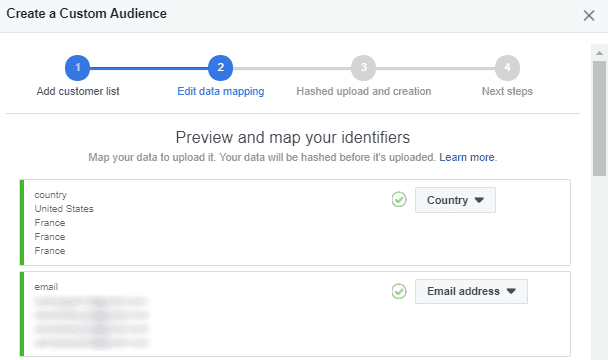 All that is left to do is choose the "Create lookalike audience" and you're done.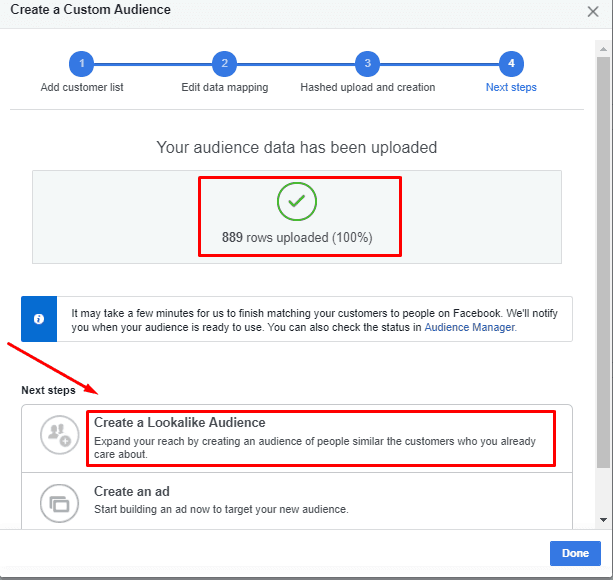 Creating a lookalike audience based on the email audience
In the "Create a Lookalike Audience", you can see the created audience in the "Source" field.
Now, select the country you want to target and set the size of the audience. You should pick the one that features the most emails from your list.
We recommend you to start with a 1% lookalike audience, and once you see the positive results, increase it steadily.
Then, click the "Create Audience" button.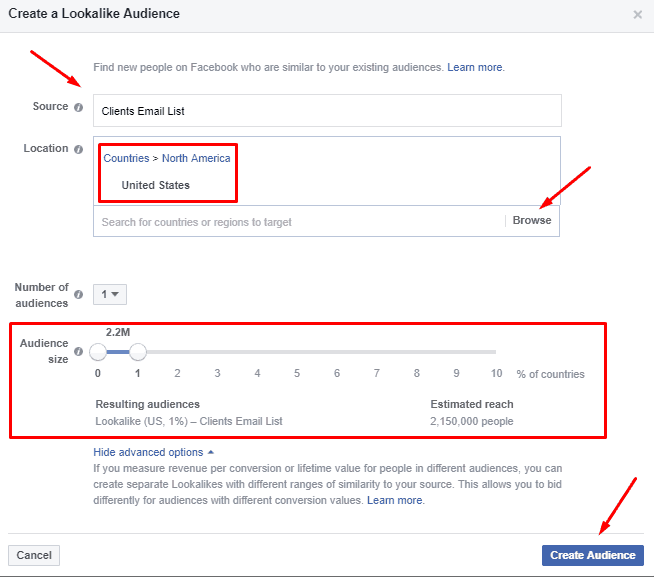 Creating Facebook Lookalike Audiences based on user's actions
Creating a lookalike audience based on your store visitors' actions will allow you to find another promising category of potential customers. This audience will be centered around the people who made a specific action (adding a product to cart, initiating checkout, etc.) while visiting your online store.
So, your new Facebook Lookalike audience will be similar to the users who have at some point made a purchase, or added an item to the cart and so on.
Let's see how to set up a custom lookalike audience based on the users who've made a purchase in your store at some point.
Our custom list will be based on the users who purchased something in the last 30 days.
It's important to keep in mind that the "purchase" feature is tracked with the use of Facebook Pixel.
In Facebook Ads Manager, in the audience tab, choose the Create Audience feature and then select the "Lookalike Audiences" in the menu.

In the following window, in the Source category, choose the custom audience of customers who made a purchase in the last 30 days.
In the location category, choose the necessary country.
After, choose the audience size. Yet again, we recommend to start small and work your way up. So select 1% at first. Even such a small percentage will get you enough similar users.
To finalize the audience creation, click "Create Audience".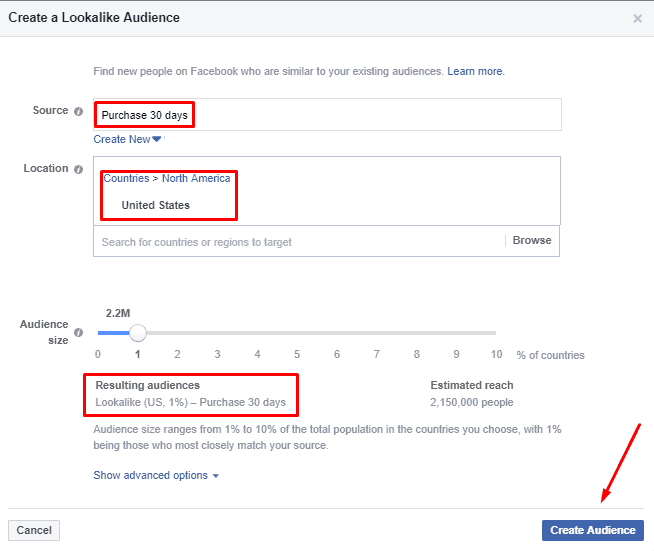 It will take some time for the audience to be processed and complete, so be patient. It usually takes from 6 to 24 hours to create a Lookalike Audience. And it will automatically refresh itself every 3-7 days, as long as it is used for targeting advertisements.

As soon as you see the "Ready" status, you can begin to set up your advertisements.
How to specify a Lookalike Audience
Let's try to narrow down our criteria to find people who match our requirements for a lookalike audience. To show you everything in the details, we will advertise this beige backpack.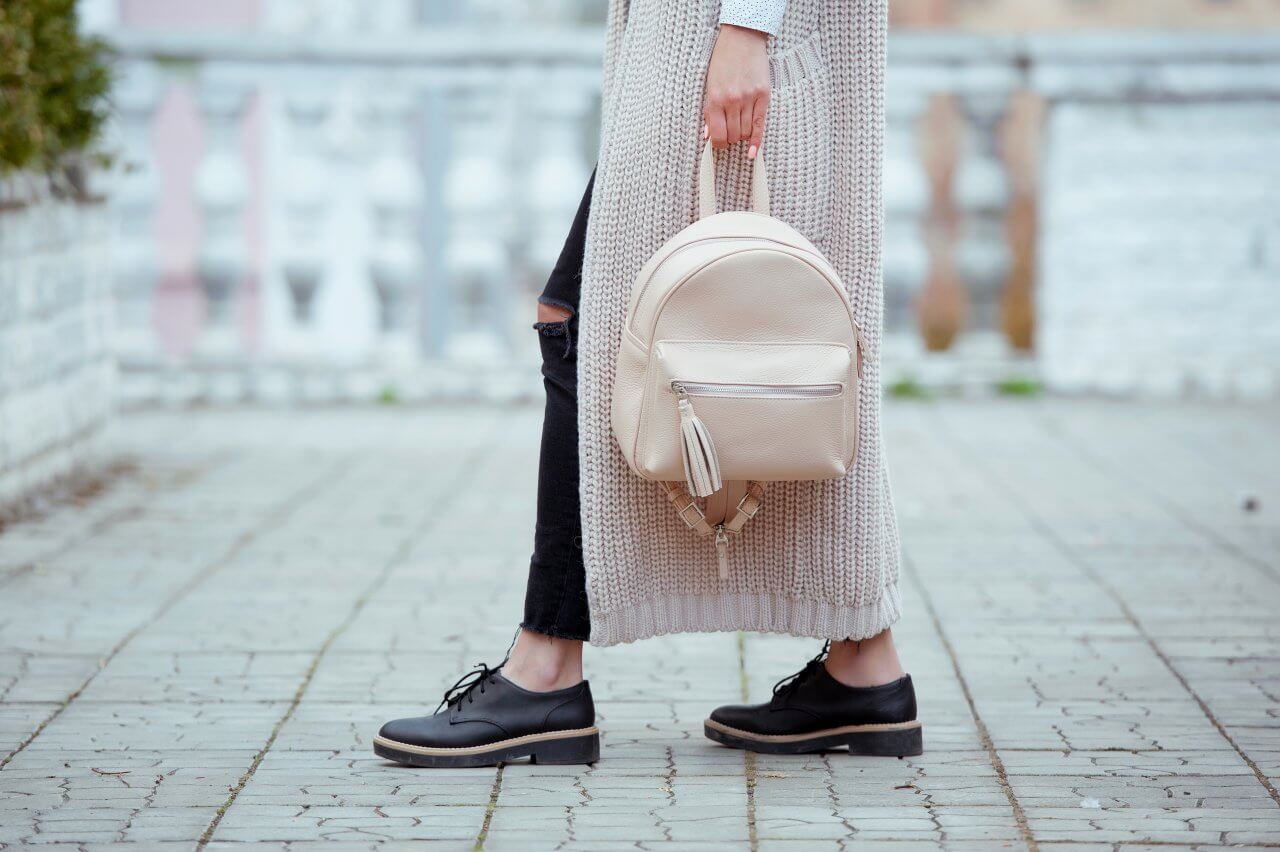 Upon configuring an advertisement, you need to choose an already created custom lookalike audience in the "Custom Audience" section. To narrow it down, you need to select the range of the age and the gender of your audience.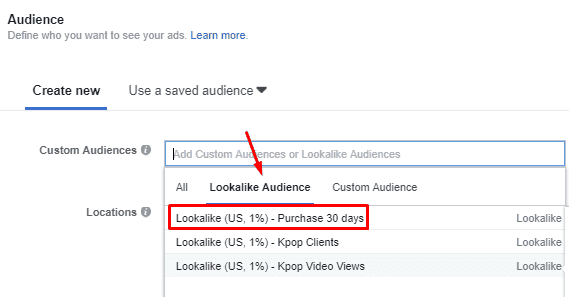 For example, you want to show a specific product to an audience of women aged 18-24.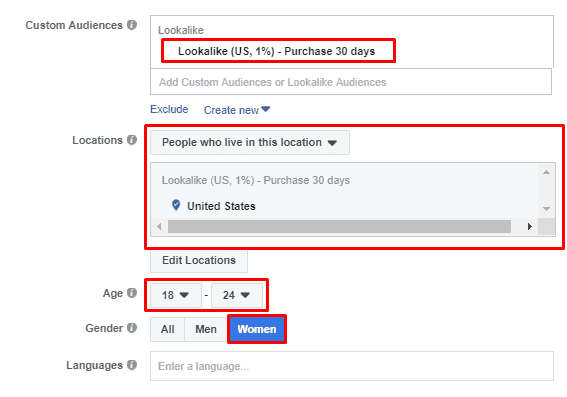 Remember, the location will be the same as your previously selected custom audience.
After you've successfully implemented the specifications, the audience of people should shrink considerably.
Yet, that's not all!
You can narrow your audience even more. To achieve this, you'll need to specify or exclude some of the interests.
After applying the changes, the audience size should shrink even more.
Additional details in creating a Facebook Lookalike audience
When making your own custom Lookalike audiences, remember that you don't necessarily need to narrow your audience down. However, as practice shows, a more narrow audience provides better results in an advertising campaign.
If you want to effectively manage your advertising budget, then you should know that the use of a lookalike audience requires significantly lower costs than interests-based users targeting.
One of the most significant upsides of a lookalike audience is the ability to consistently scale up the ads reach. You can start with 1% and as your advertising performance improves, you can increase your reach to get better results.
We hope that this article was informative and helpful to you. The best of luck to you in the creation of profitable ads, lookalike audiences, and your future endeavors!
By the way, don't forget about one more convenient way to get the most out of SMM without huge time investments!