How To Start A YouTube Channel For Your Ecommerce Business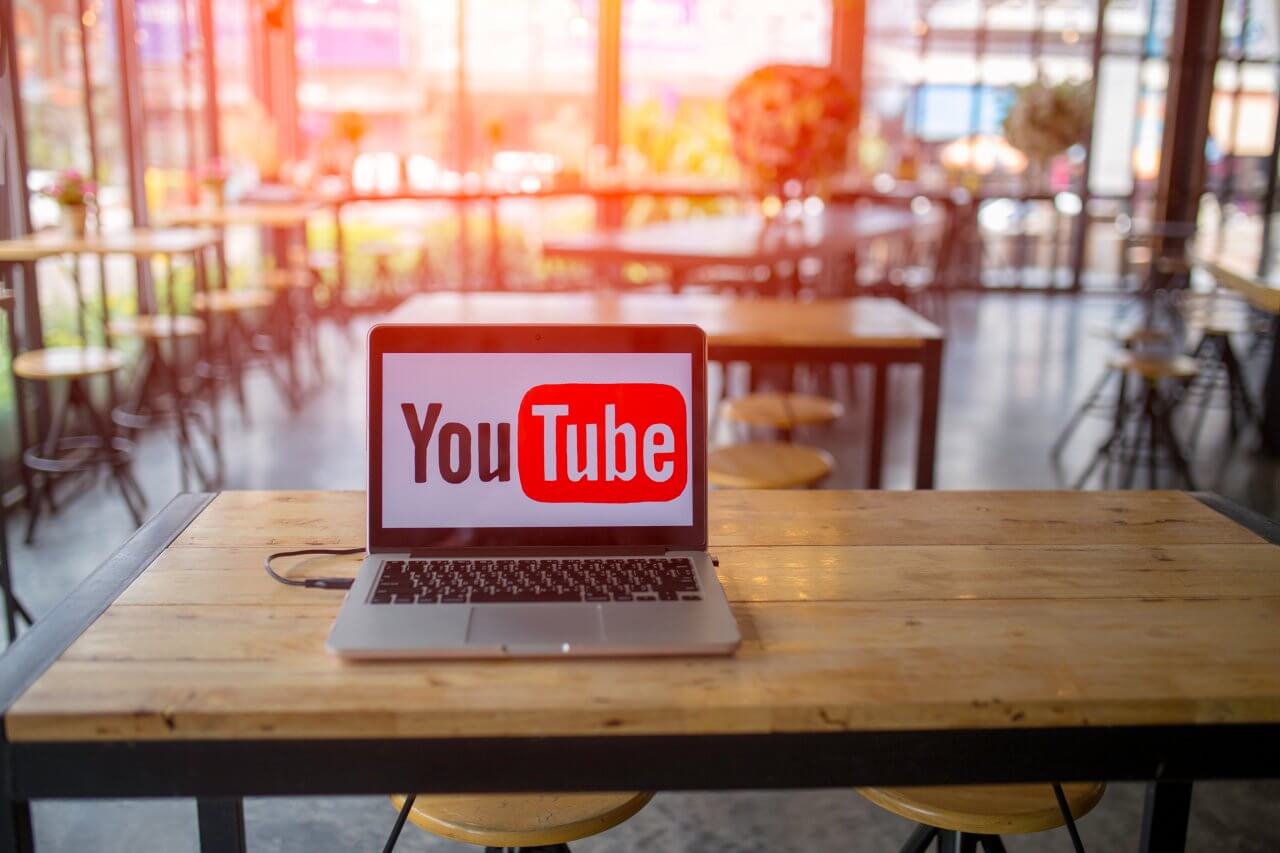 Are you looking for new ways to promote your business? How about opening new horizons with YouTube? Running a YouTube channel for ecommerce businesses is a foolproof strategy to find more customers. And in this article, you will get a step-by-step guide on how to start your channel successfully. Go ahead!
YouTube is probably the most popular video sharing platform in the world. Hence, its audience is extremely wide and includes people of all demographics from across the globe. Simply speaking, it will be a daunting task to find a person who has never watched any video on YouTube. Isn't it a good reason to start a channel for your online business there?
If you just don't know how to do it, this article will come in handy. Here we will share why you need to think of starting a YouTube channel, how to do this, and what you can count on as a result. By the way, if you already have a YouTube channel, this article can be useful for you, too. So, let's finally start.
Why is a YouTube channel a must-have?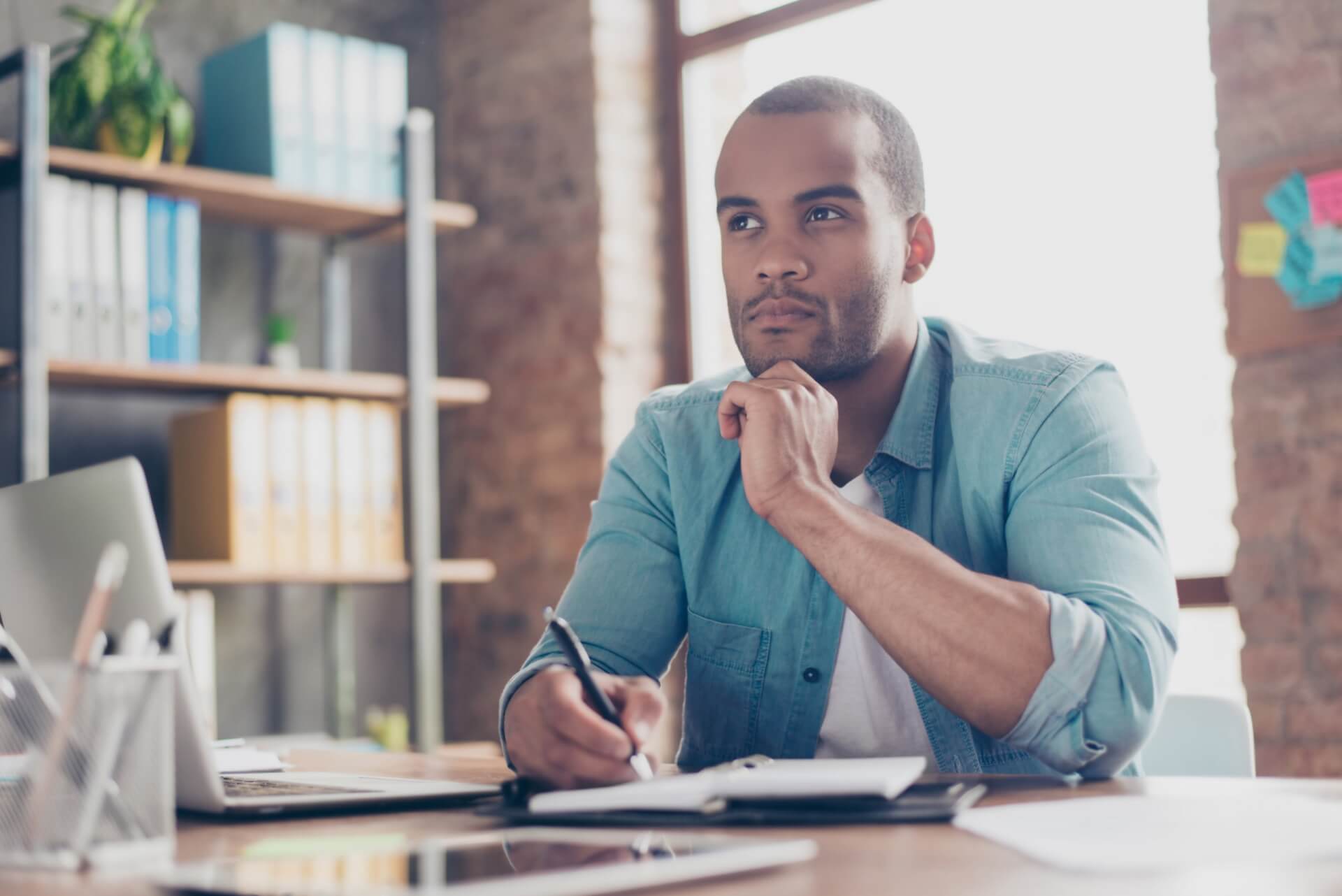 When people want to buy something online, they have a lot of doubts: whether this product has a good quality, how it looks in real life, what other people think about it, etc. However, not all online stores have a chance to share this information right on the product page. It can be the main reason why people refuse to buy something from you.
A YouTube channel can help you to demonstrate the products you sell, showcase their benefits, and share real reviews. Plus, you can teach people how to use your product to prevent some negative feedback in the future because someone couldn't sort it out.
To make the long story short, a YouTube channel can have a huge impact on ecommerce businesses. Here are some benefits you can gain.
How you benefit from running a YouTube channel
#1 Grow brand awareness
A YouTube channel allows increasing brand recognition. This is especially vital for young and small businesses.
By publishing videos on YouTube, you can tell people about your products and introduce your online store to them. Maybe they won't buy from you once they watch the video. But they're highly likely to remember you. And when they need to buy something in the future, they will pick up your store among others because they already know you.
#2 Boost trustworthiness
The trust level of your store is one of the key aspects of the business growth. There are a lot of ways you can increase it. And one of the most powerful strategies is to use a YouTube channel.
A YouTube channel gives you an opportunity to show your products, tell how your business works, share information about your customer service, and establish some emotional contact with your subscribers aka potential customers. In other words, highlight and explain the very aspects your customers are concerned about.
#3 Improve the conversion rate
It's a natural result of increasing brand awareness and boosting the trust level. For Internet users, it will be easier to place an order in your online store: they have already heard of you. That's why you should inform your customers properly and do your best to solve all their possible issues.
Running a YouTube channel allows you to contact your customers and build strong relationships. Plus, people love watching videos. This is the favorite type of content nowadays.
So, we found out that you can obtain a lot of advantages from YouTube. Now, it's high time to figure out how.
How to start a YouTube channel for ecommerce businesses: the preparatory stage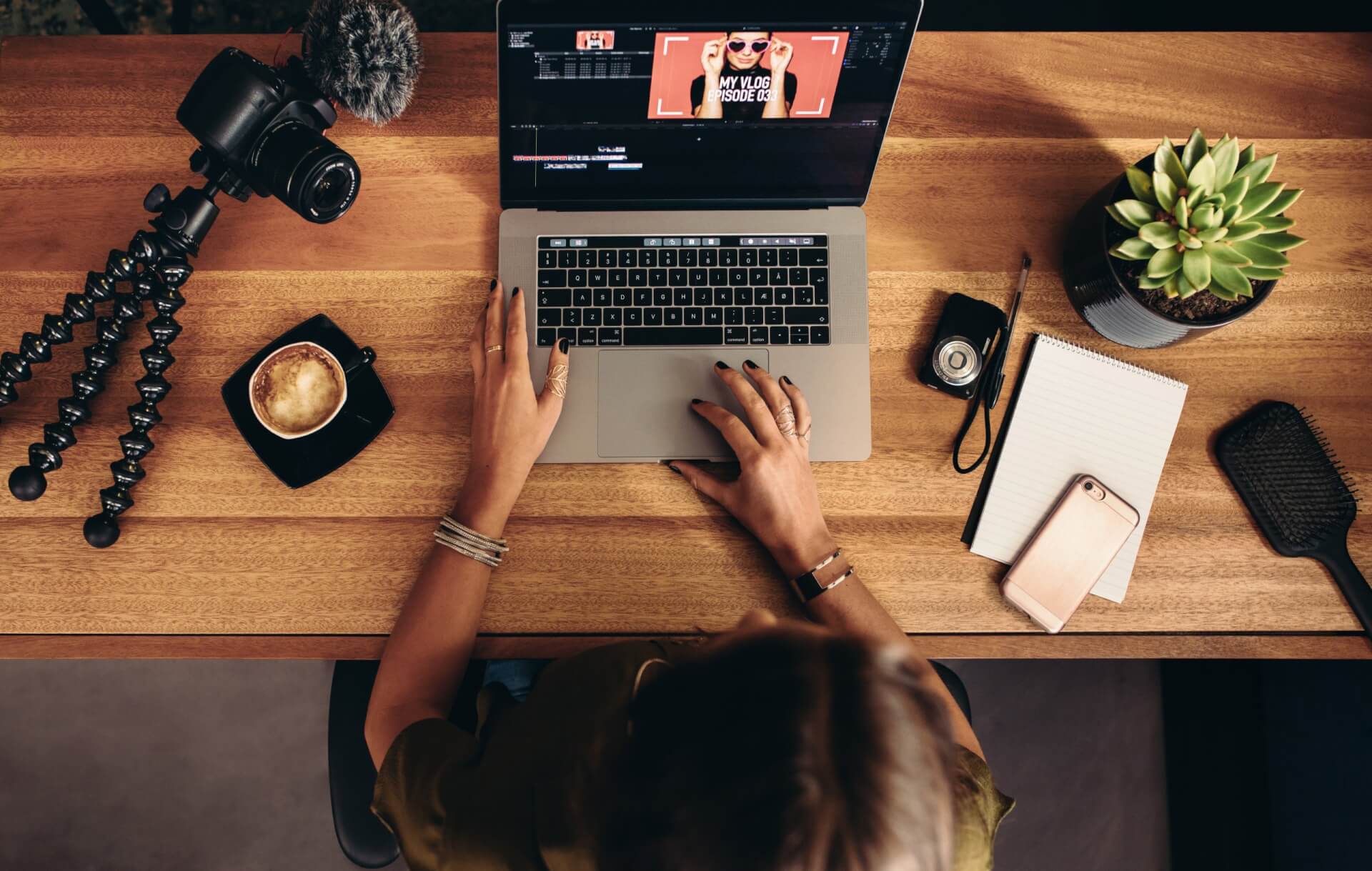 You might think that you just need to go to YouTube and click the Create a Channel button, but please be patient. Of course, this is the necessary action, however, you should consider other significant aspects such as the concept of your channel, goals, target audience, etc. It will help you to create the right content to make the right people interested in your channel.
So, what's the goal of your channel? Maybe one of these will suit you:
Drive more traffic to your online store
Grow sales
Find new customers
Boost trustworthiness
There are lots of other ideas, of course, and you can pick more than one goal for your channel. Still, it's better to focus on one specific objective as it will let you evaluate your results more precisely and see whether your channel works well or not.
Then, you can define the viewers' audience of your channel.
If you already know who the target audience of your online store consists of, that's great. Probably, these two audiences will be similar or the same. If you don't, here are several parameters you can use to define your target audience:
Age
Sex
Location/language
Interests
Mindset/Worldview
Work
Family status
Using these and other parameters, you should get a full description of a person as if you were describing your closest friend.
One more aspect to think of in advance is content. To be more specific, you should set priorities.
Even if you create a YouTube channel to promote your ecommerce business, it doesn't mean that there should be commercial videos about your products only. After all, people go on YouTube to be entertained as well.
In other words, your content couldn't be just commercial, you should also share educational, informative, and just fun videos. This way you will win customers' hearts and make them subscribe to your channel or even buy something from you without delay.
Let's take some examples of possible content depending on your business niche.
You might sell products for pets. You can tell people about different breeds of cats and dogs, share funny videos with animals, or some tips on caring for dogs or cats.
One more popular niche is fashion. If you sell clothes, create videos with various looks consisting of the items you sell, share the latest trends, or show the best celebrities' outfits. This is what can be interesting for your target audience.
When you think up these three aspects, you are ready to finally hit that cherished "Create a channel" button.
How to start a YouTube channel for ecommerce businesses: a step-by-step guide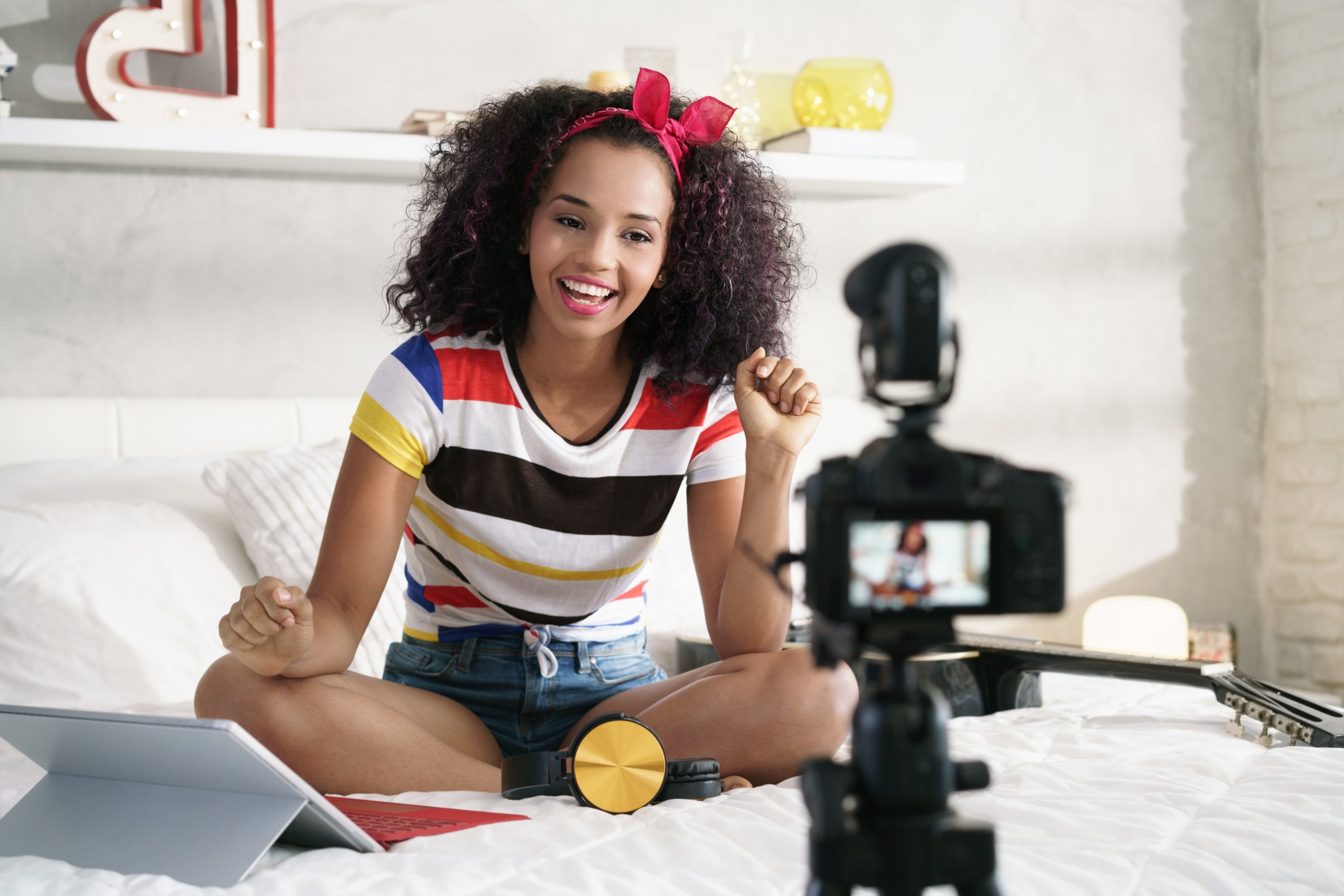 To be honest, the process of creating a YouTube channel isn't challenging, so any newbie can do it. You just need to walk through several steps. Here they are!
Create a Google account
Yes, the process of the creation of a YouTube channel doesn't start on YouTube. The first thing you need to do is to create a Google account (if you don't have one yet).
Go here, enter your data, and that's it. Your Google account is ready.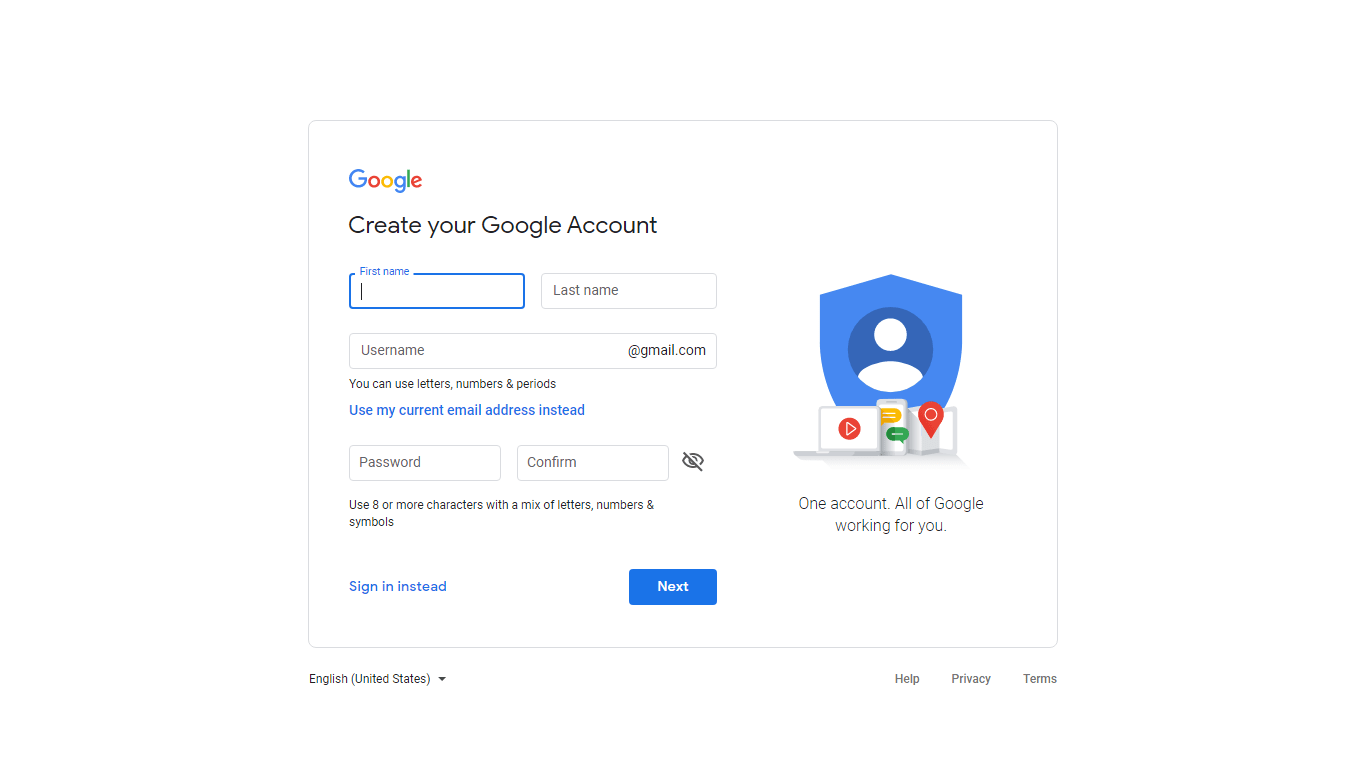 Go on YouTube
Finally, we are going to YouTube to initiate the process of the channel creation. You need to log in to the Google account you're going to use. After that, you need to click on your profile photo in the upper right corner, and then, on the "Create a channel" button.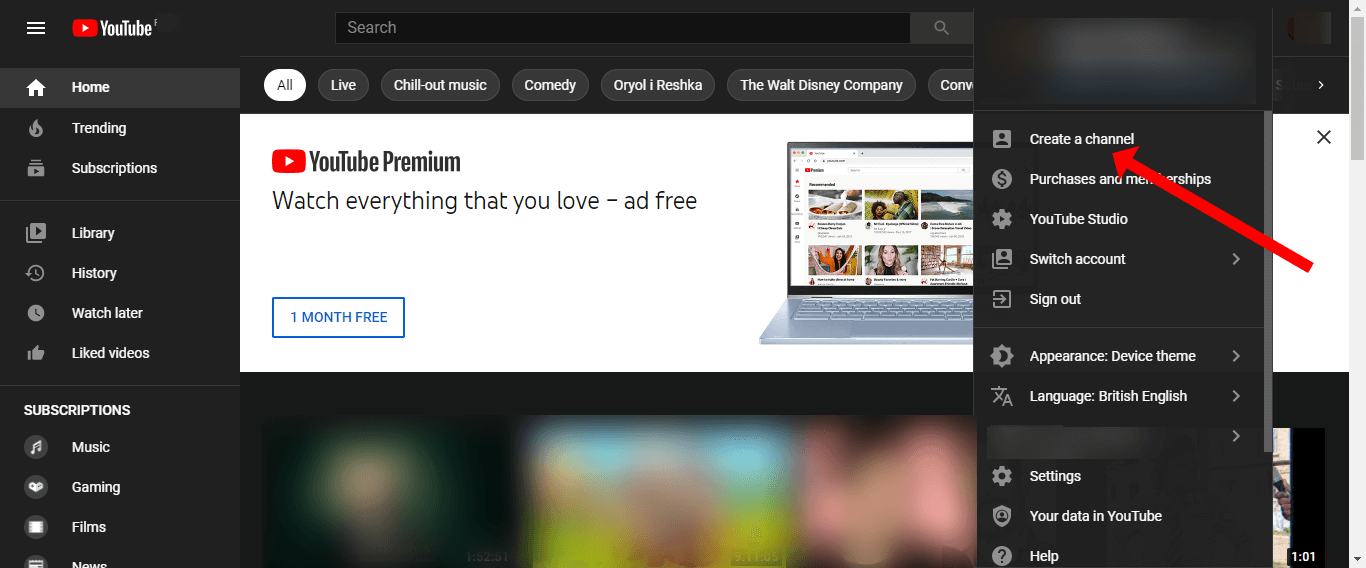 Enter the information
Once you click on the button, you will get on the page where you need to upload your photo and write the description for your channel. The length of this description is limited. Moreover, usually, people don't read the whole channel description. They see only the first 250 symbols, the rest will be available only when they click "Read more". Hence, the most important information should be written in the beginning so that any person can quickly understand what your channel is about.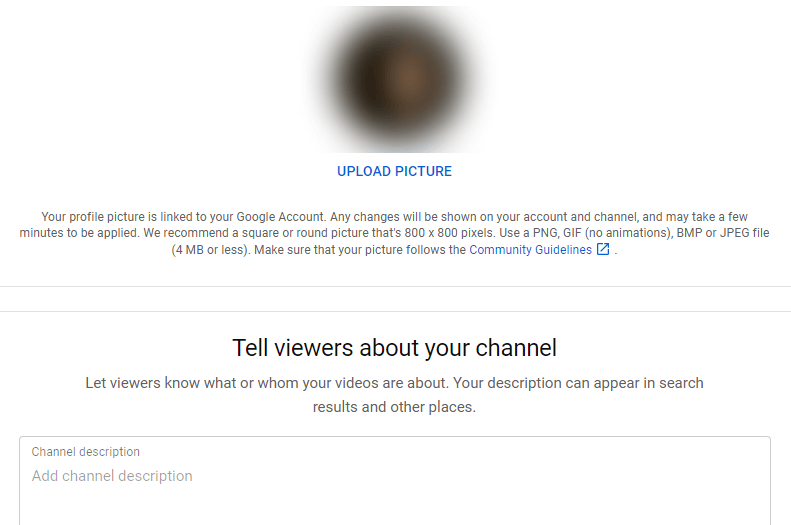 Plus, when you scroll down, you will have an opportunity to add links to your social networks and your website. Make sure to enter them to promote your other social accounts and store. Then, click "Save and continue". And voila! You have just created your YouTube channel!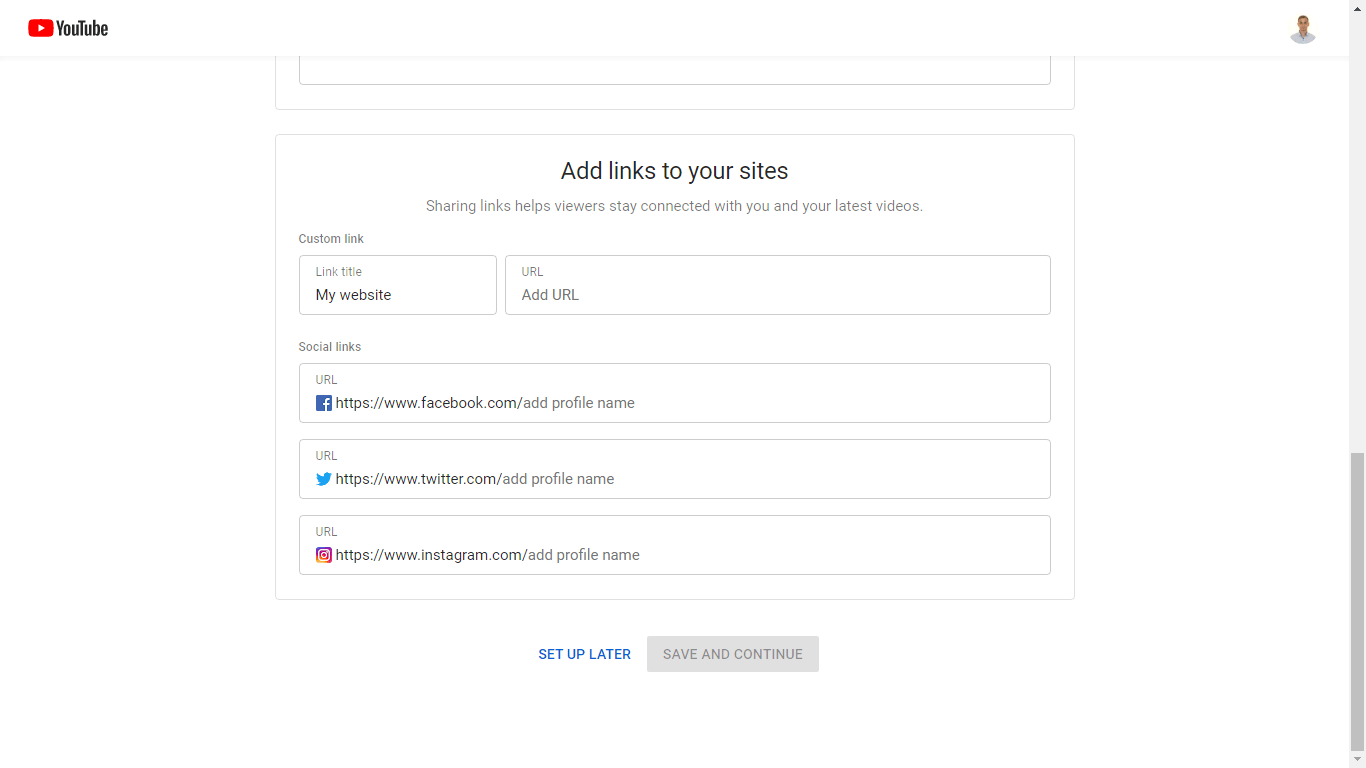 However, stay focused. We are far from the end. The long process of customization and content filling is ahead. So, let's go further.
Add a cover image
Once the creation process is completed, you will be redirected to the channel page. You will find the "Customize channel" button in the upper right corner.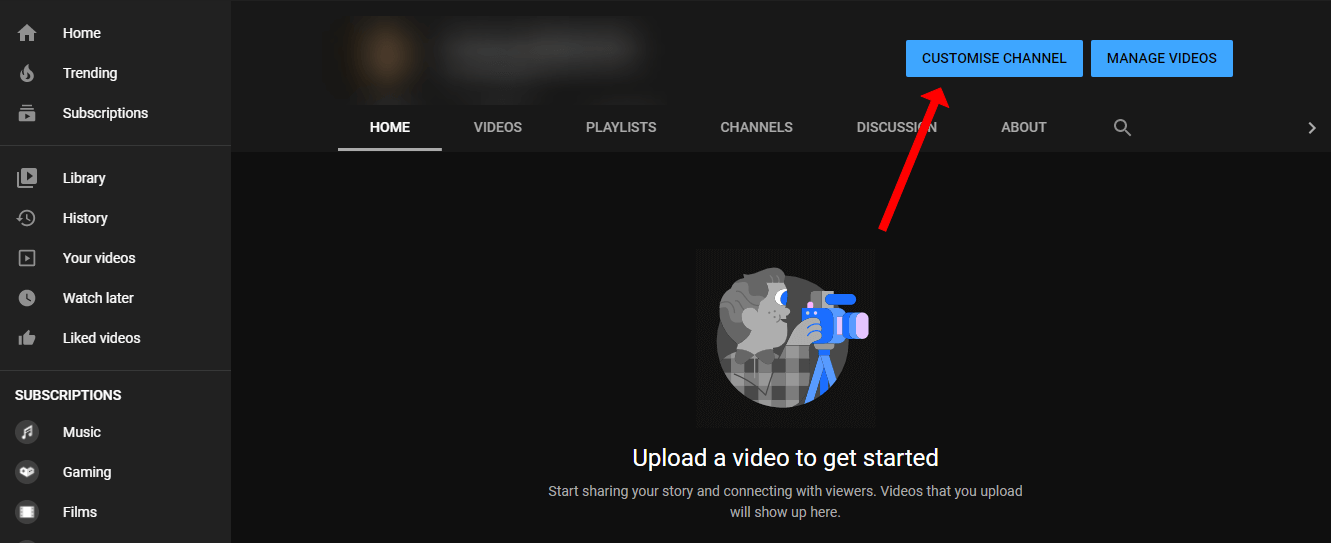 Here you need to select the "Branding" tab to add a cover image and profile photo for your channel.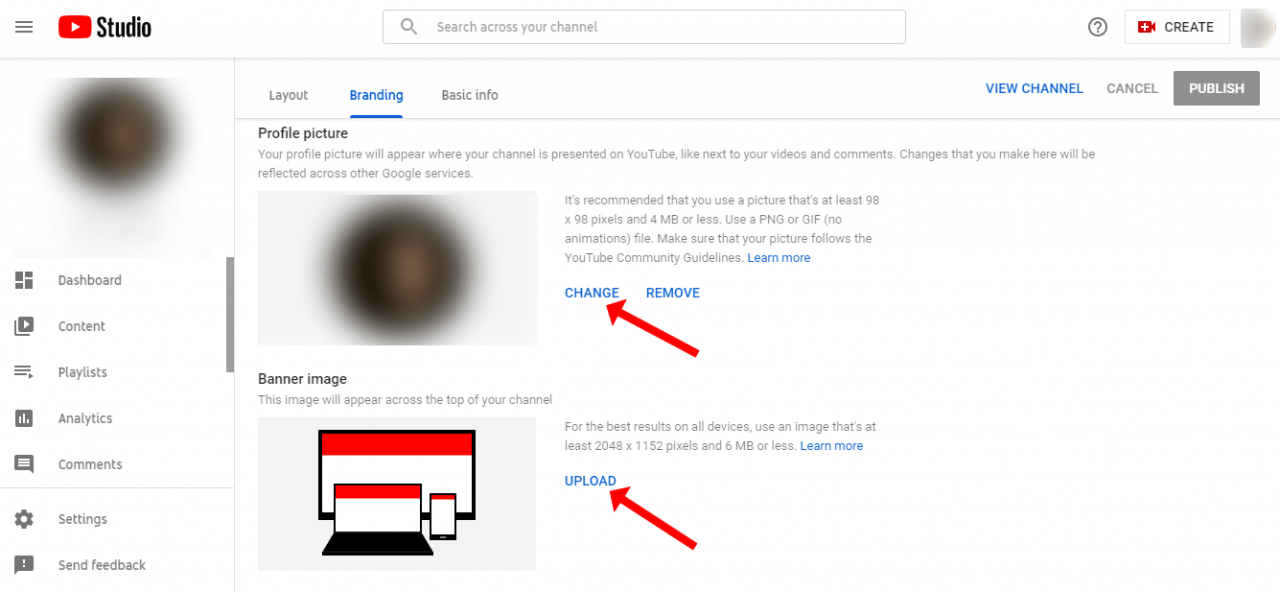 Click "Select a photo from your computer" and add a cover. 
Upload a preview video
A preview video is a short but informative video which shows your viewers aka potential subscribers which content you post, what your channel is about, and why they must subscribe to you.
As a result, your channel will look like this one.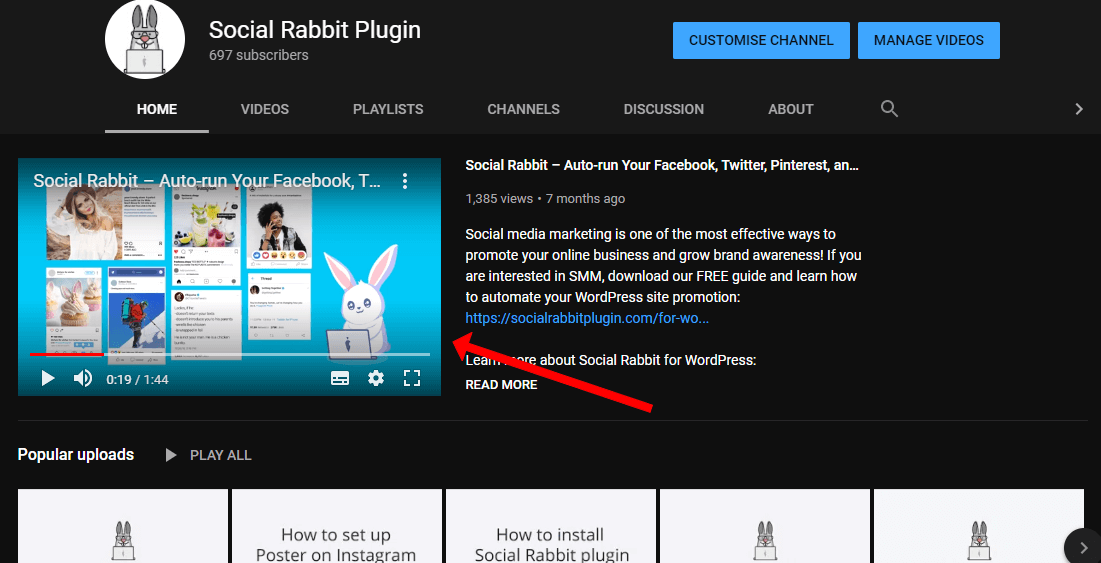 This is the Social Rabbit YouTube channel. Here we publish tutorials, guides, and video instructions on the usage of Social Rabbit. If you haven't seen it yet, you are very welcome to visit it right now via this link. 
Customize advanced settings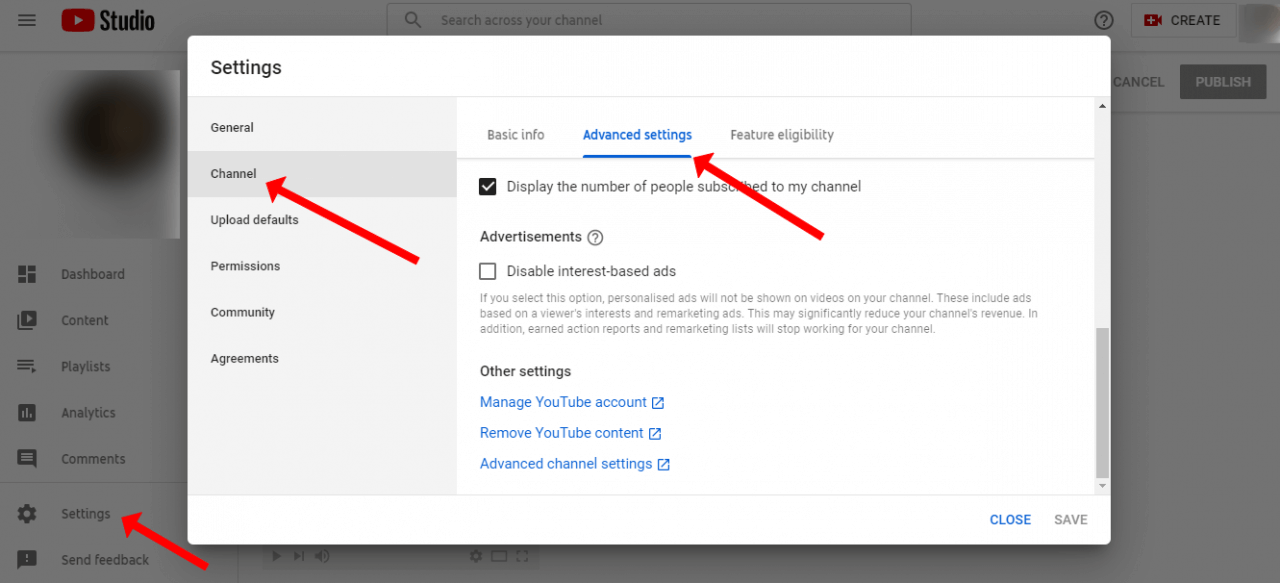 There are even more options to set up your YouTube channel. To do that, open your channel page, scroll down, and click on the channel settings at the bottom of the page. Then, you will see this page. Select the "Advanced settings" tag in the left sidebar.
Here you can change User ID, Channel ID, get a custom URL, and delete your channel. This page is available at any time. In other words, if you decide to delete your channel or change the concept and start from the beginning, you will be able to return here to edit.
Check out the notifications section
You as an online entrepreneur probably already know that stats really matter. In the comments section, you can track your followers' activity on your channel.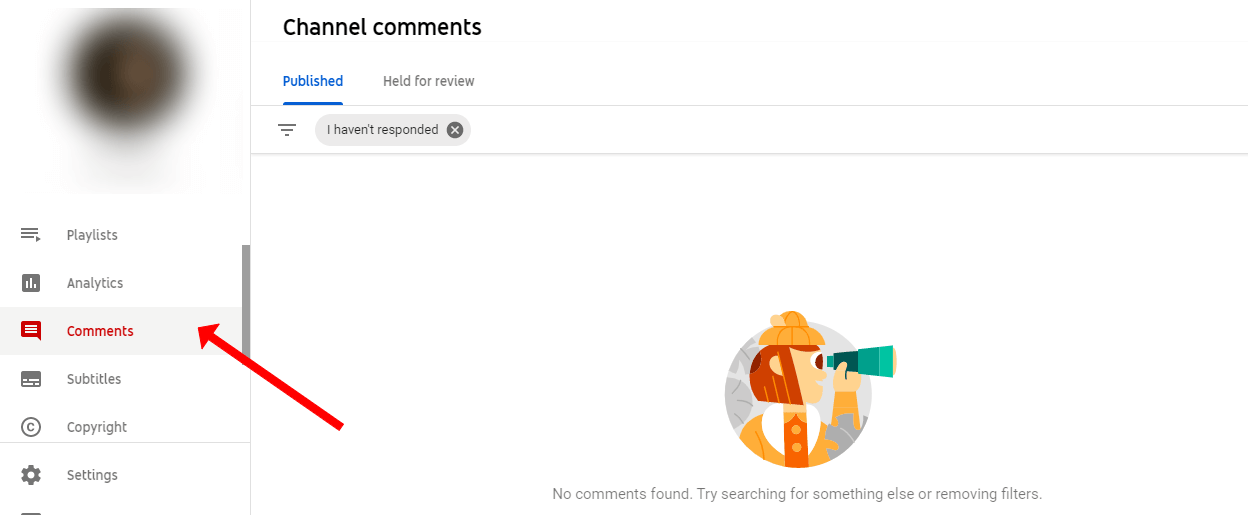 Why is this important to you at the very beginning of your YouTube channel? Well, if this is your first channel, you will have to learn and improve a lot of things. It's really difficult to work out an effective channel strategy on the first try. But it is ok. Mistakes exist for getting experience. 
Just listen to your audience, read the comments they leave, take all their opinions into consideration. This is a foolproof way to make your channel successful and popular.
How to start a YouTube channel for ecommerce businesses: what's next
As we said, the process of creating a YouTube channel for ecommerce businesses isn't complicated. From this moment, you can upload your videos and publish them on your channel page.
As our marketers are highly experienced in this field, we will be happy to share their tips on how to use your YouTube channel.
First, content is a king. Pay as much attention as possible to it. The more interesting and useful your videos are, the more people will come and subscribe to your channel. How to understand if your content is good enough? If you like watching it yourself, you're doing a great job.
And here's a small trick to make people interested in watching your videos. Add a short intro to the beginning of the video with the best or funniest moments or thoughts to catch people's attention. Also, make sure to add an end screen with related videos from your channel. This is how you can make people move from one video to another without leaving your channel.
Second, group your videos into playlists. This is one more effective way to make people stay on your channel and watch your videos.
Third, a YouTube channel needs promotion. YouTube is a competitive platform with numerous channels on various topics. So, it would be tough to boost your channel with zero investments in an advertisement.
Also, use your other social media pages to remind subscribers about your channel and share links to the newest videos there.
How to start a YouTube channel for ecommerce businesses: summing up
People prefer watching videos to reading posts and articles. It's a much easier and less time-consuming way to get information.
That's why the creation of quality videos isn't some folly, it is a real must-have if you want to grow your business, find new customers, and earn more money. And this fresh-created YouTube channel will be your powerful tool on the way to your success!
We hope this step-by-step guide was helpful for you. Using a number of promotional ways is a great marketing strategy. For example, you can use social media marketing and video marketing to reach as many people as possible. After all, your SMM activities can be done with the help of Social Rabbit.