How To Grow Your Business On Instagram For FREE: 10 Practical Tips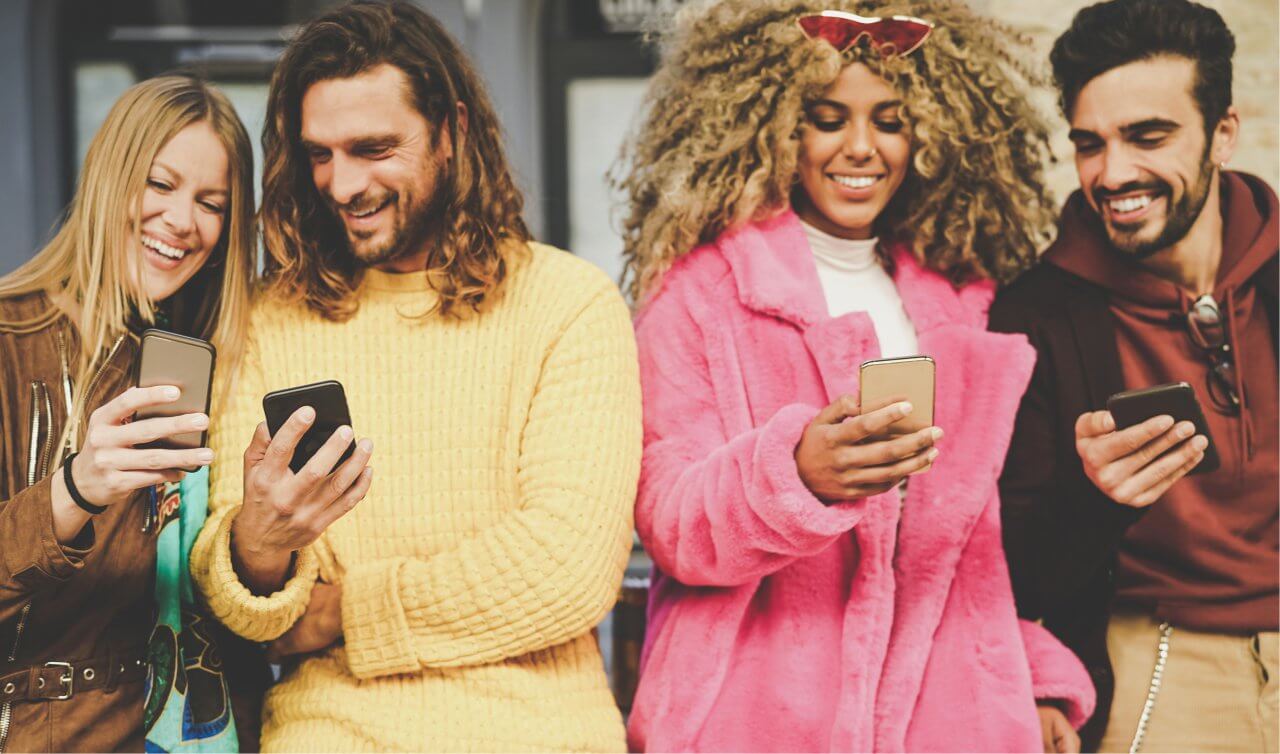 Wondering how to grow your business on Instagram without excessive costs? This article shows 10 easy ways to make your Instagram page a buzzing destination that easily converts visitors into buyers!
Every day, millions of people log in their Instagram accounts to stay connected with friends and family, stay aware of the latest fashion and lifestyle trends, have a good laugh, and simply pass the time.
The popularity of this social network opens up unprecedented promotional opportunities for businesses worldwide. Nowadays, an Instagram account that is actively updated definitely makes a company look more credible, lets the business owners keep in touch with their prospective and current customers, and of course, allows targeted business promotion.
So, how can an entrepreneur make the most of it? And, most importantly, what can be done with little to no costs? Let's see!
How to grow your business on Instagram for free: preparatory stage
If an entrepreneur (especially a newcomer) is not quite ready to invest anything in the business promotion, it's quite possible to begin with zero-cost SMM actions.
Largely, they relate to the way the Instagram account is presented to the community, and the strategy of filling the business feed with an appropriate type of content.
Surely, these measures build a solid foundation for the marketers' further efforts, creating a proper company image on social media and supporting the idea it's a trusted, reliable business.
#1 Create an appealing bio
Basically, that's a starting point of any Instagram instagram activity, paving the way for any future advertising campaigns. Before you launch any kind of promo on Instagram, you need to make sure you're leading the users to a good-looking, secure, and trustworthy destination through your ads.

The screenshot above shows a great example of a clear, informative, and engaging Instagram bio that includes:
The corporation name
A text description explaining what's special about this organization in particular and its Instagram account in general
A call to action
An active website link
Even upon seeing this page for the first time in their life, a user won't be puzzled about this organization's scope and area of action. All the necessary details are in place, letting the viewer make a well-informed decision about the next steps to take!
#2 Analyze the audience engagement
If you have already gained some followers on Instagram, it's highly important to take a closer look at the way these people interact with your account.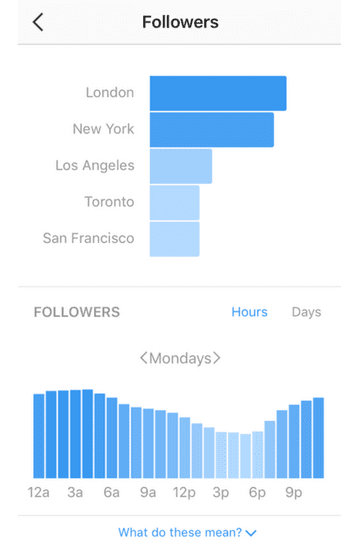 The easiest way to do it is to access the data gathered by Instagram itself in the Insights tab. There, you'll find lots of valuable details helping you rethink and improve your promotional strategy if necessary.
Understanding where your followers come from, seeing their age and gender, and monitoring the times of their peak activity, you'll be able to adjust your marketing efforts to their interests and create content that resonates with them.
#3 Pick the best posting time
As you need to act in your followers' interests and tailor your actions to their preferences, you certainly can't overlook their favorite Instagram browsing time.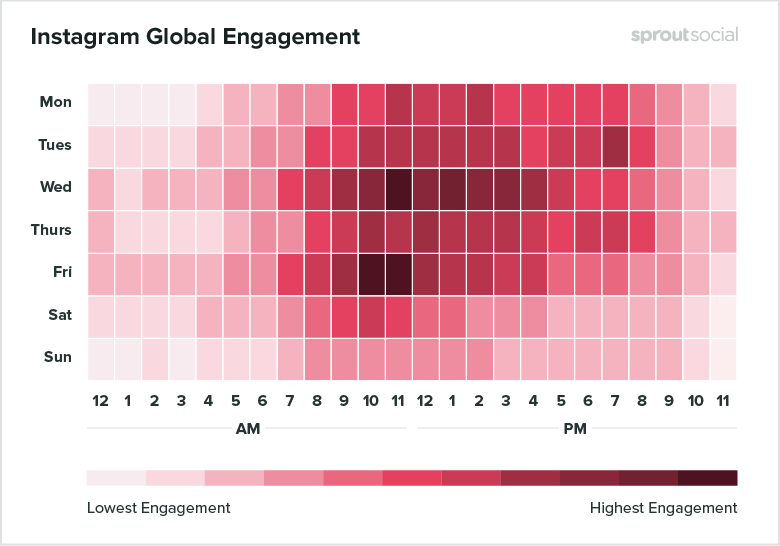 The chart above is taken from SproutSocial. It gives a great overall idea of the worst and best times to publish posts on Instagram.
Still, you need to remember that your business, your niche and your audience are unique, and their features can be quite different from the market 'average'. This is why it's such a good idea to use the data from the Followers' section of your Instagram insights! Knowing the days and times when your followers are most active, you can arrange your posting right before these peak periods. This is how you'll make sure your posts are among the first ones to be seen upon refreshing Instagram feed.
How to grow your business on Instagram for free: working on content
So, you made sure your Instagram accounts look good and informative even to a passer-by who hasn't heard of your business before. You also researched your followers' behavior and got a more or less clear idea on the best publishing strategies to use to capture their attention.
Now, it's time to proceed with content creation itself! Here's what you can do.
#4 Create a content plan and stick to it
Planning your content forward is a convenient and time-saving way to keep your posting consistent and interesting to followers.
There are numerous tools you can use for this purpose; below, you'll see a usual Microsoft Excel spreadsheet you can create with no extra costs whatsoever.

Depending on your business niche and your audience preferences in terms of Instagram browsing time, you can come up with an easy-to-follow posting pattern. Besides, it will give you an opportunity to spread your content evenly and make your followers anticipate newer posts with a higher level of engagement.
#5 Mix different types of content
Depending on your business specifics, you can experiment with various types of posts that might be relevant to your target audience.
Usually, business owners post:
Photos and videos showing their products in daily use
Close-up photos of their products' details
Tips and educational insights on using their products (if they have a complex nature or require some background knowledge)
Behind-the-scenes content on their products' manufacturing, storage, packaging, etc.
Feedback and reviews from customers (upon their approval!)
Entertaining contents (memes, quotes, polls and quizzes, etc.)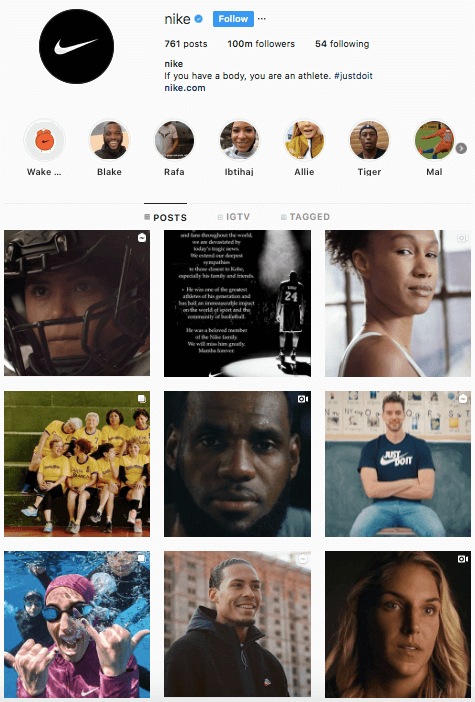 For example, as seen from the screenshot above, Nike account on Instagram is filled with several different types of posts related to the brand activity. There are interviews with sportsmen, large-scale sports news, new products announcements, reports on the company's environmentally friendly initiatives, and more. Therefore, Nike followers can always count on original, authentic stories from the brand that form its unique social media voice and make Nike account so interesting for observers.
#6 Use social proof and user-generated content
Genuine, honest, non-biased buyer feedback has more value to a social media user than an official company statement. This is why it's so important to share real-life customer reviews whenever possible.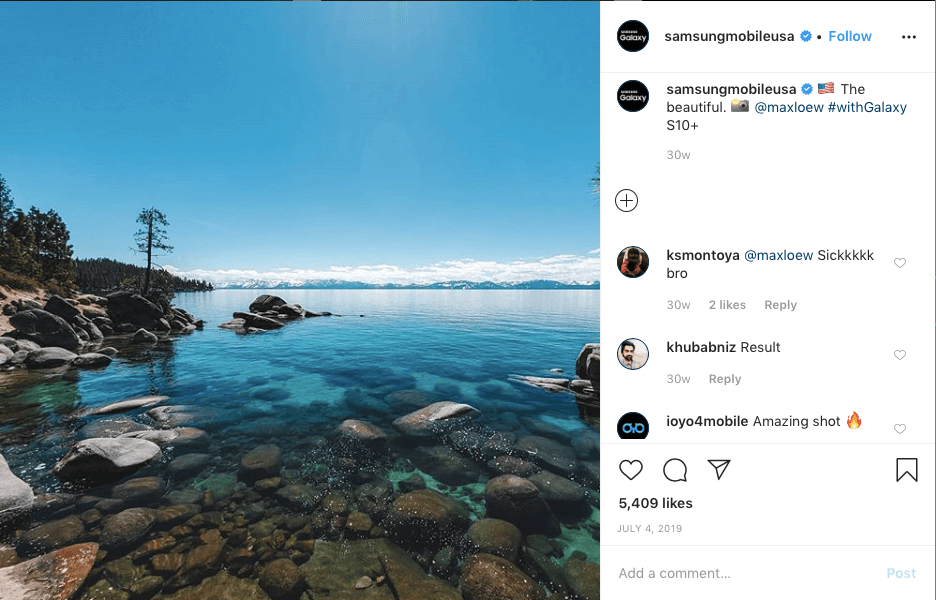 On the screenshot above, Samsung Instagram account shares a high-quality photo taken by a Samsung smartphone owner. Mentioning this person and the exact phone model they use, Samsung illustrates what its products are capable of – and how well they work for other people.
How to grow your business on Instagram for free: make your posts look good
To make your Instagram posts even more appealing and action-oriented, you need to pay attention to their presentation. Here's how you can do it!
#7 Don't neglect hashtags
When it comes to Instagram posts, hashtags are more than just a handy instrument to reinforce your brand. It's also a powerful tool helping users discover and filter content that can potentially be interesting to them.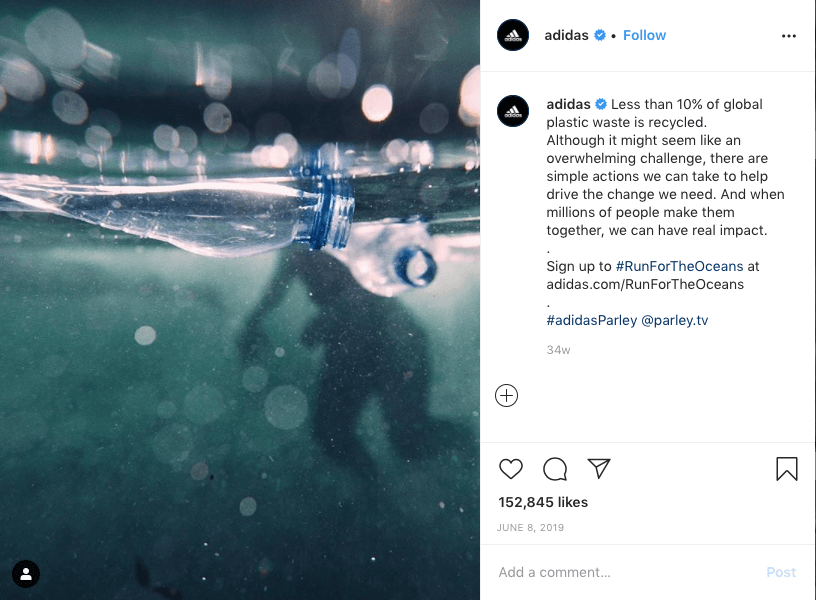 This is why it's a great strategy to complement your Instagram posts not only with branded hashtags you specifically create for your campaigns, but also with more generic hashtags from related areas. It lets you reach a wider audience of users curious about this broader topic, and hopefully, make them interested with your offers.
#8 Pay attention to captions
What should you write in your post captions?
Well, obviously, the answers will vary depending on your business niche and target audience parameters.
As a rule, businesses go for shorter, value-rich texts explaining where to find more details on the offer and containing a call to action.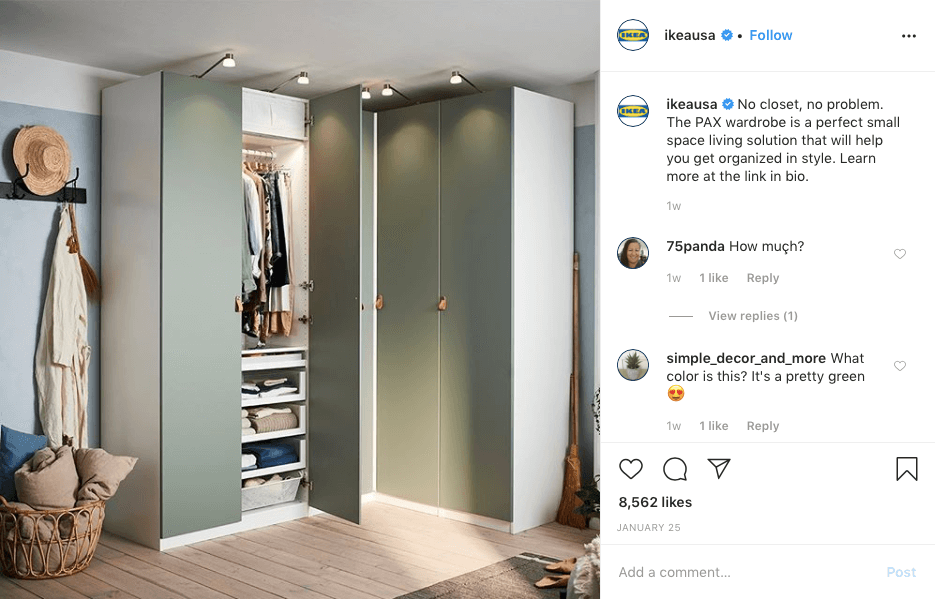 Don't forget to use the language appropriate for your audience age, gender, and nationality!
#9 Come up with unique designs
Whatever you're illustrating with your posts – your products, your behind-the-scenes processes or your buyers' feedback – it's great if you can create a unique visual identity with their help.
It's not uncommon for brands to stick to a specific color scheme or to use custom design patterns, stickers, borders, watermarks, etc. This is how they give their posts a memorable look and differentiate themselves from numerous competitors.
#10 Experiment with Instagram Shopping posts
Making an Instagram shopping post, you offer your followers a more favorable customer experience. The thing is, these posts make it possible for users to tap on the product they're interested in, get redirected to this product description page within Instagram itself, and then proceed to purchasing.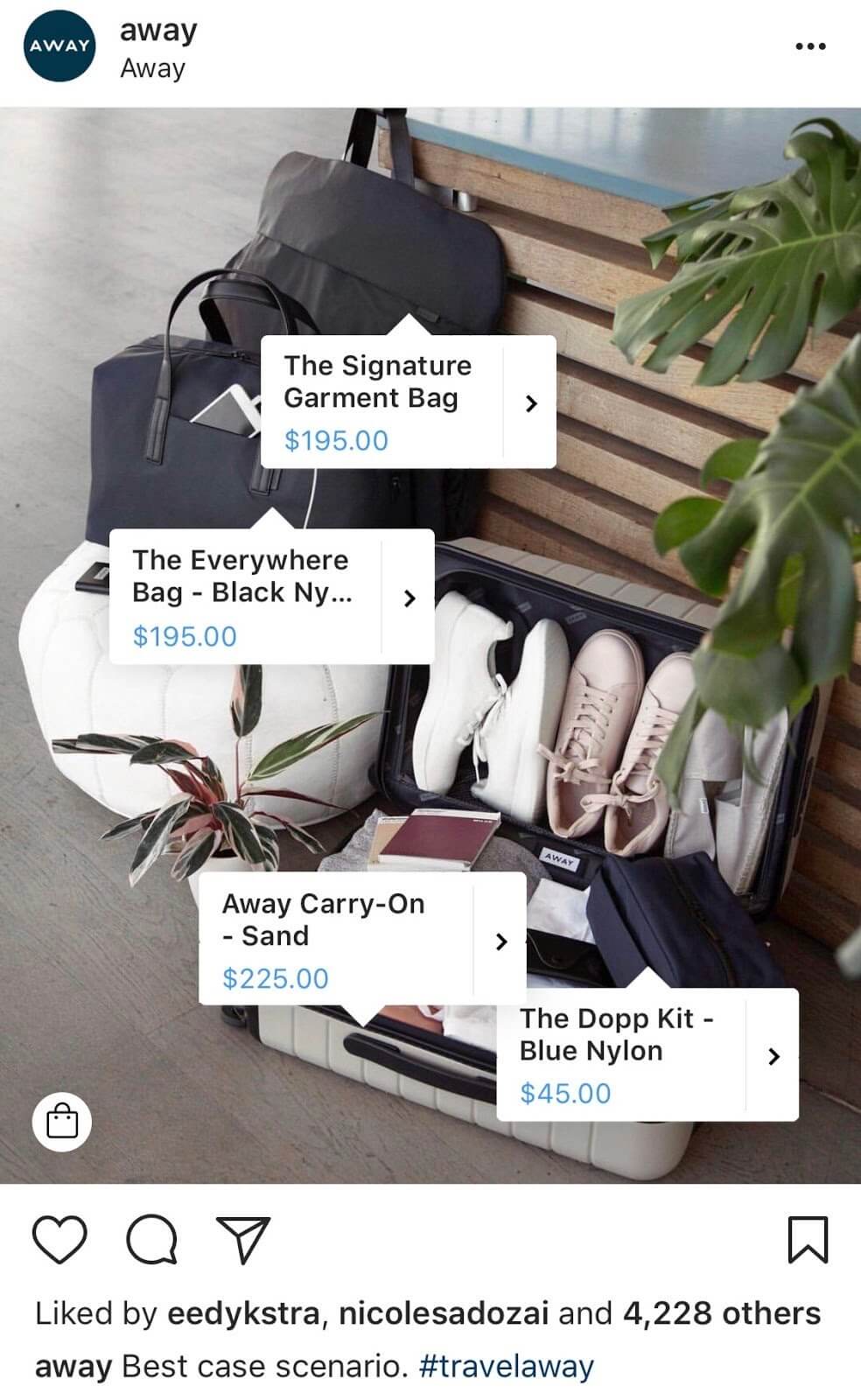 Surely, it streamlines the shopping process, and makes customers feel more secure and confident about purchasing the items they see in their Instagram feed.
That's it! Now you don't simply know how to pave way for your successful marketing campaigns on Instagram with zero costs. You can also see how large-scale brands put these tips into practice, learn from these industry giants, and apply the knowledge to grow your business on Instagram. And should you ever need a helping hand with your SMM efforts, you are always welcome!