How to Make Your Brand Engaging and Amusing with Funny Tweets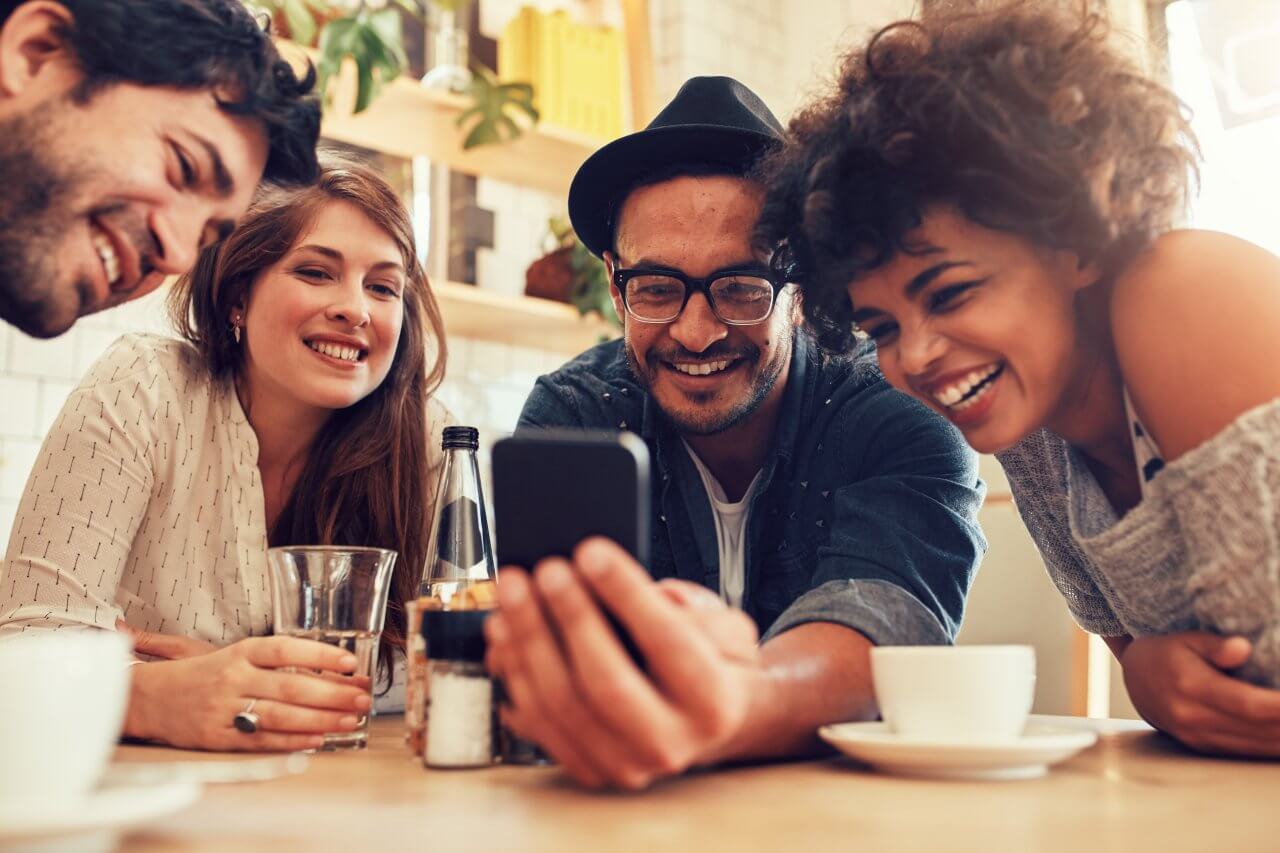 Yes, you read that correctly! Why are we going to discuss funny tweets? Because they can be a great marketing instrument to connect you with your audience, boost brand engagement on Twitter, and strengthen your brand image. Let's begin!
Why is Twitter important for your branding?
We've mentioned time and time again how social media is important for your business. It creates a way for you to showcase your brand's personality and principles. In turn, this is what will help your potential customers to resonate with your brand.
But what makes Twitter specifically a great platform is the ability to have direct conversations with other people.
Funny things to tweet
It is highly recommended to not bolster your feed with a heavy brand or niche related content. Mixing it up with some humor should help you appeal to many active Twitter users and help you to boost brand engagement on Twitter. When implementing this tactic, you should always have a friendly tone replying to anyone or starting a conversation on social media. Here are some ways you can get a few laughs from your readers:
Use memes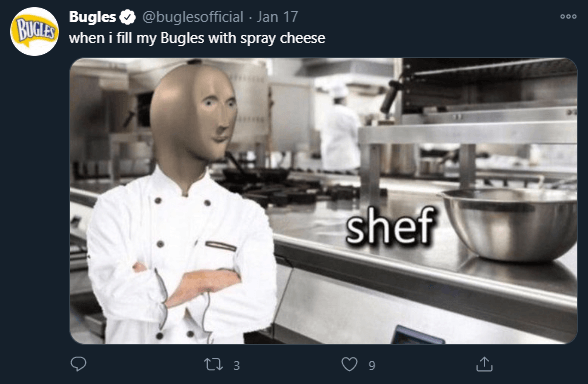 Memes are perhaps one of the best ways you can use to create a sense of relatability with your audience. There are lots of popular or trending images, graphics, and phrases to use out there that can help to boost brand engagement on Twitter
Use jokes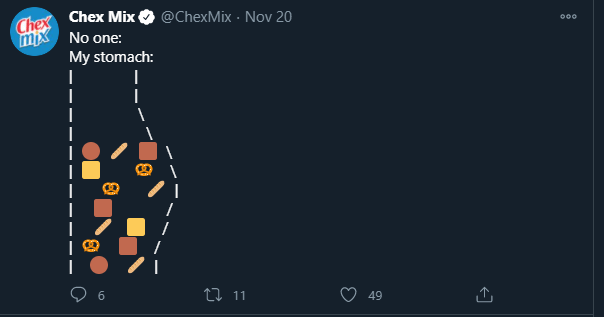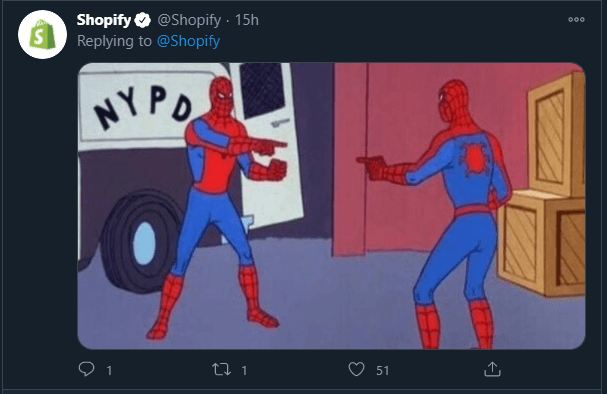 Similarly, post and share jokes that are relatable and coincide with your brand's ideas.
Interact with other brands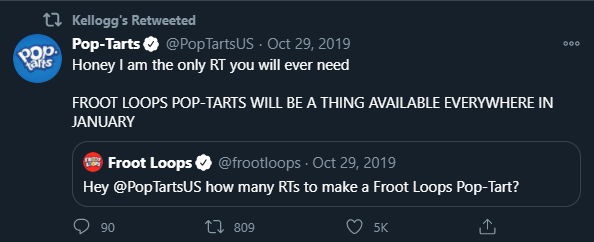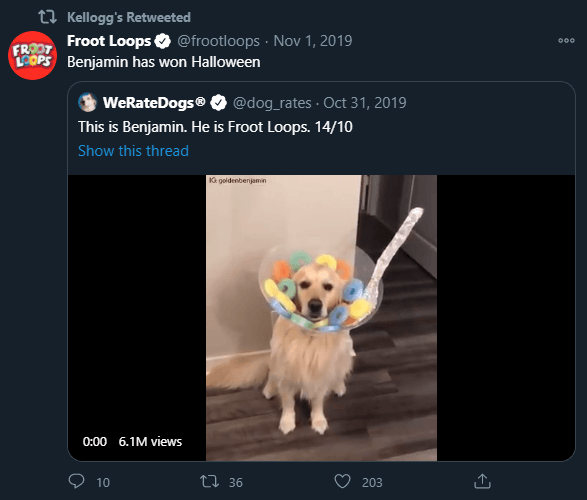 Poking at or jokingly responding to a famous brand you are competing with can be a great way to improve your brand engagement on Twitter and establish your presence. Although, remember to keep it light-hearted and without any ill-intent.
Retweet other funny tweets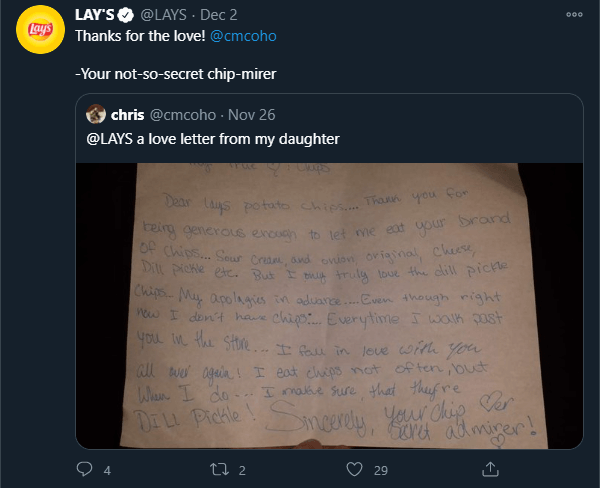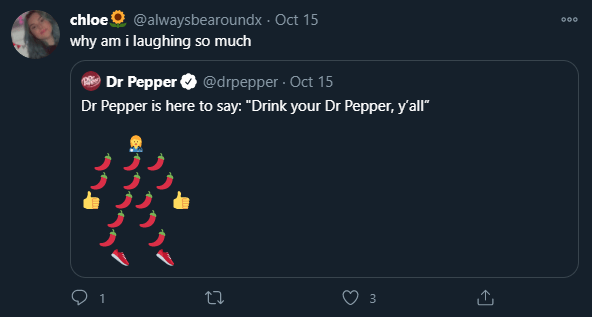 On Twitter, anything goes! And if you don't have an idea of what to post, you can always find something to repost.
Just look at what other users are tweeting or mentioning, research the popular hashtags, etc. Maybe there's a jokester out there that came up with a funny tweet that can relate to your brand.
Examples of funny tweets
If you don't know what funny tweets to post, and you need a piece of comedy to spice up your feed, here are 50 examples from 10 popular brands on Twitter.
Bugles
Here we can see how Bugles has merged the popular meme Hide the Pain Harold with a photo of an apple as a reaction on people who choose to eat their snacks instead of healthy food.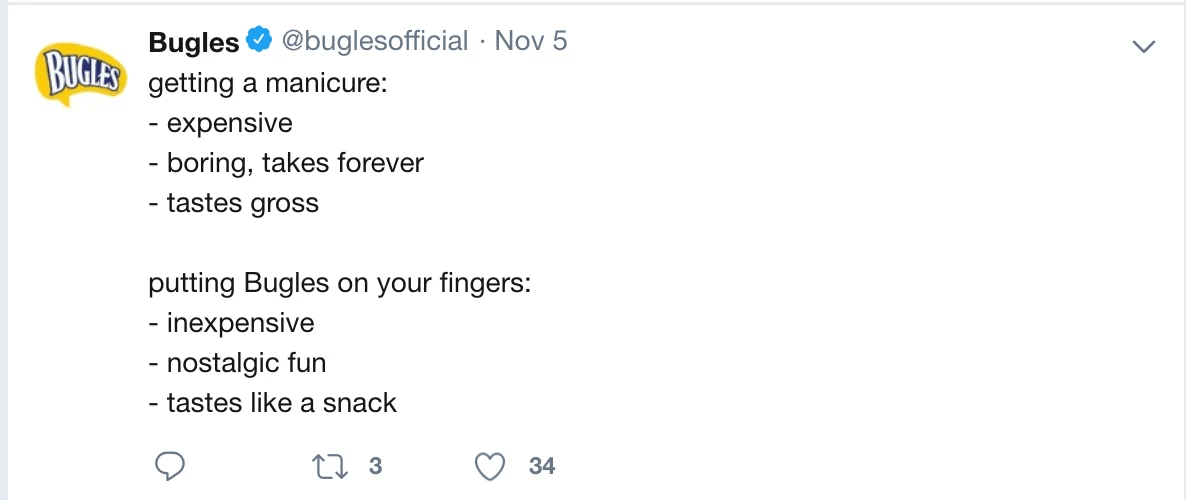 Showing off the upsides of your product comparing it to something not really related can turn out to be pretty funny. Although the two examples are not connected in any way, except both are related to fingertips fingers (which Bugles are constantly being eaten off of), you can see the humour of it.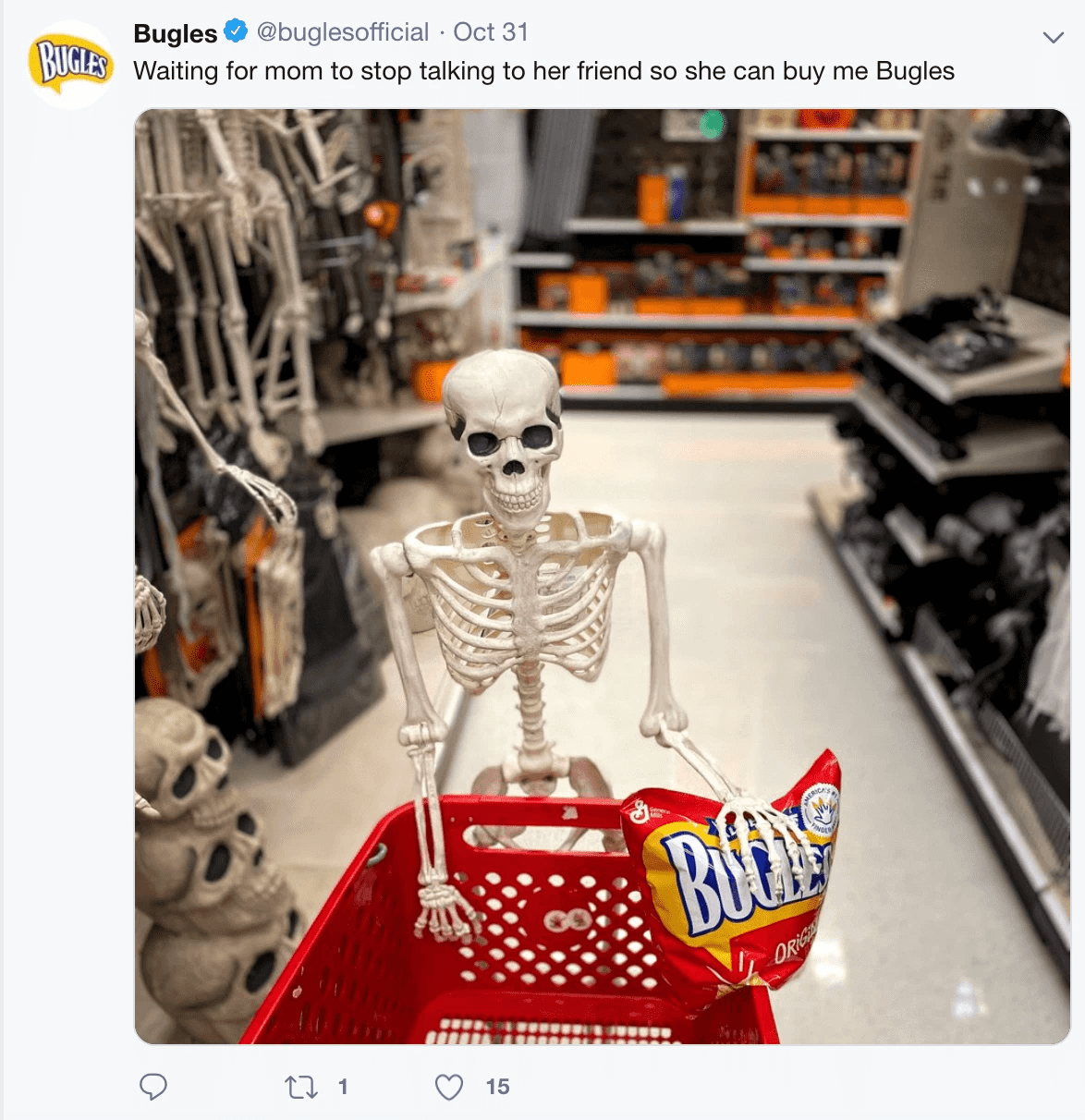 There are those seasonal memes that with a little bit of wit, you can easily use for your brand.
Bugles found a way to do it, too! In this case, it's funny because it's true. Most of us have been through this, waiting for moms to stop talking to someone randomly met at the store.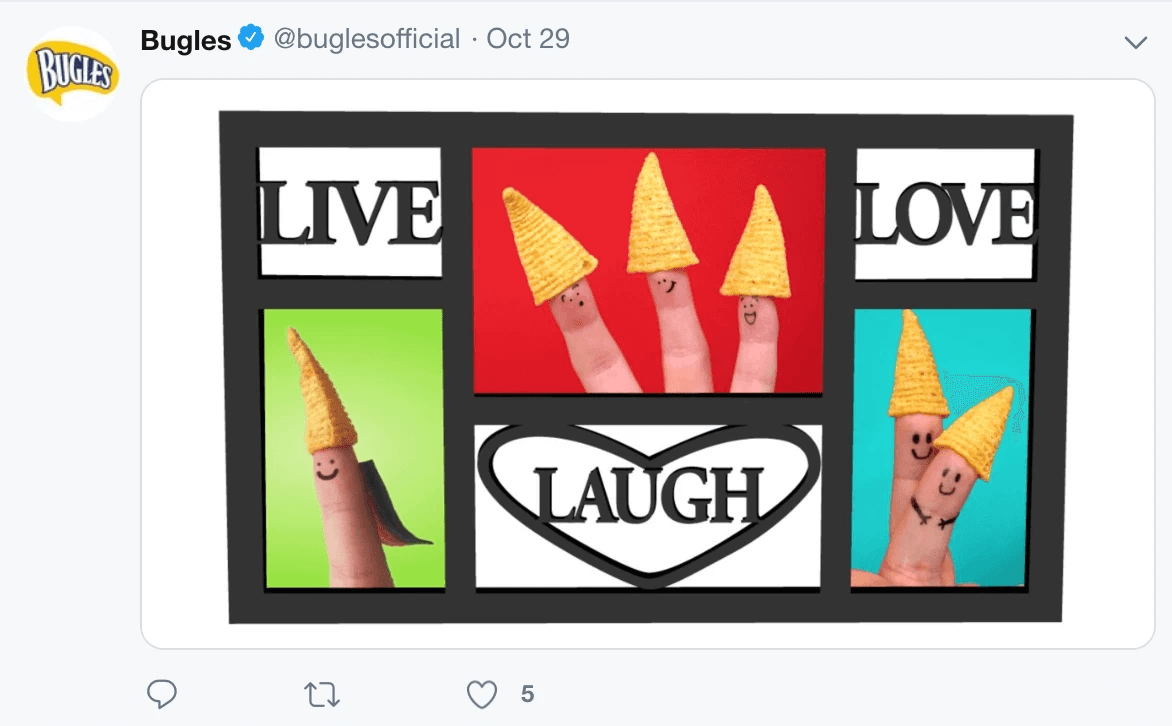 This is a classic photo many families have in their households. However, Bugles took their own little spin on it and successfully boost brand engagement on Twitter.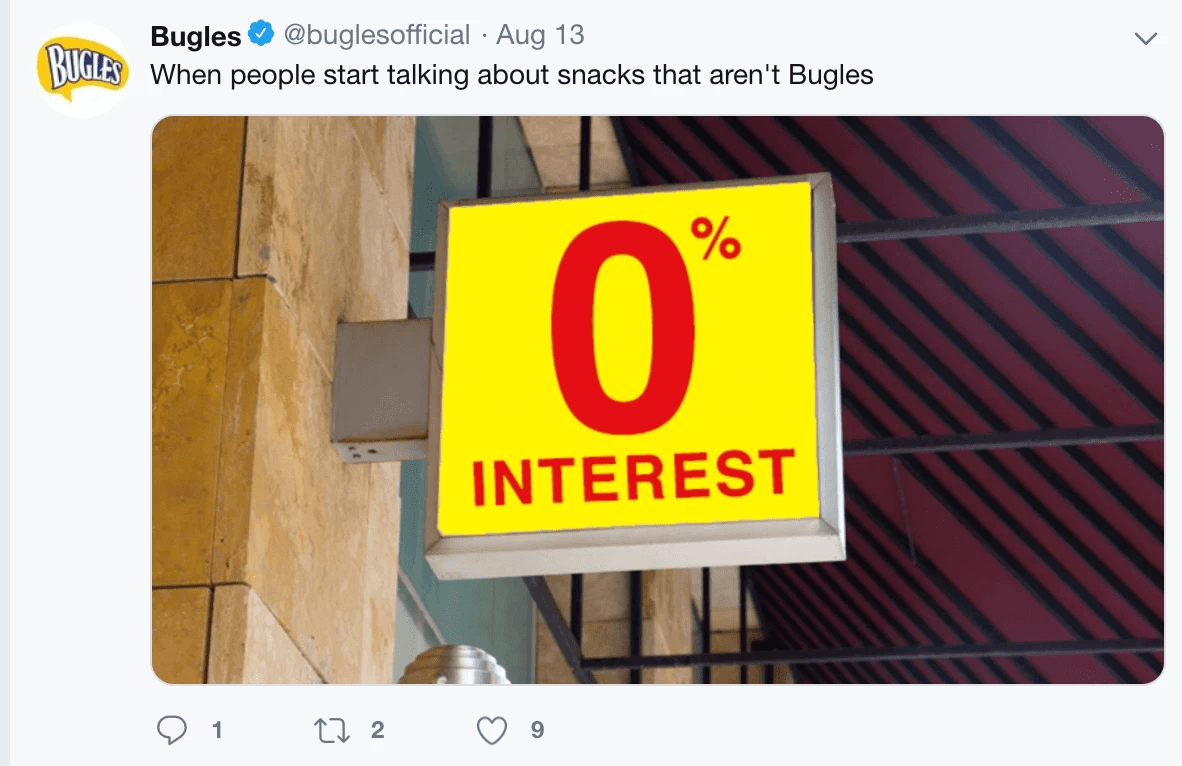 Another funny meme Bugles used to showcase how confident they are in their product.
Wendy's
One of the most popular brands who constantly jokes about others. No such examples list is complete without Wendy's.

Here, the famous restaurant responds to one of its customers, stating that one of their burgers is definitely worth more than somebody's soul.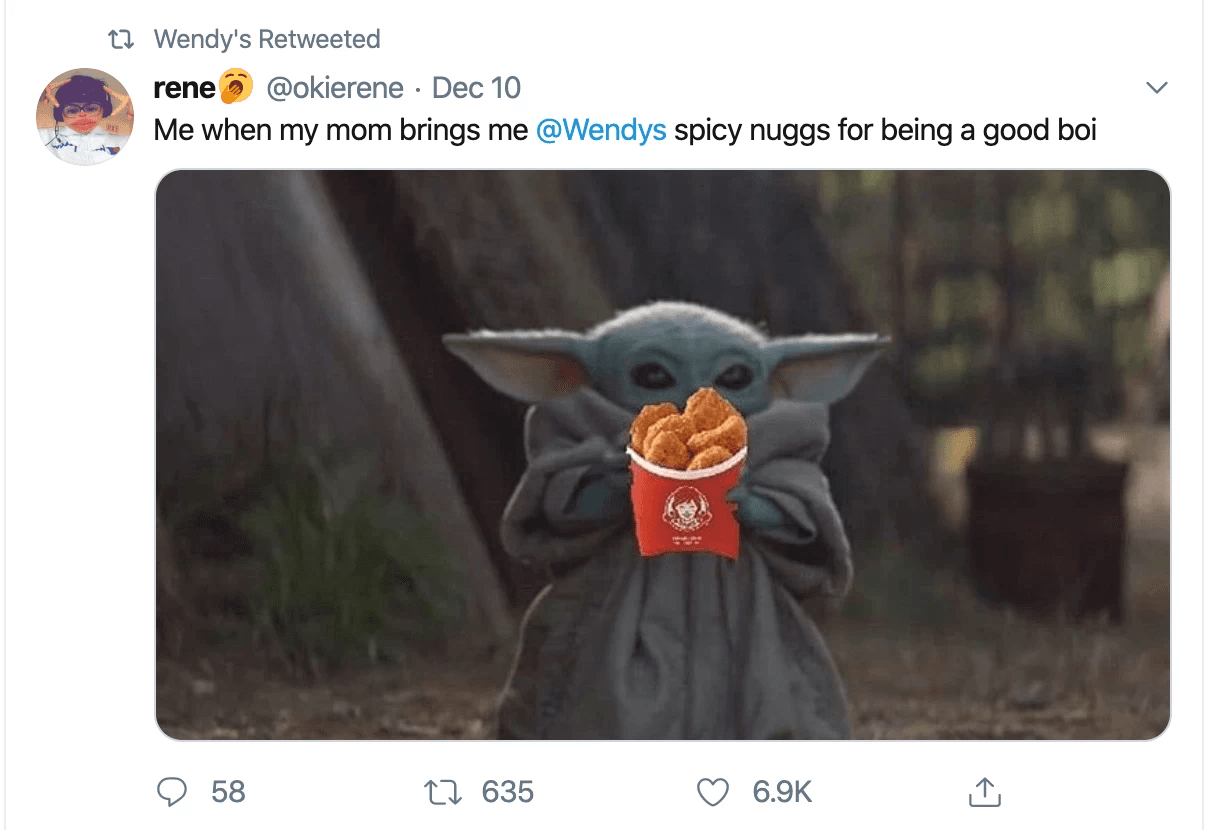 Ahh, the Baby Yoda meme, already a classic. At the time, wherever you'd look, you would see this meme, and Wendy's joined in on the party with this one.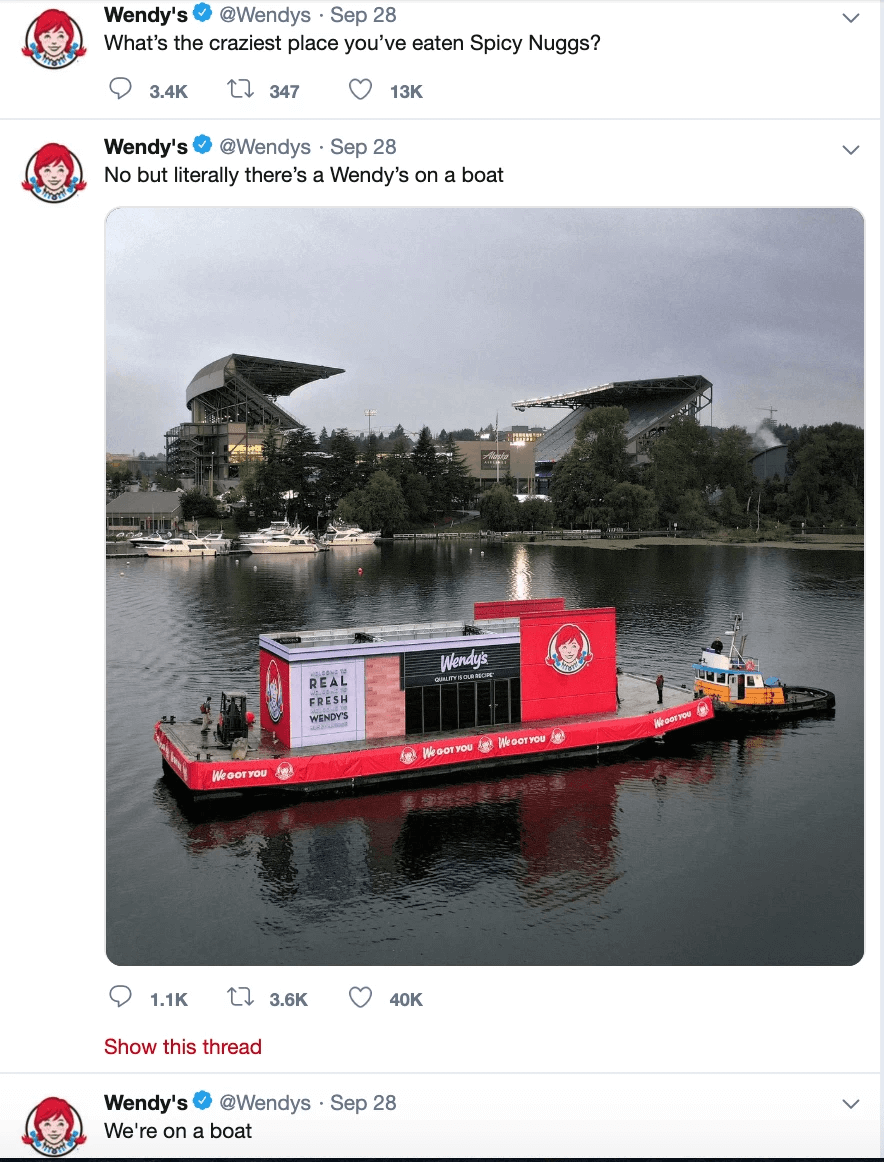 Wendy's even laugh at themselves, announcing one of their restaurants opening on a boat.

In a friendly way, Wendy's responds to one of their competitors, highlighting that the food isn't the only thing that's bad at Popeyes Chicken.

And here, we can see that Wendy's likes to interact with its customers in a friendly manner as well. This is a foolproof way to improve brand engagement on Twitter.
Denny's
Hey, another food joint, you can see a pattern right? Seems that food brands have a great sense of humor and quick-witted social media teams.

One of the most popular ways of advertising are billboards on the highways. Here, Denny's plays on that idea with some smart wordplay.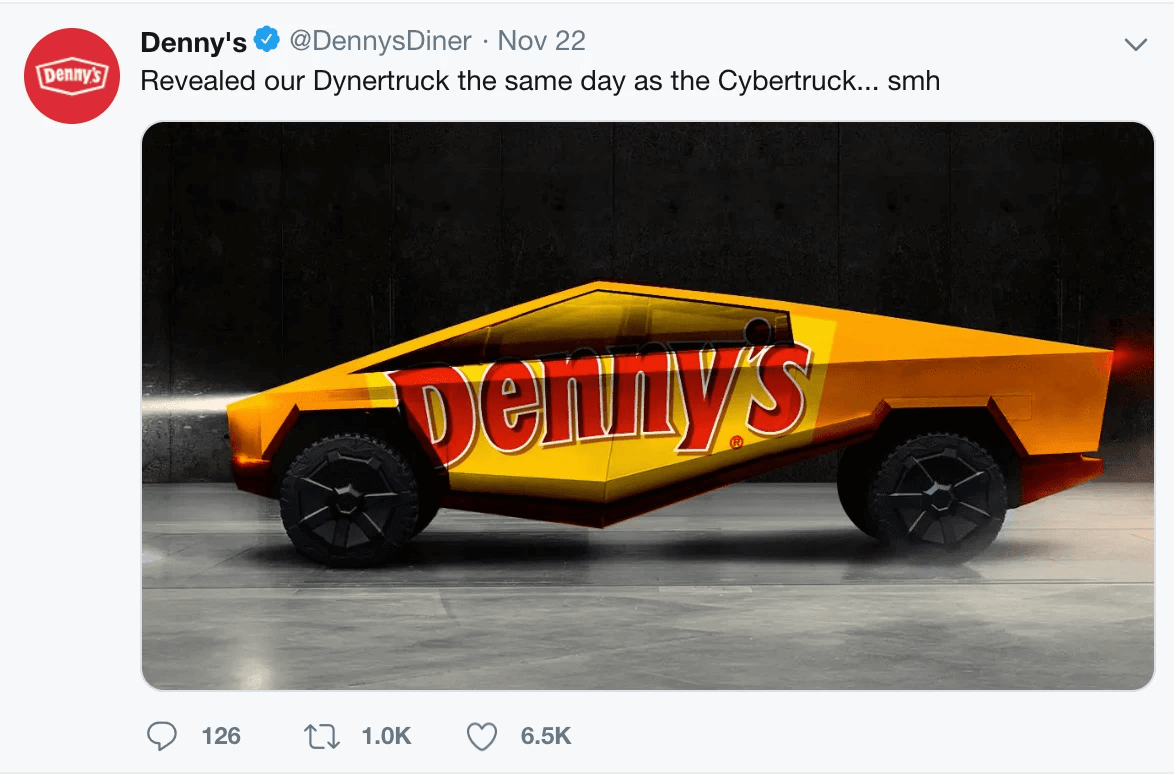 Does anyone remember the Tesla Cybertruck reveal? It generated a lot of memes, and Denny's didn't waste any time "revealing" one of its own trucks.

Another funny tweet focused on clever wordplay.

Once again, you can see that Denny's likes to play on words and use current world events to its favor. Here, it's poking fun at another famous brand in a friendly manner, although the two are not related in any way.
Here is another example of how the restaurant uses Twitter, poking fun at a wrapped up corn cub, which it serves, in celebration of National Candy Corn Day.
Netflix US
The Twitter account of this streaming service delivers some great memes for sure.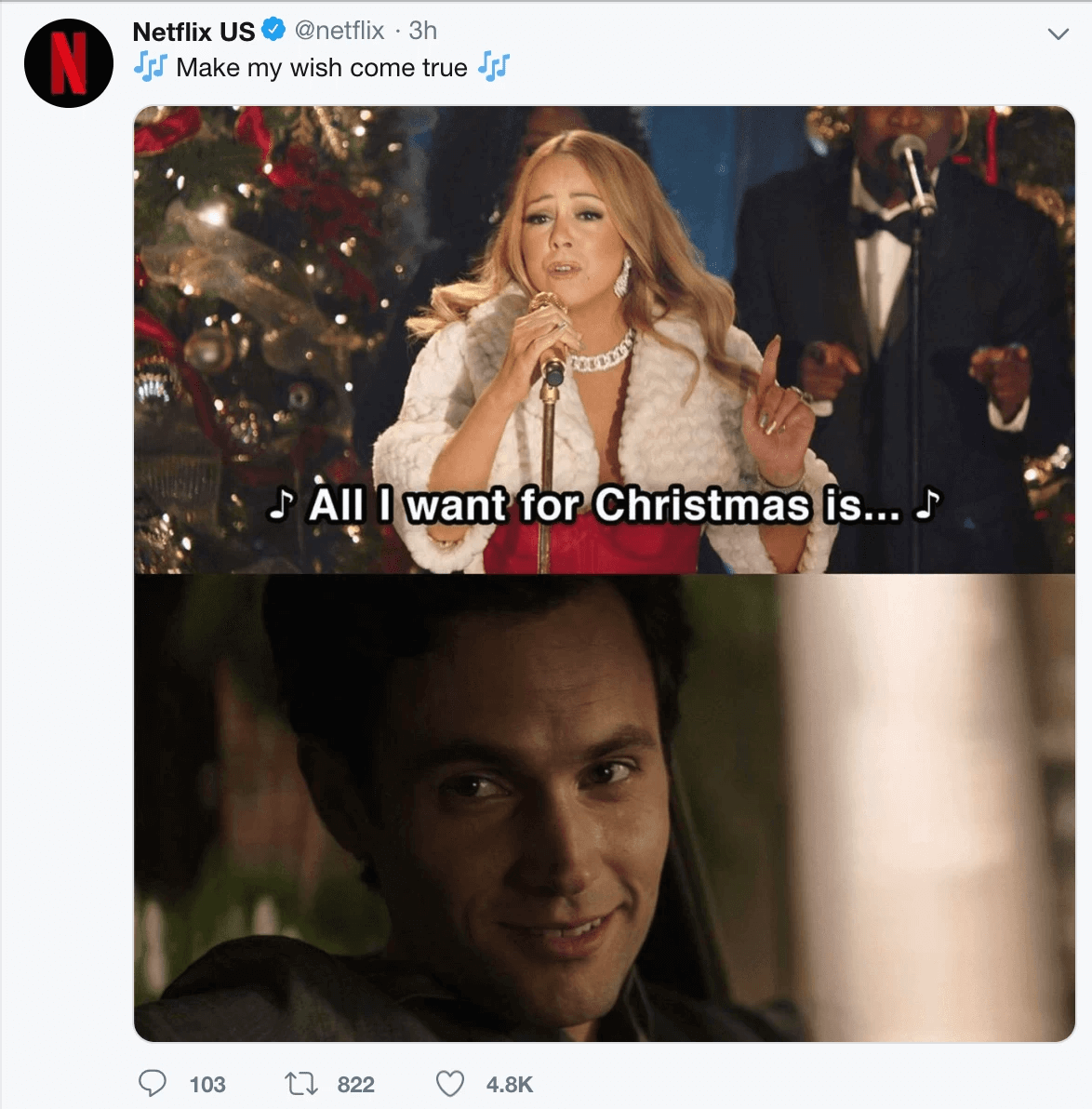 Here is a great example of the jokes they use, merging the classic line from Mariah Carey's famous Christmas song with the title of the one of Netflix's series "You".
In this case, Netflix retweets from one of its own account's mentioning the scene from "Two popes".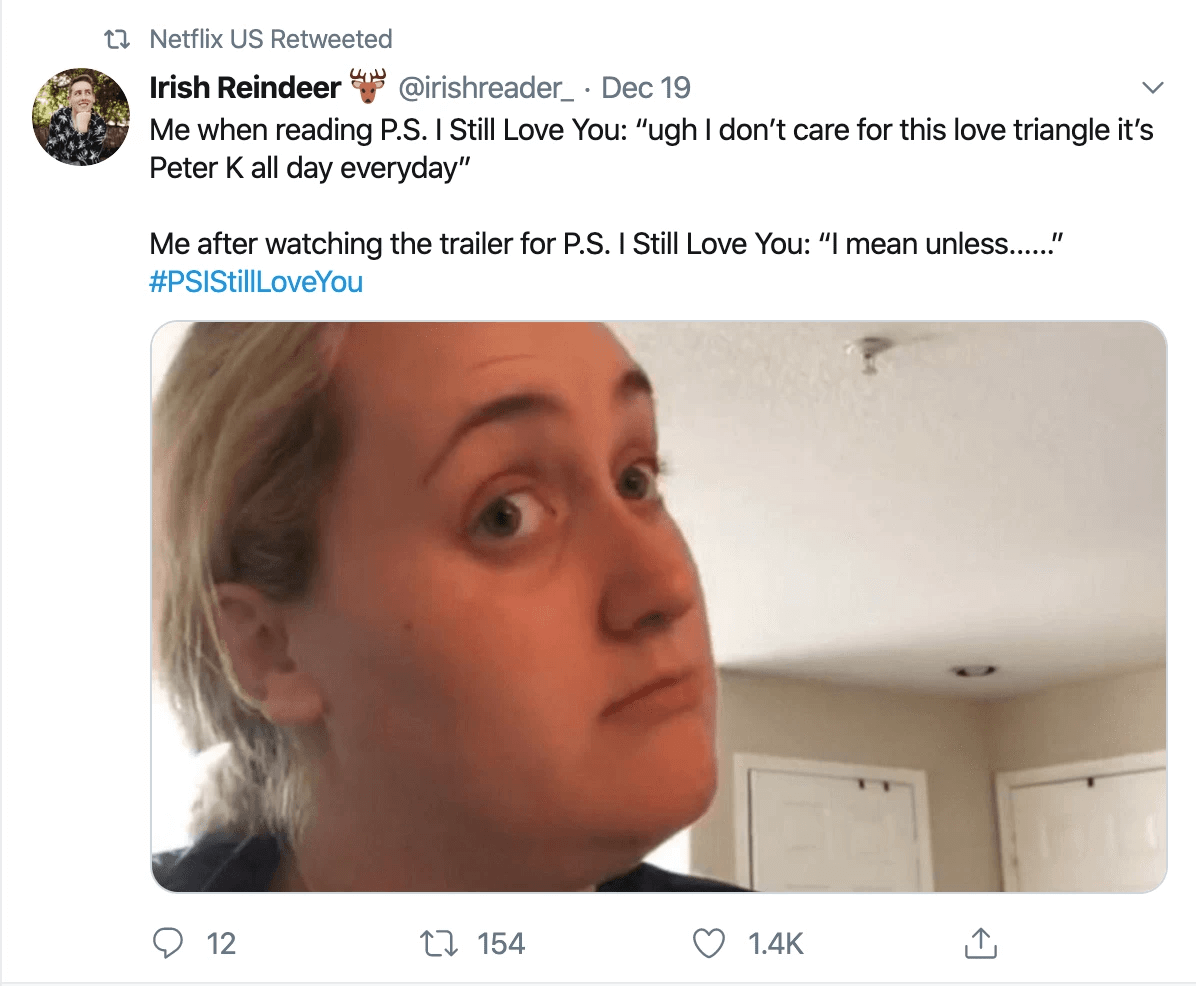 Another great example of how big brands like to engage with their followers is using a viral meme of the Kombucha Girl.
In terms of engaging with its audience, Netflix is doing great. Here's another example of a retweet, where somebody shows excitement in binge-watching shows on this platform.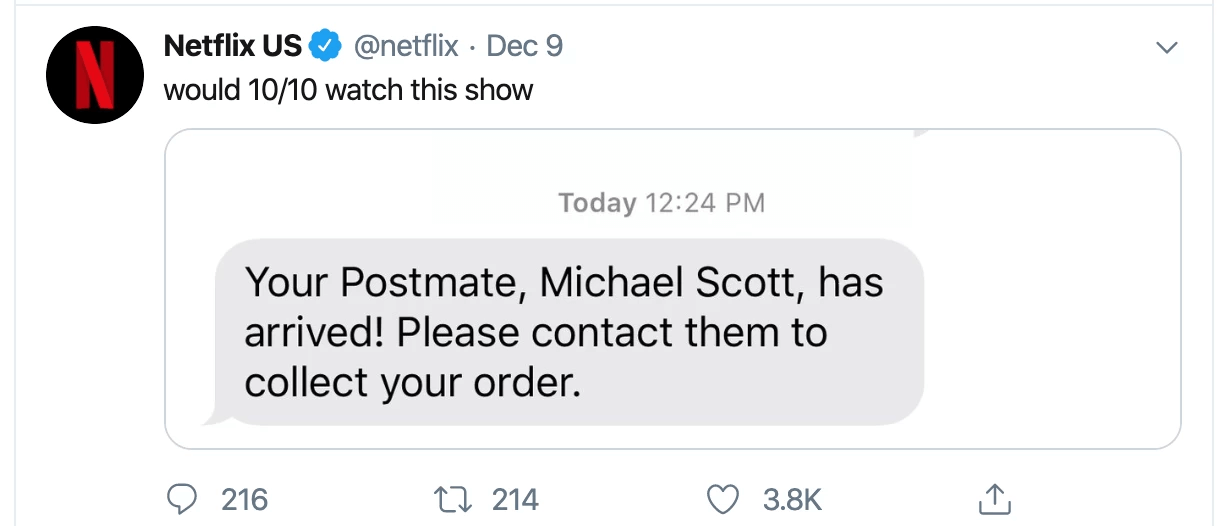 The Netflix Twitter account sure has a knack for references. Here they are making fun of a notification from Postmates, a popular food service, where they mention a character from the popular TV series "The Office".
Chipotle
Here's another food chain showing that they can crack a few jokes on Twitter, too.

A reference to the popular music app Spotify, which showed the wrap-up statistics to mark their decade of music. Chipotle jokingly tweeted how many people incorrectly pronounce their brand name.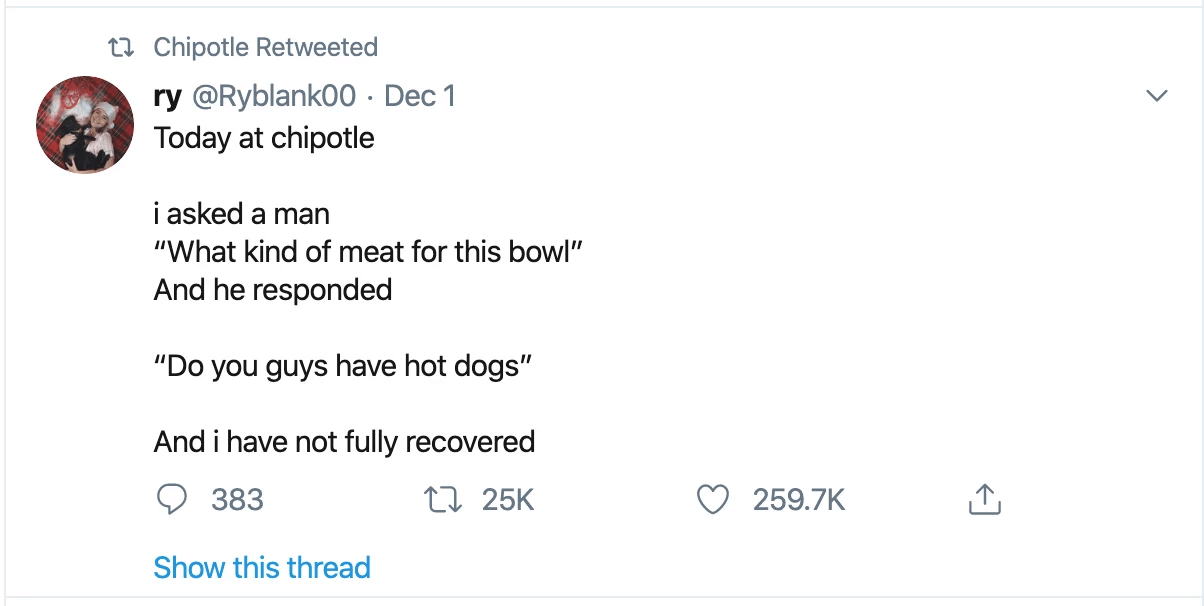 Once again a retweet, showcasing a funny encounter of one of the customers.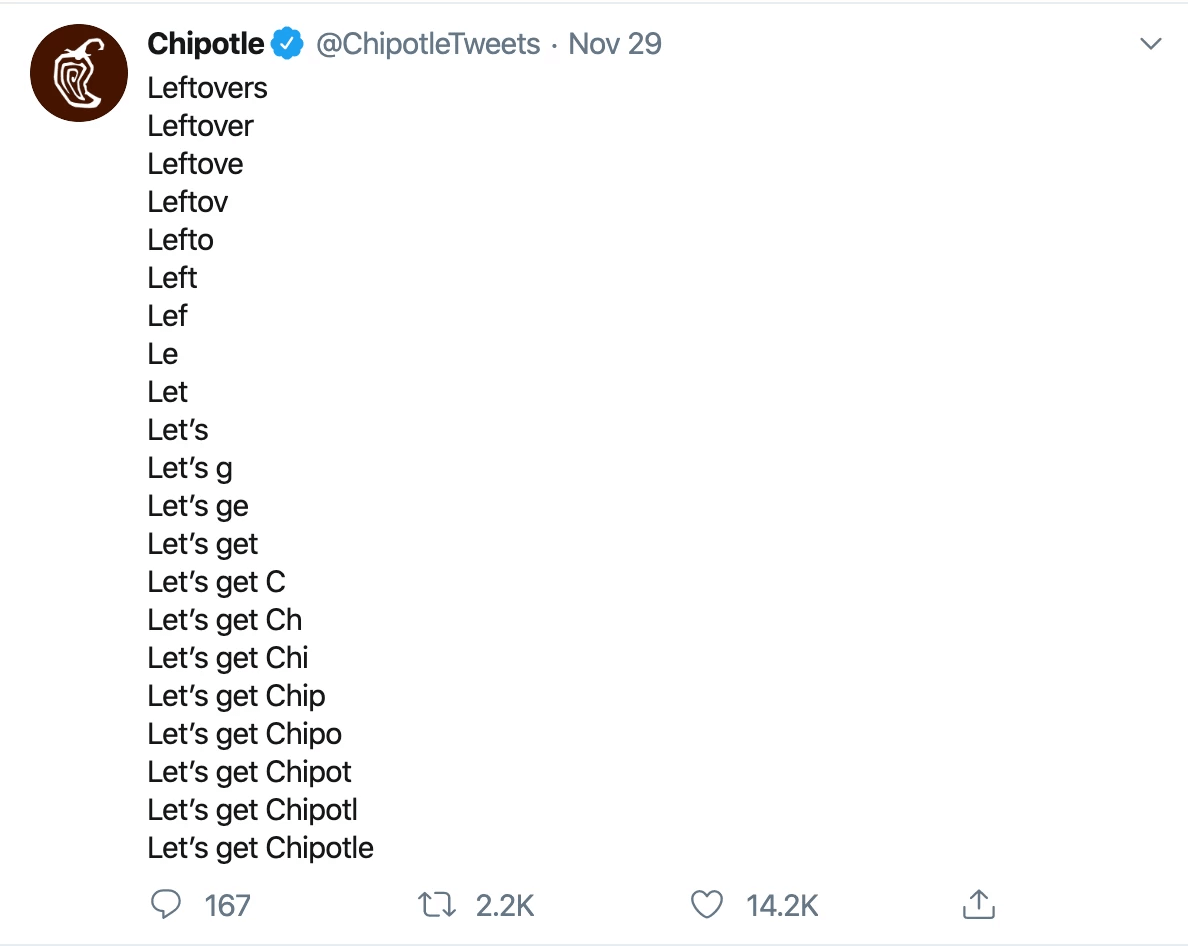 Here is another example of how famous brands utilize trending memes. Here they repeated certain words until eventually deleting them and forming a new phrase. As you can see from the number of likes and retweets, a lot of people showed how much they liked this tweet.
Another example of how the food chain engages with its customers, retweeting a mother's tweet about her daughter completely mispronouncing the brand name.

Chipotle's napkins are constantly being taken by the customers in large quantities and the restaurants make fun of this on social media.
Uber
Uber takes a simpler, yet still very friendly approach to its tweets. Usually, they tend to respond to the ride experience of their customers.

Here the company mentions the lyrics to Gwen Stefani's 2004 hit, responding to the customer's experience.

An example of how the company plays along with the client's request.

Continuing the trend of responding to its clients.

Just a nice message from Uber to wish everyone smooth driving and no late shifts at work. It's a great example of how Uber shares its beliefs and tries to connect with its clients.

And another reference to a famous song.
Oreo
The Twitter account of this world-famous chocolate cookie always delivers with its jokes.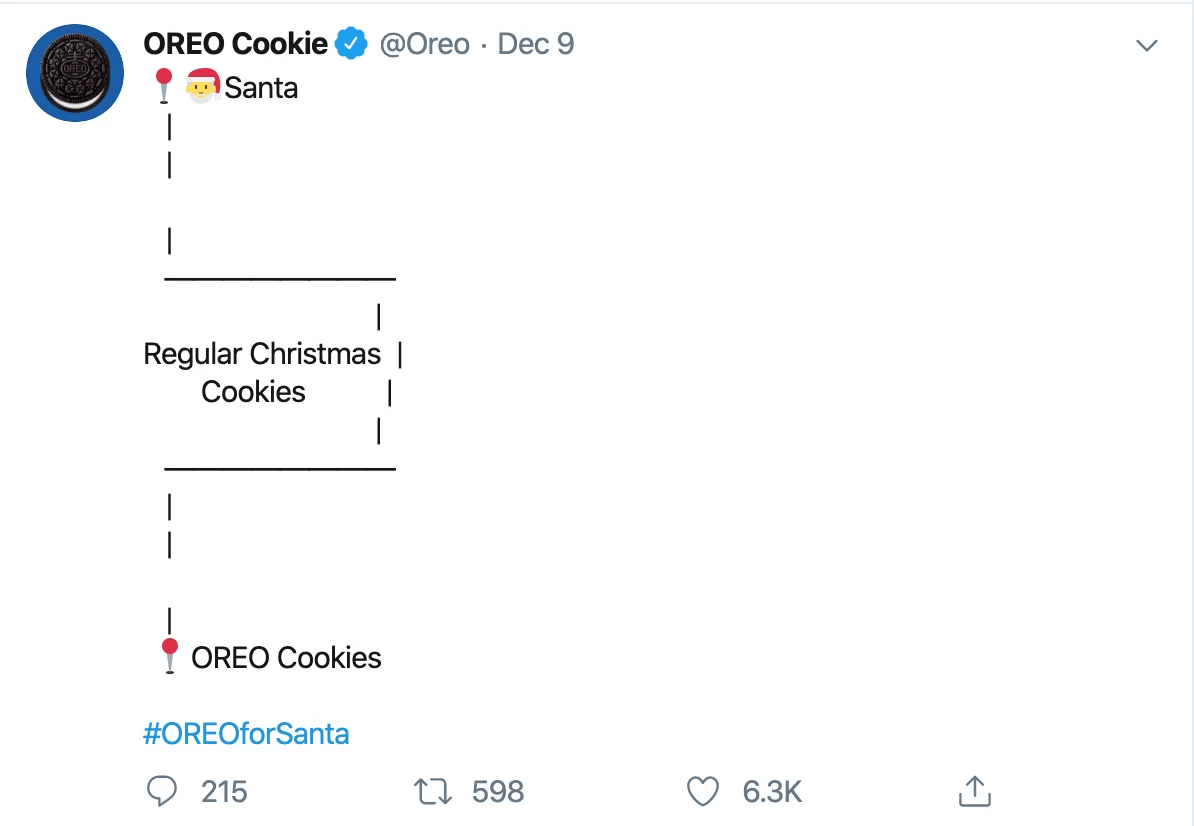 With Christmas just around the corner, Oreo makes a fun drawing tweet showing Santa willing to pass around regular Christmas cookies just to make his way to their products.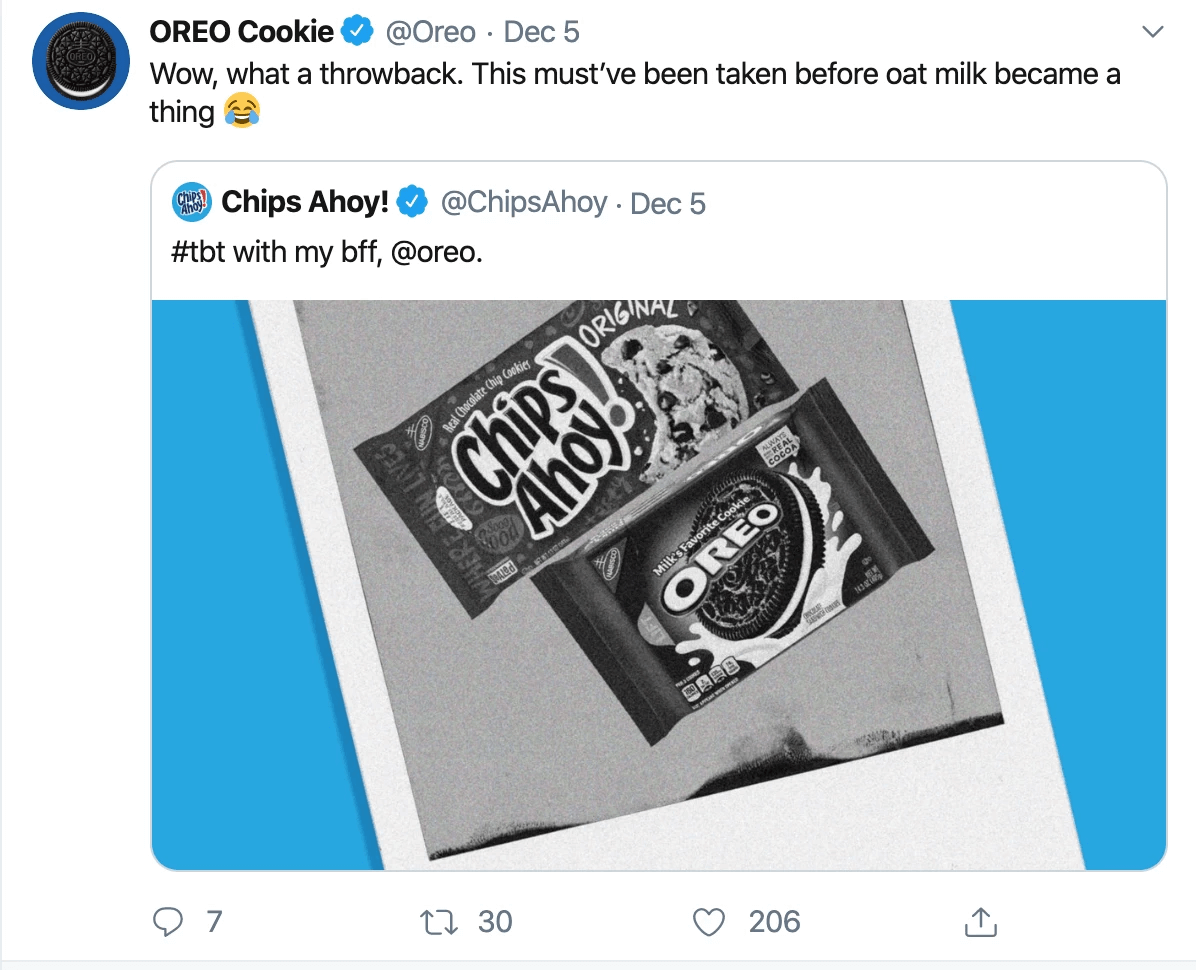 Here we can see how Oreo's Twitter page interacts with other brands in the same industry. In this particular scenario, they joke around how consumer's taste has evolved over the years (as seen by the black and white picture).

Oreo's Twitter loves to play around with various texts: here, they showcase the stuff they like to do, all while highlighting their distaste in traditional chocolate chip cookies. This way, the brand shows how confident they are in their product and crack a few jokes while they're at it.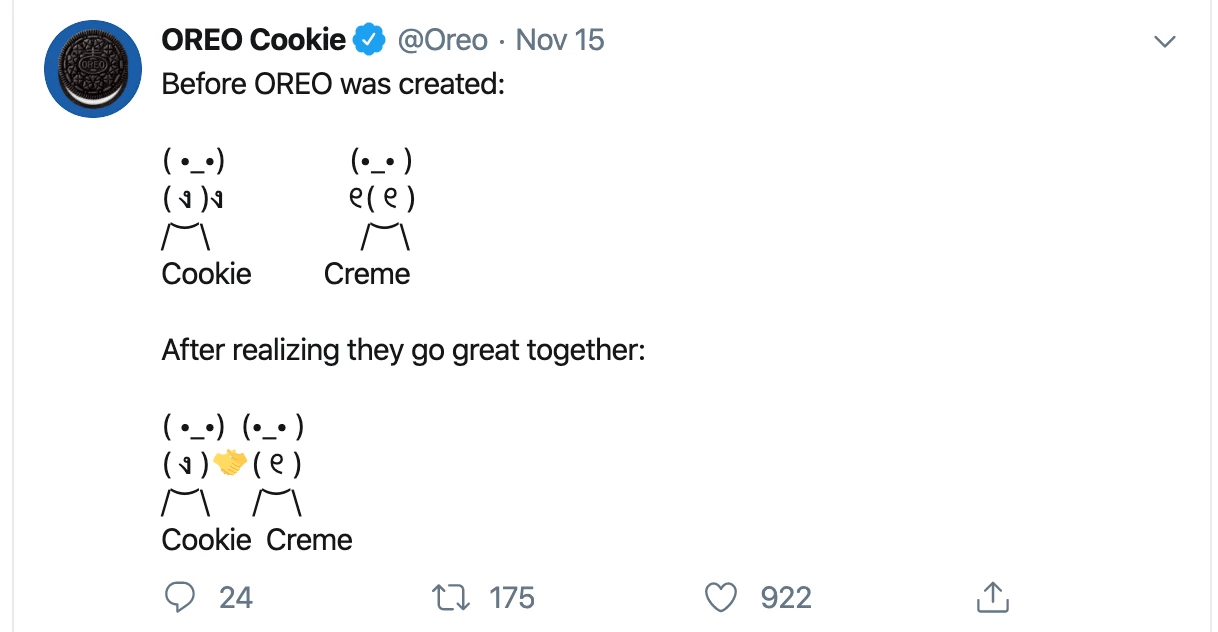 Another example of them using various illustrations. In this case, Oreo tells a little story of how its ingredients came to be.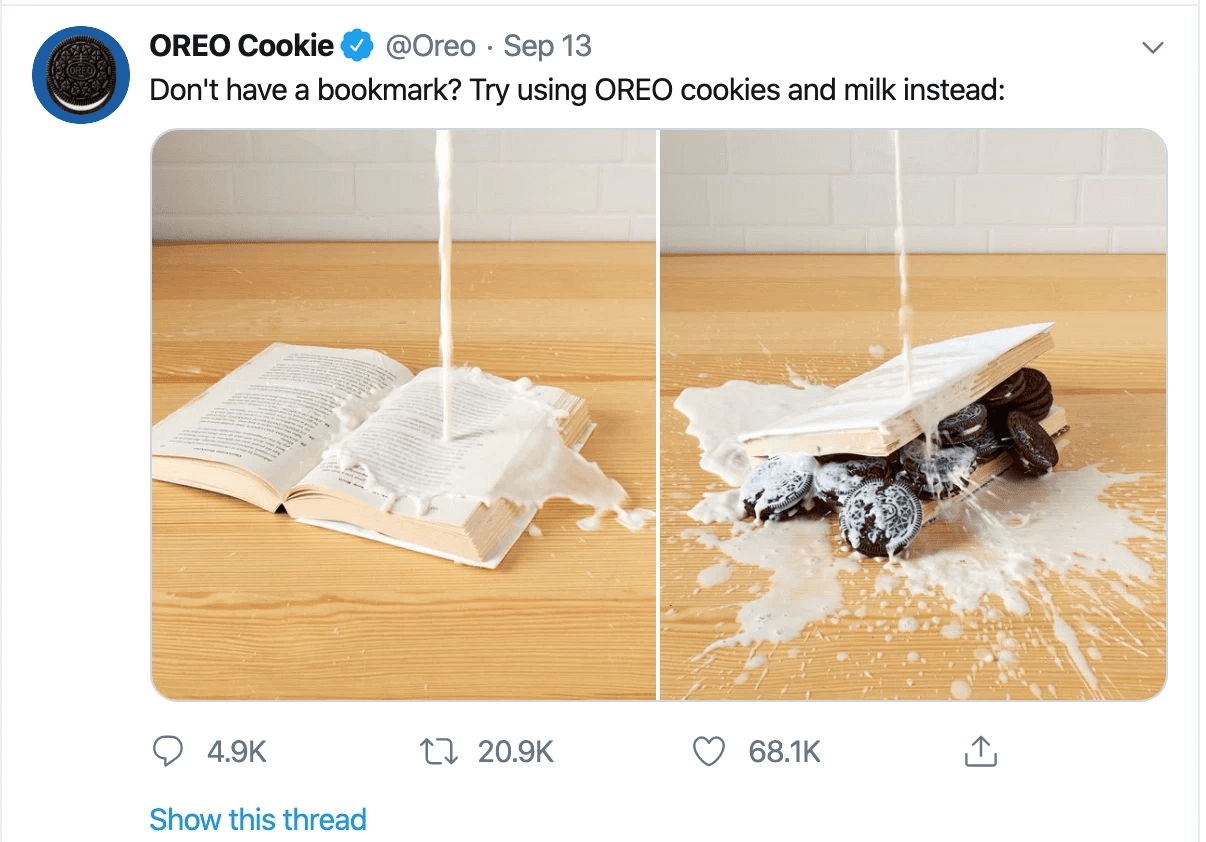 Wow, just look at the engagement of this tweet! Using their famous cookies (and some milk), Oreo proposes to use them as a bookmark.
Charmin
You'd be surprised how a very popular toilet paper company can entertain its followers.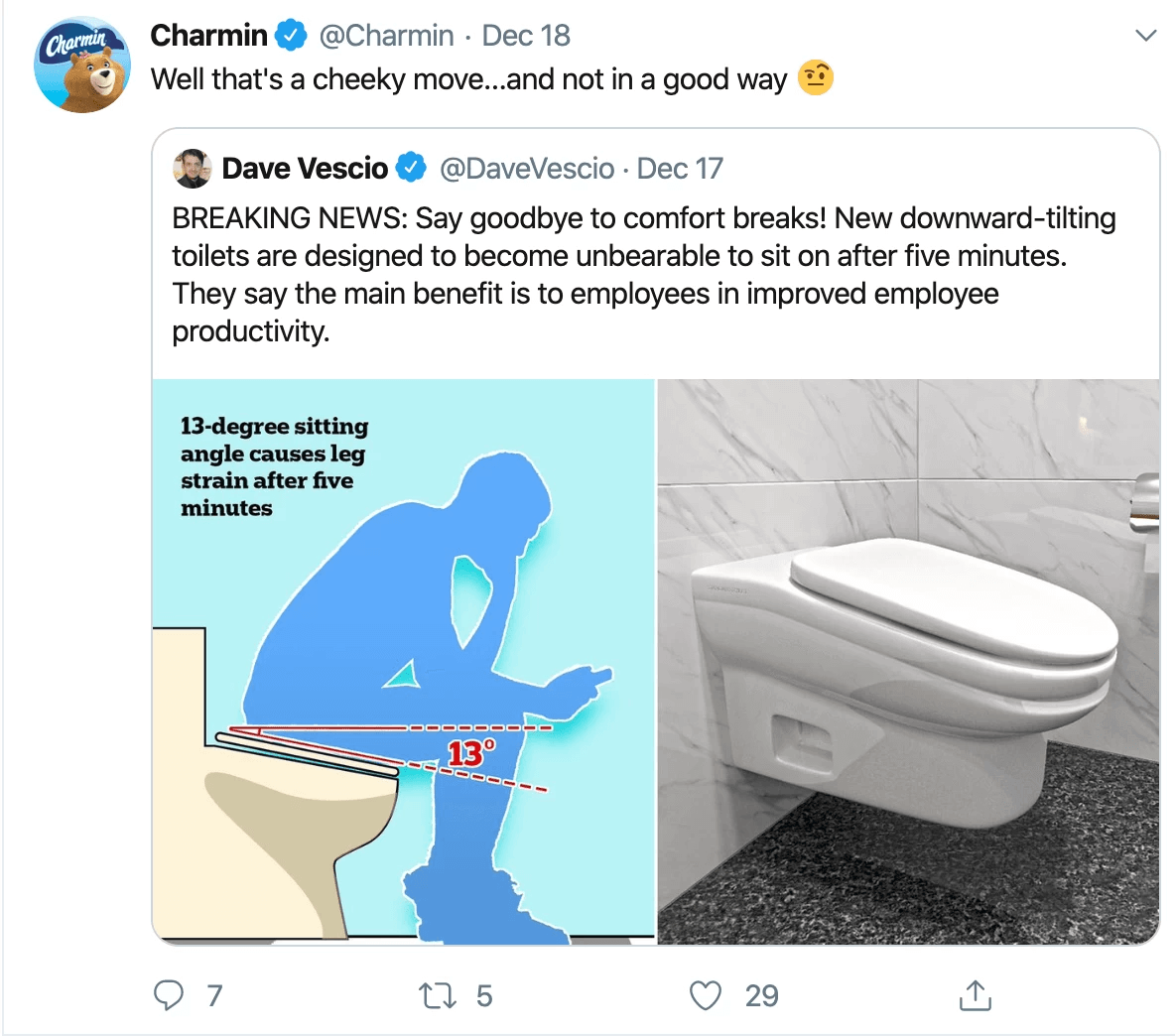 Keeping up to date with all the latest news in the industry (even if they aren't real), Charmin shows a great sense of humor through a funny pun.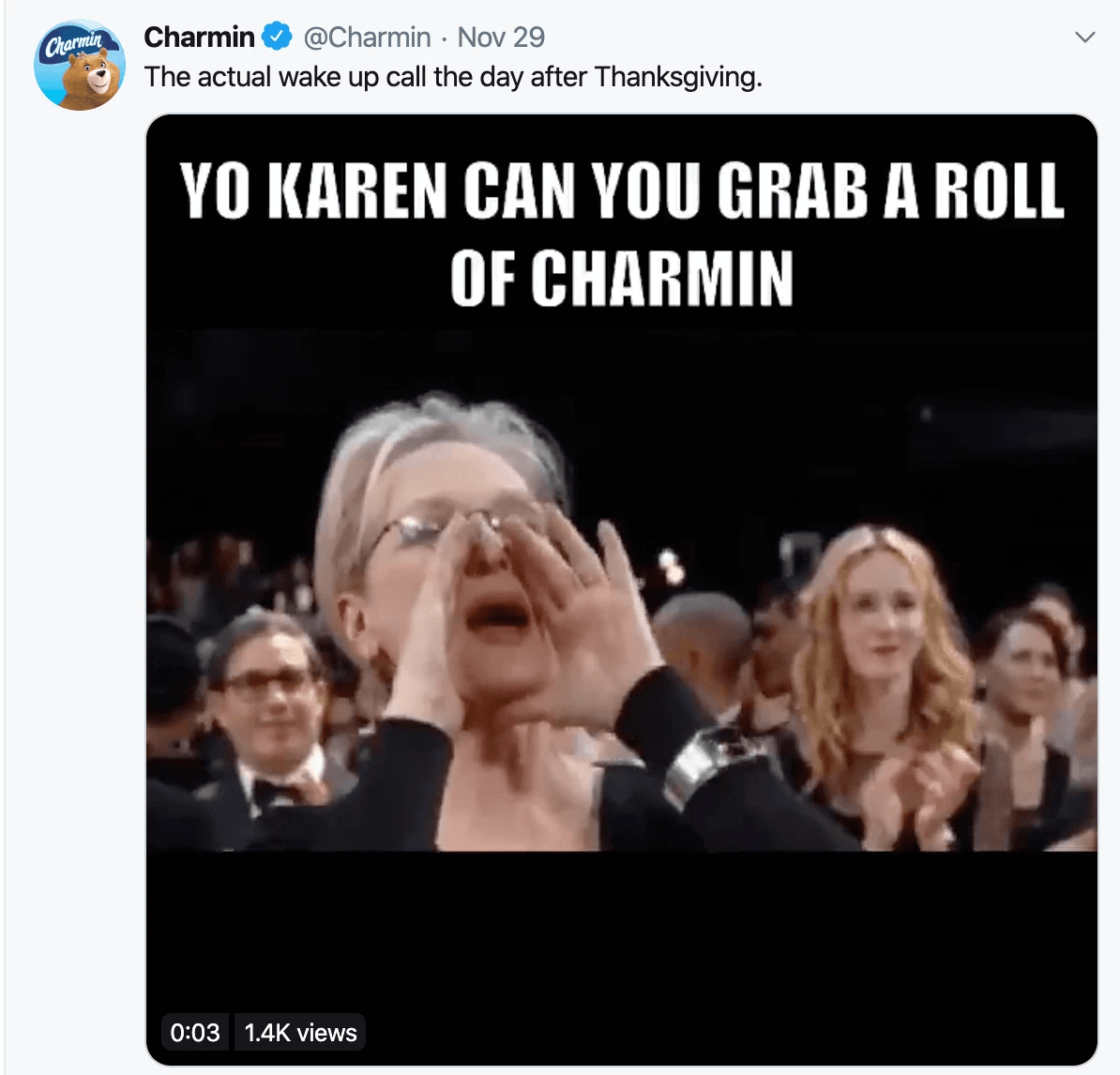 Displaying the famous actress Meryl Streep and adding their own brand-focused caption, Charmin jokes about how its product is used during the holiday season.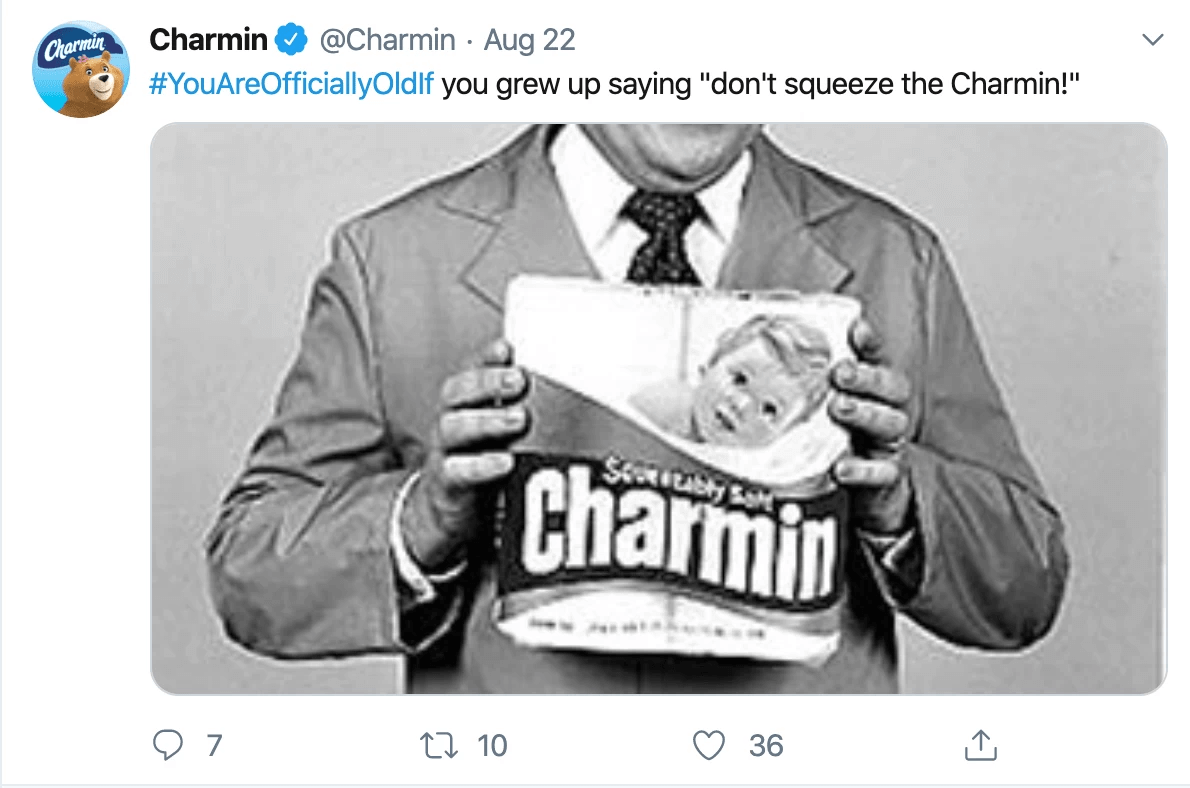 In this case, you can see how Charmin utilized a trending hashtag by posting a black-and-white picture that was supposedly taken a while ago.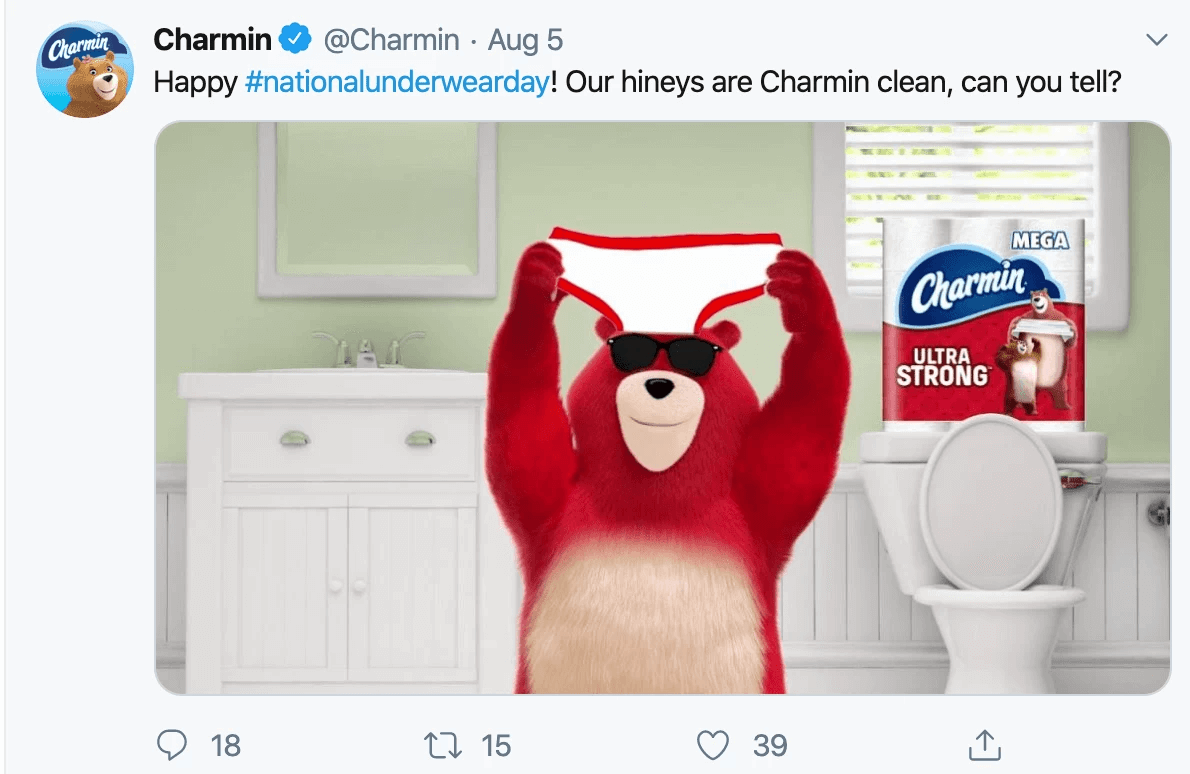 In case a small holiday relates to your brand, you can refer to it to create content. Here, the toilet paper brand refers to and uses its slogan to celebrate a fun holiday.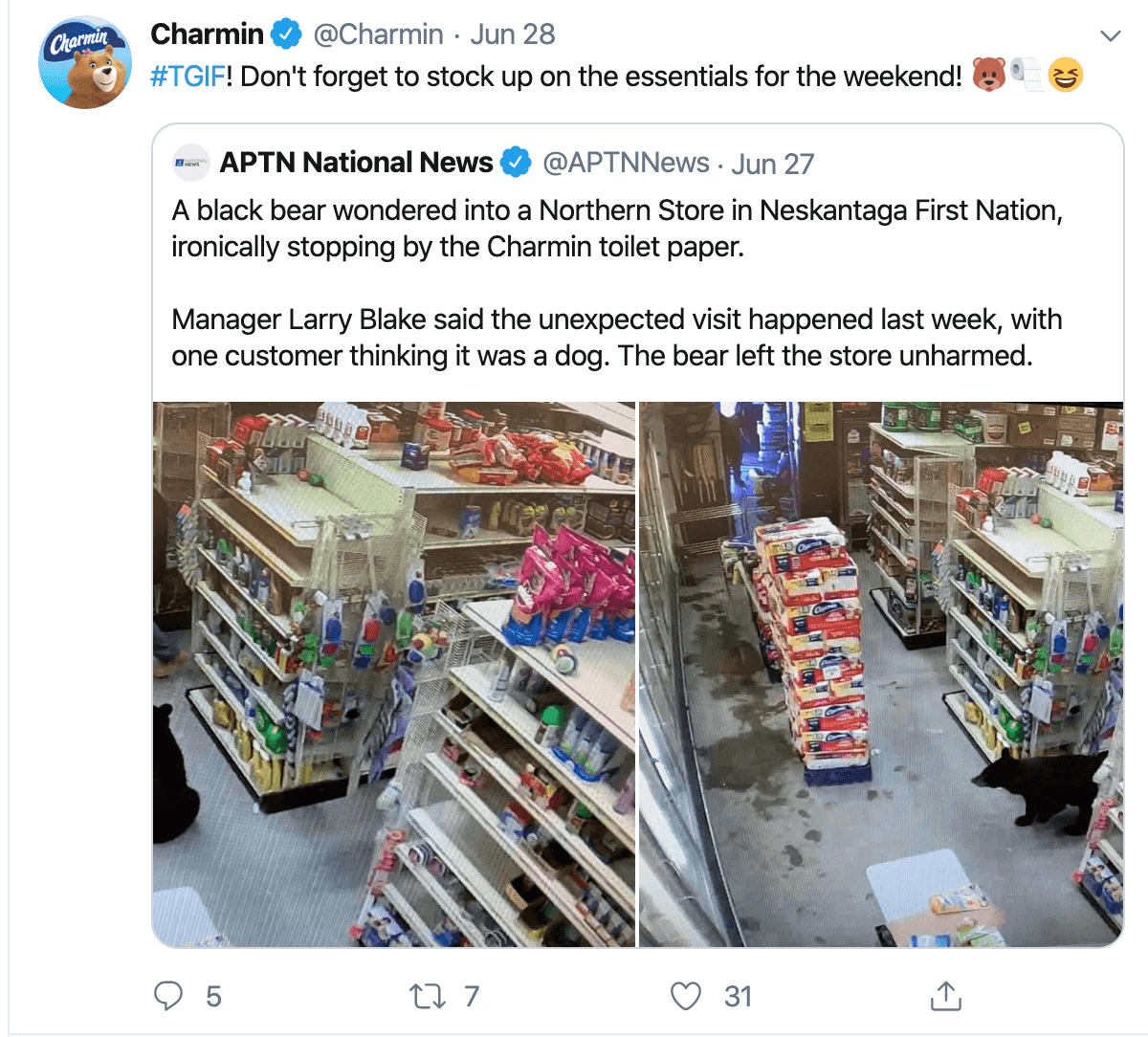 Random events and news are also a great source for content. Here is a perfect example of how a bear broke into a store and stole a Charmin toilet paper. The bear happens to be the mascot of Charmin and to not post this would be a wasted opportunity.
Axe
A male-oriented product – Axe, is famous for its infamous advertisements and is great when it comes to joking on Twitter.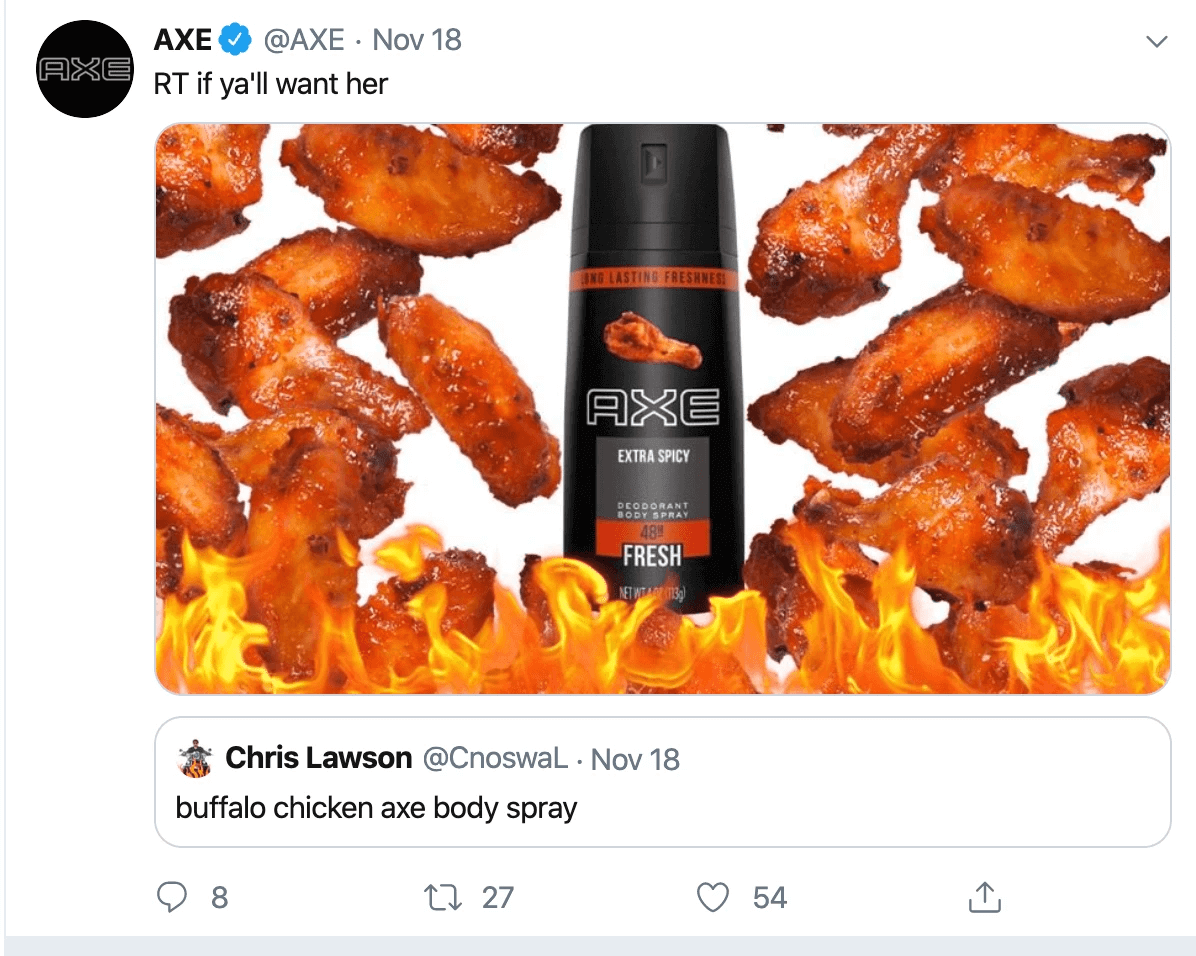 Axe jokingly asks the followers if they want a body spray that a fan suggested making.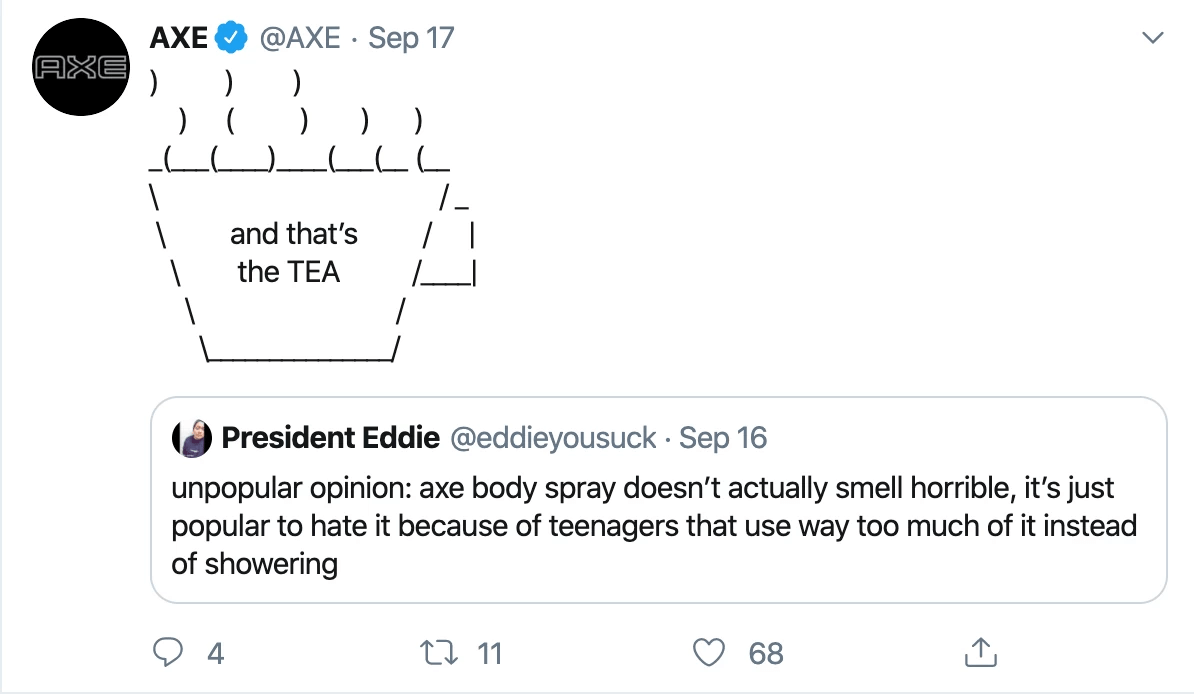 Using "The tea" as a synonym for gossip or the truth, Axe retweets a Twitter user's thoughts on a controversial topic.

In a joking manner, Axe pretends to block a Twitter user who seems to be not such a big fan of the company's products.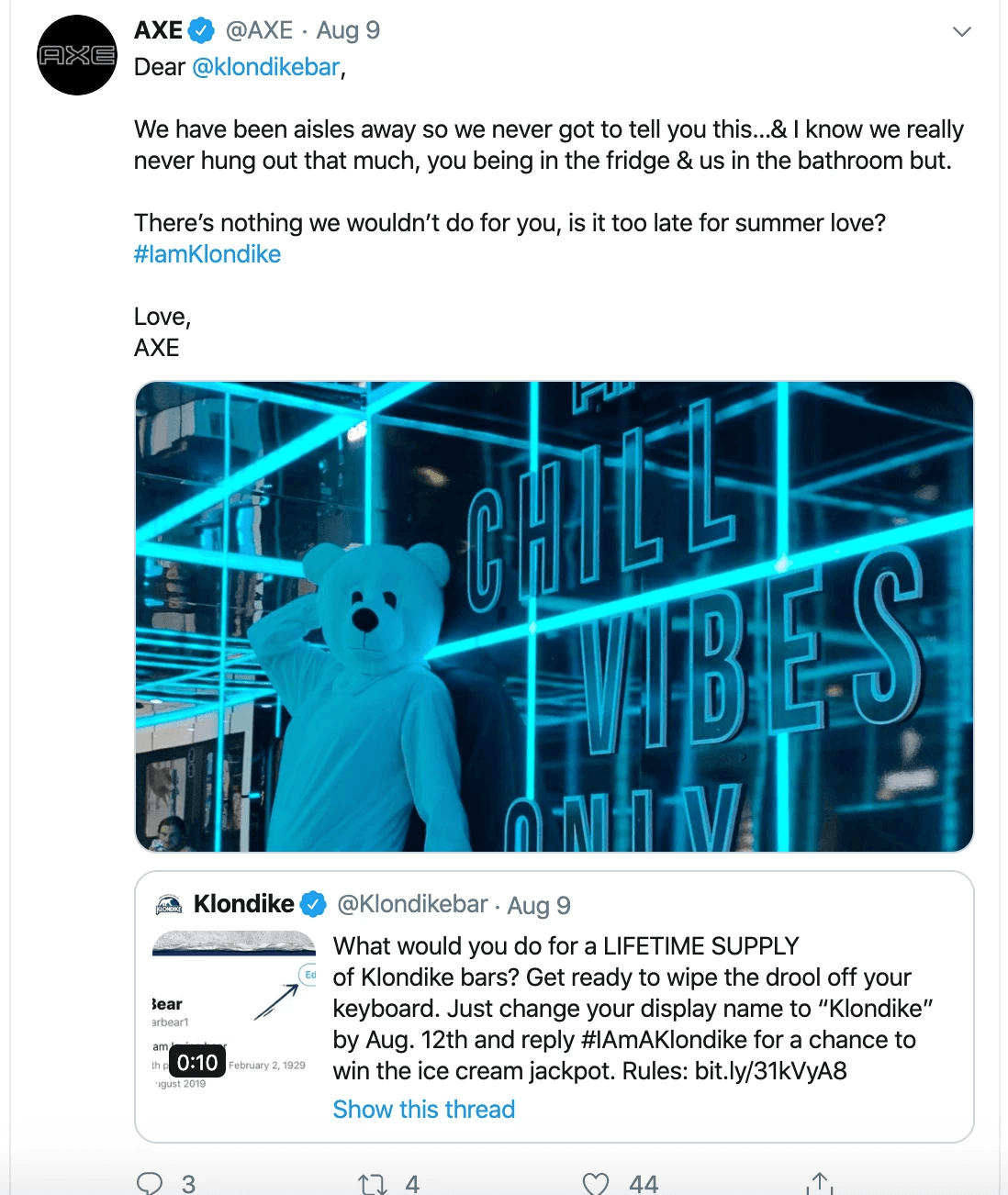 Responding to another brand in a friendly manner is always a good way to generate some fun content.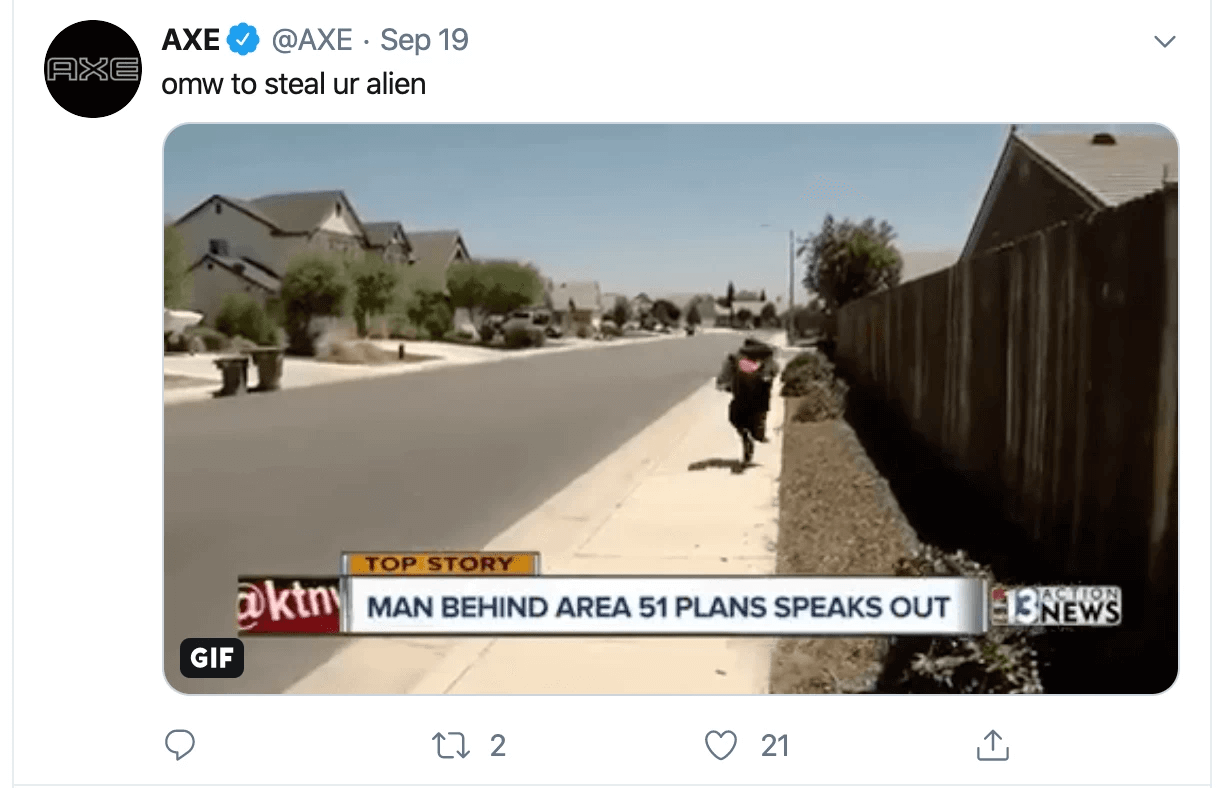 Back in 2019, on the day of the much anticipated Area 51 raid, a man went viral for his Naruto-style of running during a live news feed. As a result, many people started to imitate this man and Axe decided to join in on the fun in their own way. The brand tweeted a gif showcasing the man running with a caption that they are ready to raid Area 51 and steal some aliens.
Pop-tarts
And back to snack brands… What can we say, they have some entertaining content to share.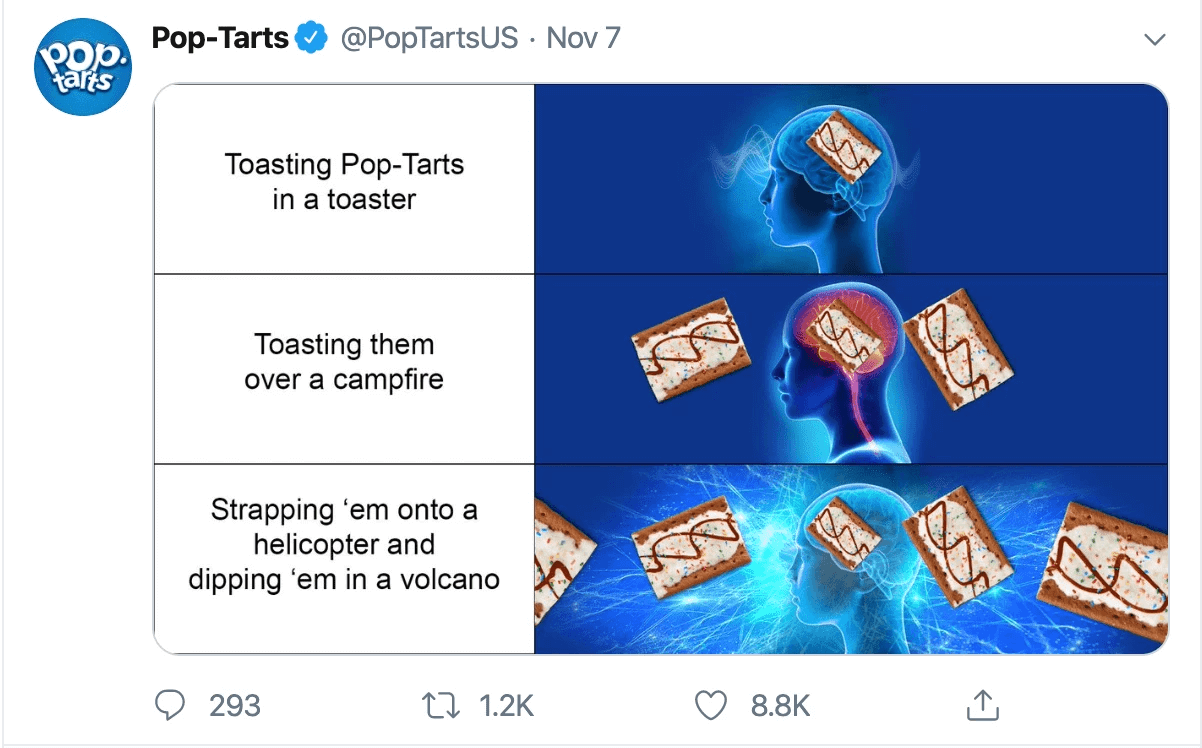 Showcasing their products in the popular brainwave meme made to demonstrate different levels of intellect, the brand makes fun of how people warm up the treat.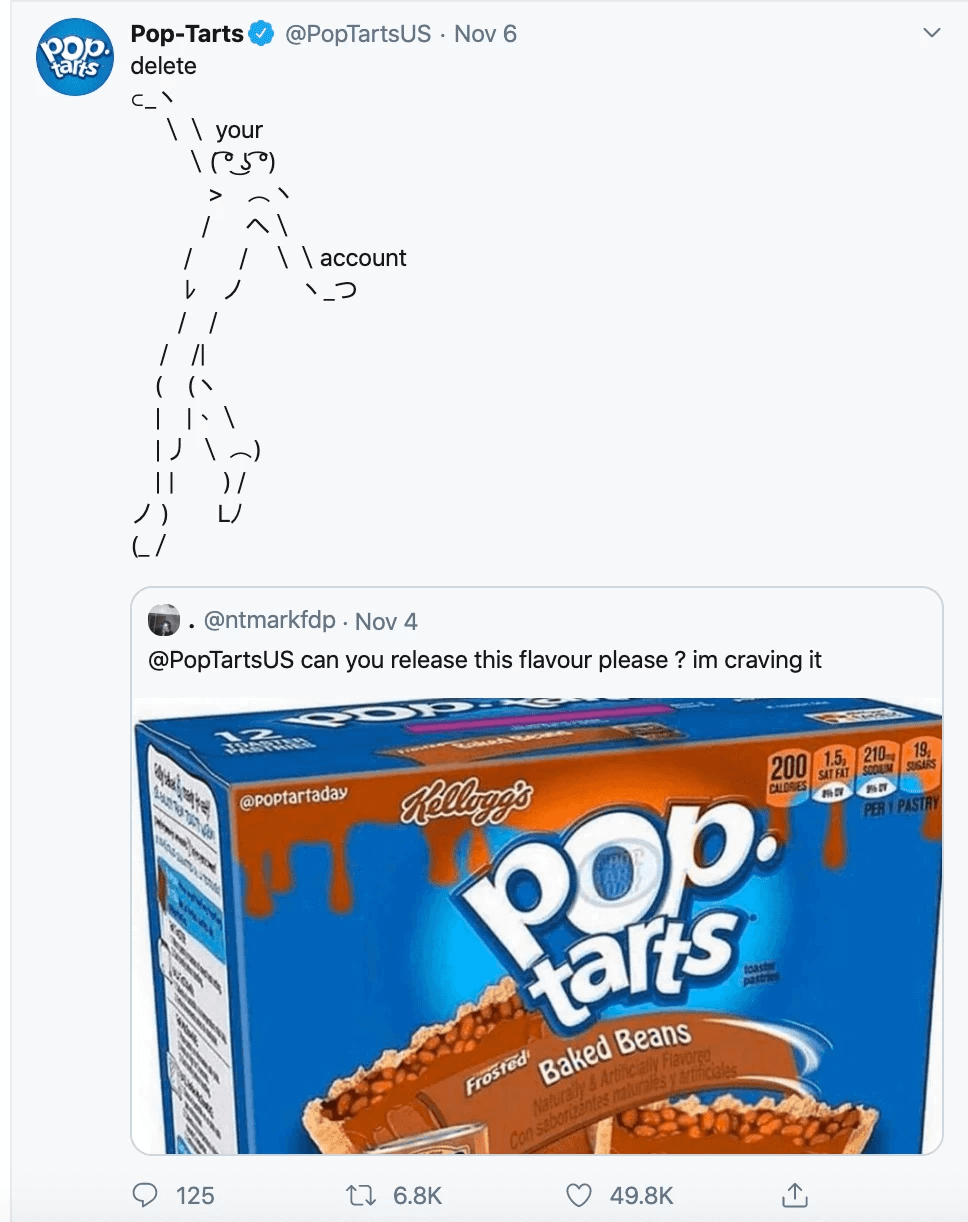 Showcasing their illustration skills, Pop-tarts tells a user to delete their Twitter account for suggesting creating a very questionable flavor.
Here, the famous treat interacts with another breakfast-food brand, Froot Loops. In response to the tweet suggesting making a Froot Loops flavored Pop-Tart, Pop-Tarts responds with a friendly message showing their love and saying that the flavor will be available soon.
Another example of how Pop-Tarts interacts with other brands. This time, they dismiss the thought of such a ridiculous flavor idea. As you can see, a lot of users enjoyed this tweet.

A very simple tweet consisting of just 3 words. You might be wondering why it has this kind of engagement? With this tweet, Pop-Tarts poked fun at themselves with the "toasted" pun and referenced the 4/20 date: a day known to cannabis users as a celebratory day to smoke.
Final thoughts on how to utilize funny tweets
All things considered, the overall idea is to find your brand voice and personality, so that your message can be relatable to your audience. This will result in your social media page attracting new followers, gaining some laughs, and boosting your brand engagement on Twitter!
With the Social Rabbit tool, you can promote your products on Twitter automatically and get more time to make up engaging content.