Instagram Influencer Marketing: What It Is And How To Benefit From It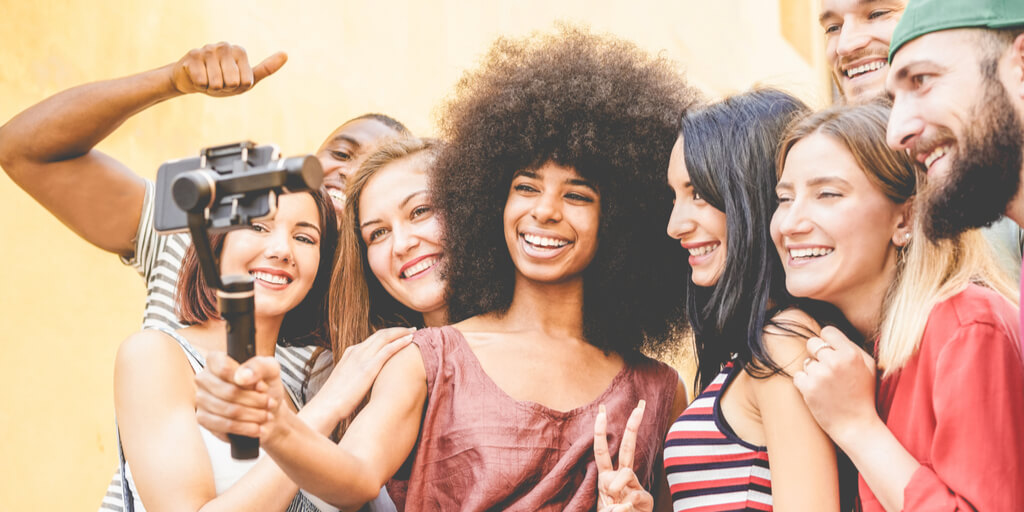 Adding influencer marketing to your promotional campaign can be a game changer for your business growth. It definitely can help to gain a pool of potential customers and reach new audiences. In this article, you will learn who influencers are, what they do, and how you can start using influencer marketing.
There's no doubt you have already heard about influencers. Probably, you even follow several ones. These people, with their cameras recording and capturing almost every moment of their life, have the huge marketing power now valued at an estimated $15 billion for 2020!
Instagram influencer marketing changed and improved a traditional way of advertising. Now, brands can present themselves in a more trustworthy, authentic way – through "testimonials" of popular Instagram users (influencers).
When an influencer recommends a company, service, or product on their social accounts, it looks more like friendly advice than an ad. Obviously, this is a huge advantage for brands and marketing in general.
With the help of a business partnership with relevant influencers, brands can directly (and effectively) reach narrow target audiences and have a huge impact on them. Of course, this is highly important to collaborate with influencers whose audience and interests are similar to yours for a more authentic voice.
In this article, we suggest you learn more about influencers, who they are, what they do, and how you can use their power for your business.
Influencers: who they are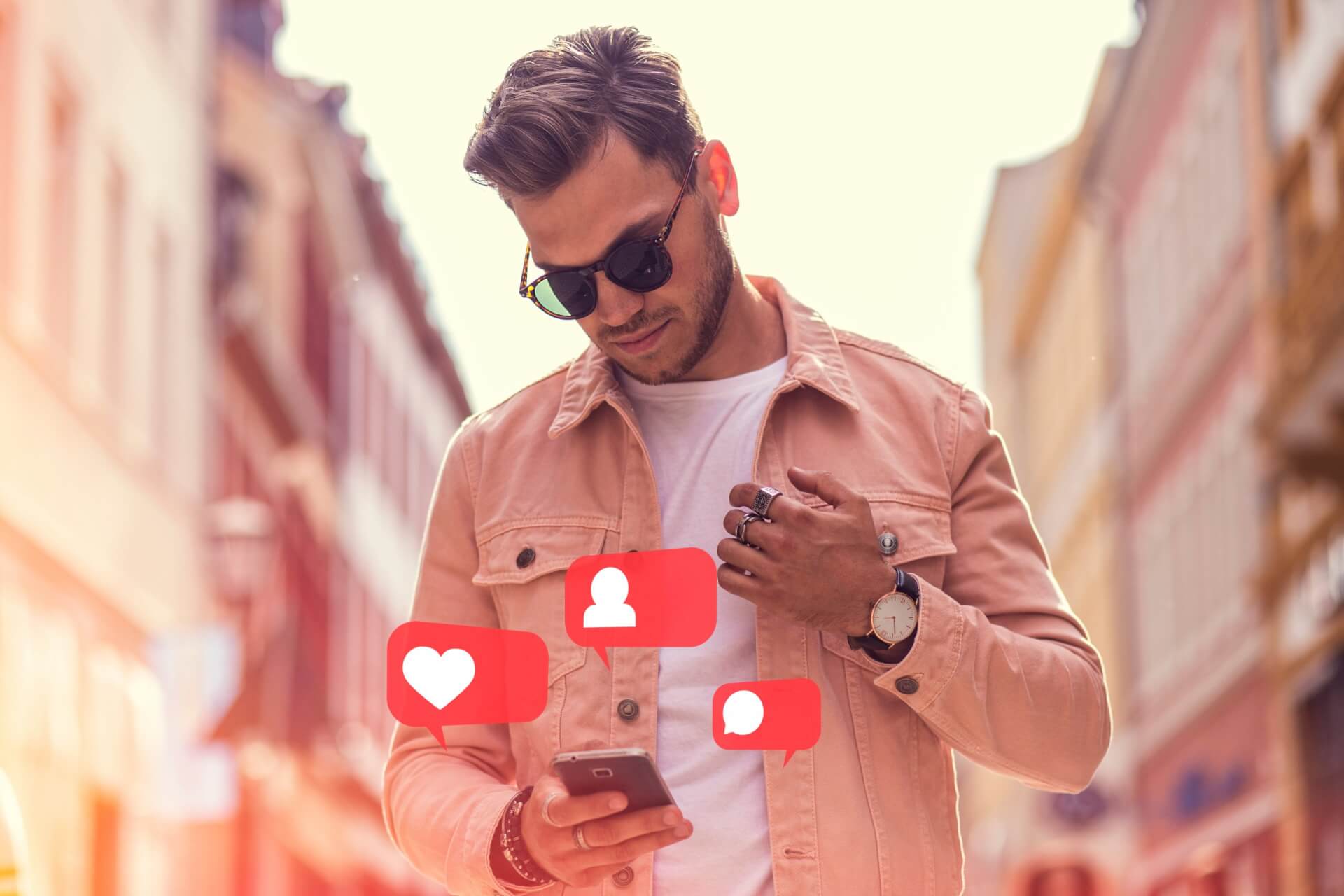 Instagram influencers are people who run blogs or create engaging content on Instagram and have a high trust level. Usually, influencers share their opinion and information on various topics, news, or products with the audience through Stories and posts.
There is a wide-spread notion that the best influencers to choose for your business promotion must have hundreds of thousands of followers and likes. But, in fact, bloggers with a small number of followers can have a great engagement level. And it makes him or her a micro-influencer because he or she can easily impact readers' minds and decisions.
Influencers usually have a certain niche they speak about. Some of the most popular ones include travel, food, beauty, fashion, sport and fitness, and photography. To promote products or services, companies collaborate with influencers who are "experts" in the relevant business niche.
How Instagram influencers work
Instagram is one of the most business-friendly social media platforms. It has tons of various ways to promote a product, service, or company: posts in the news feed, captivating videos, bright images, vigorous Stories, and vivid Instagram Lives. And influencers can use all these tools to tell their followers about your brand.
But what is more significant about influencers is that they more than just one more way to promote your products or service. They also positively affect the credibility of your company because people, who follow them, believe influencers and like their lifestyle.
If you work with an influencer specializing in your business niche, that means you can gain very qualified leads for potential sales, who already have a high trust level to your brand.
Is Instagram influencer marketing really effective?
To make a long story short, yes, it is. And to prove it, we collected marketing data from various sources. One quick glance at these stats, and you will realize how impressive and effective collaboration with influencers can be.

We started from Twitter, not Instagram, because we want to show that influencer marketing is effective regardless of a platform. People trust influencers' opinions and are ready to buy something by their recommendations.
This is one more evidence of the fact that people trust other people more than brands' promises from various ads. That's why any business should invest energy and money into reputation marketing. And who can boost the credibility of your brand better than the right influencer?
Why wait till the next year when you can benefit from influencer marketing right now? Be one of the first entrepreneurs who implement this effective promotional way in a marketing strategy.
You don't have to try to collaborate with some celebrities for a sky-high price. A better way is to find a micro-influencer who is interested in the same business niche as you and partner with him or her. Usually, they have better engagement and trust levels and thus bring better results for your business promotion.
How to use Instagram influencer marketing: 3 options
Well, now we know that influencer marketing is one of the most effective ways to promote your business, increase brand awareness, and make a brand more trustworthy.
When you find an influencer who has an audience similar to yours, you have several ways of how this blogger will tell about your business. Let's consider them all.
Sponsored posts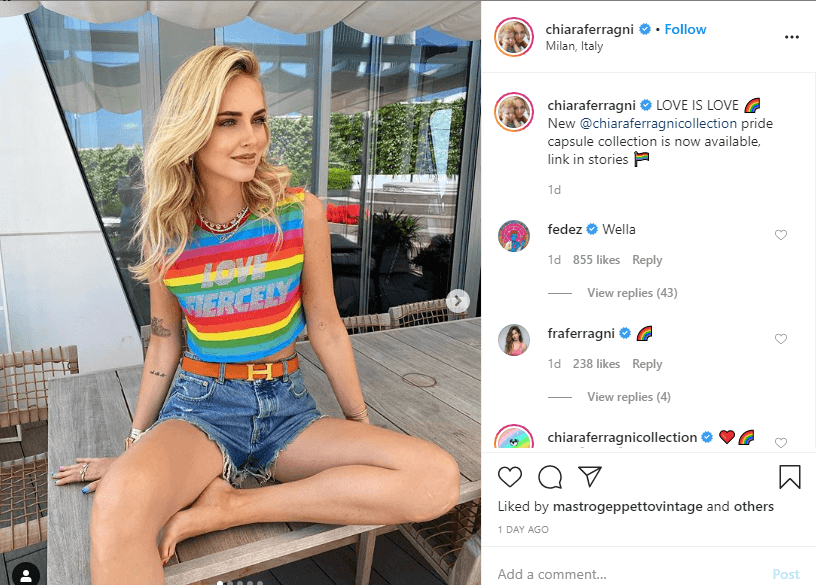 The most common option is a paid post in the news feed. It can be a video or a photo introducing your company or product to the influencer's following.
Usually, influencers tell about your company, product, or service and tag your account on Instagram in the post's caption. If you select a sponsored post, you can be sure that this ad will be in the blogger's account for a long time and provide you with potential customers sporadically.
Sponsored Stories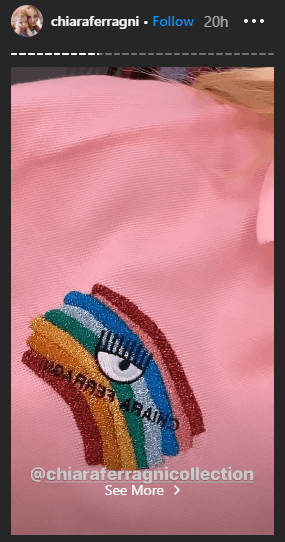 This is a more vivid way of sponsorship. Influencers record one or several short videos about your product or service, tag you or attach a swipe-up link, and post it to Instagram Stories.
According to various researches, Instagram Stories have a higher engagement rate than a post but they are available only for 24 hours. You should take this into account when you think up a marketing strategy.
Sponsored Live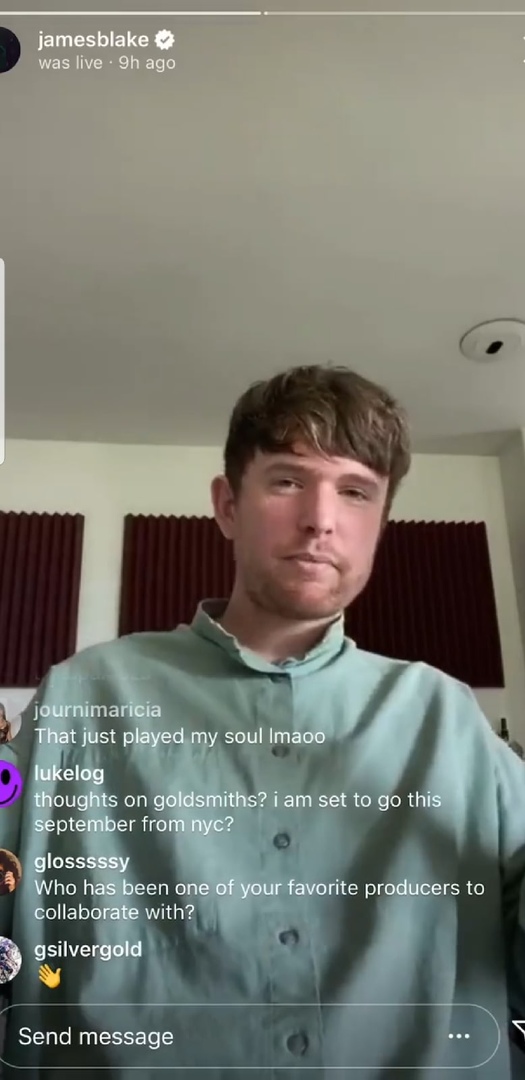 And one more option is recording lives. This is one of the most recent features Instagram released. What's really cool about this option is that when you start live, all your followers get a notification about it. Followers can interact with you in real-time: ask questions or comment on your actions. This helps people be with you "in the moment" and definitely improves your trustworthiness.
There are two types of sponsored lives. The first one is when an influencer tells about your brand in their live, shows your products and reviews them, answers questions and shares the experience.
The second type is when you invite an influencer to go live on your brand's account. It would be better if the influencer announces it on his or her account. This way you will get more viewers and attract new customers to your account.
Top 10 Instagram Influencers
As we already said, there is no need to select only macro-influencers and celebrities as business partners. But you might agree that this is quite fancy to know the top 10 the most popular influencers!
So, here you go:
Kylie – @kyliejenner
Lisa – @lalalalisa_m
Kimberly Loaiza – @kimberly.loaiza
Zach King – @zachking
Camila Coelho – @camilacoelho
Nikkie Tutorials – @nikkietutorials
Amanda Cerny – @amandacerny
Michelle Lewin – @michelle_lewin
Liza Koshy – @lizakoshy
Chiara Ferragni – @chiaraferragni
These are one of the most popular and impactful Instagram influencers in 2020. Each of them has its own specialization – beauty, humor, fashion. Don't forget that the niche and interests of influencers are super important when it comes to picking a partner for sponsored promotion.
How to find influencers for your business: 3 convenient tools
When you know a lot about influencer marketing, it's high time to get a closer look at tools that can help you to find powerful influencers.
Upfluence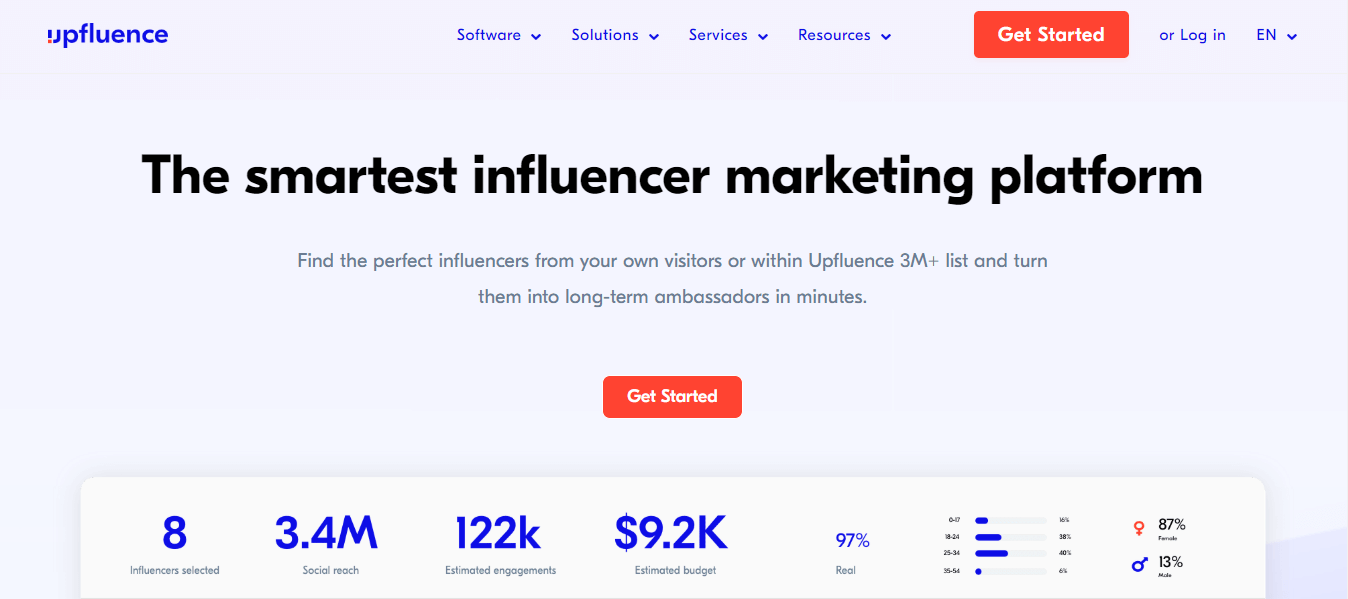 This site helps to find an influencer relevant to your business niche based on keywords you enter. Upfluence has a database of over 3 million influencers so you can be sure that you will find someone for a fruitful partnership.
Post For Rent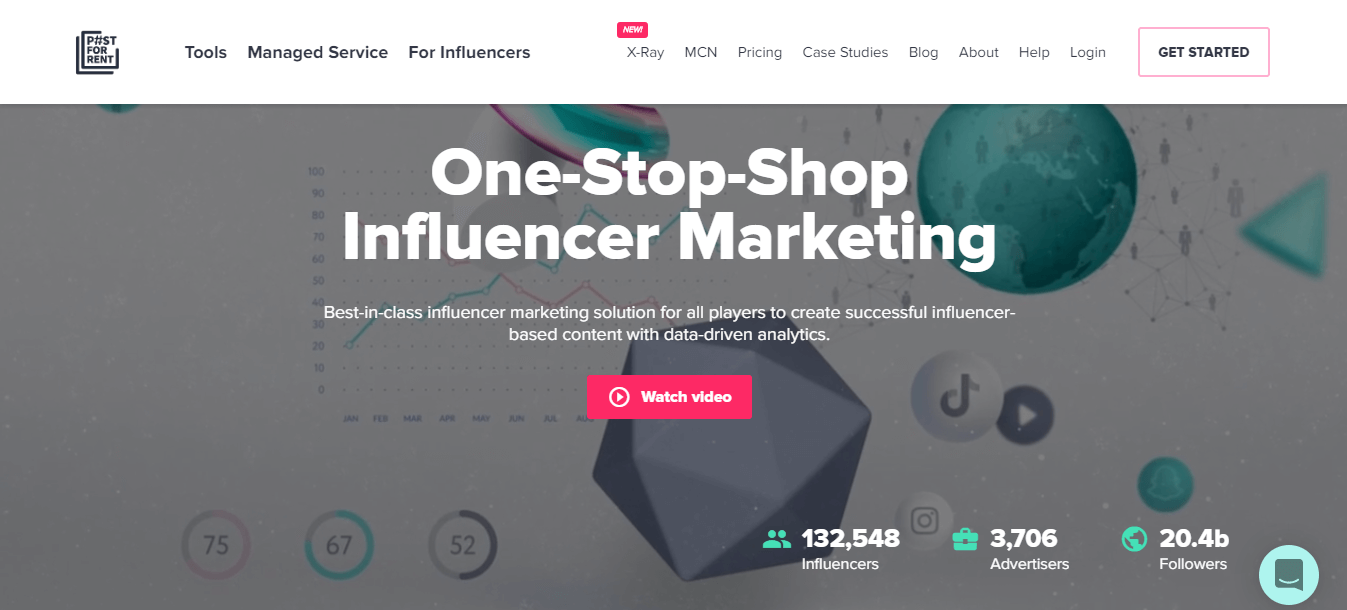 There are over 96k influencers to choose from at Post For Rent. Plus, you can hire a team of marketing experts to help you find a real business partner and delegate the whole process to them.
Awario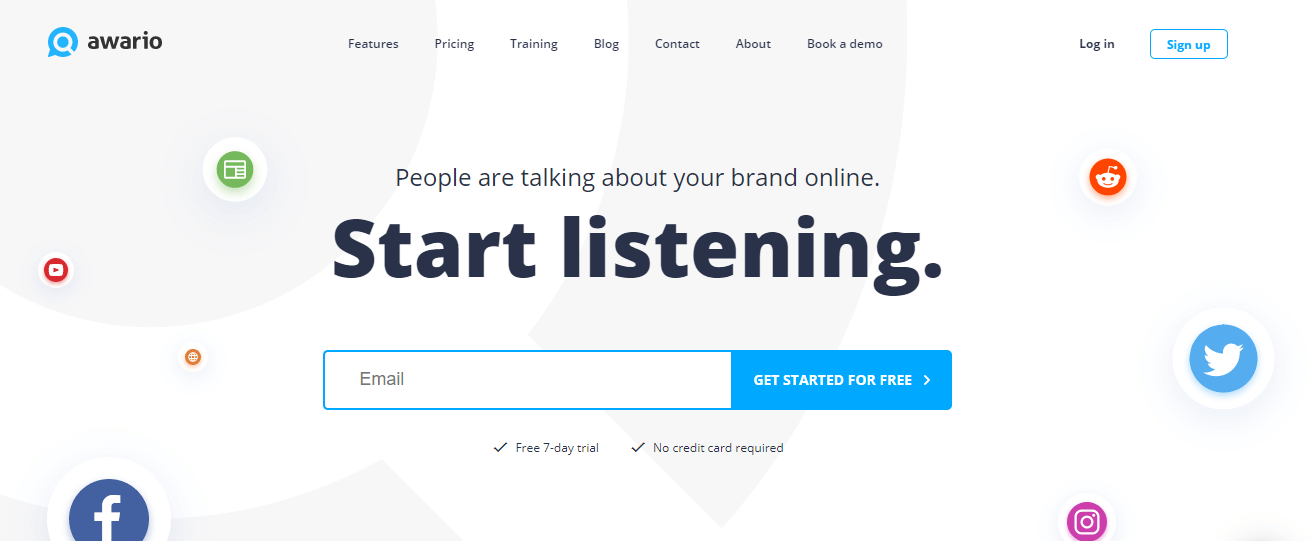 This software allows you to search by keywords to find what influencers use this key phrase in their posts. There is a huge range of filters to simplify your search and help you make a better choice.
Instagram influencer marketing and Social Rabbit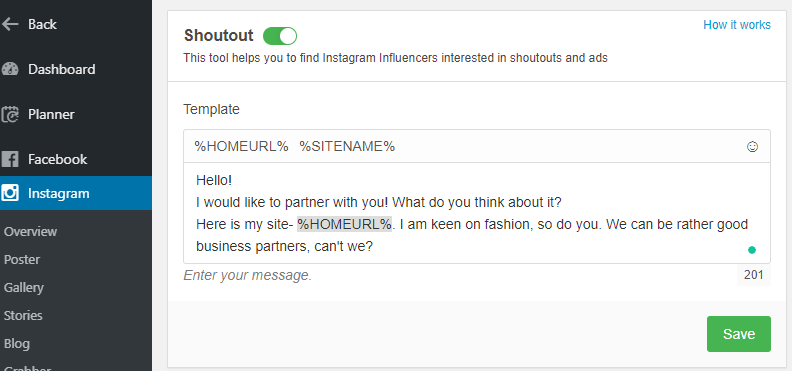 Influencer marketing starts with the search for potential business partners. Of course, it takes plenty of time but with Social Rabbit you can make this process easier.
Social Rabbit has a Shoutout option allowing you to automatically send your offers to those Instagram influencers who you are interested to work with.
You don't have to copy/paste your message from one potential partner to another. Several clicks and the Rabbit will do this for you. All that remains to you is just check your DM on Instagram and wait for an answer.
From now on, you can use the power of influencer marketing in your business promotion. All that's left to do is to find a suitable partner, and we hope our article will help you to do it! If you have some questions, we will be more than happy to answer in the comments.
Social media platforms are full of opportunities for your business growth. Let Social Rabbit help you succeed easier – discover an automatic promotion on Facebook, Twitter, Pinterest, and Twitter.