Instagram Stories: a Simple Guide How to Automate Them and Increase Your Profit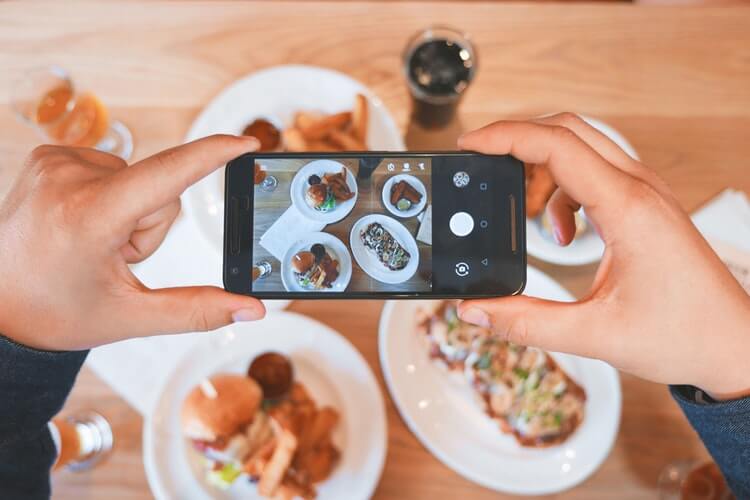 Instagram is one of the most popular social networks in the world. There are more than 800 million active users, and 200 million of them visit at least one brand's account every day.
So, it is not a surprise that companies promote their businesses on Instagram. After all, the audience is brand-loyal, engagement is high, and Instagram constantly adds new features for promotion: ads in the feed, ads in Stories, "swipe up" links and product tags on photos with direct links to a shop.
Are you ready to join companies successfully promoting their businesses on Instagram? Let's start with the Stories tool!
More than 300 million people use Instagram Stories. You can't just skip this feature for your business! And we are here to give you a hand.
In this article, we tell you what Stories are, how you can create them and how to automate Stories posting. Also, we'll suggest three creative ideas for Instagram Stories you can use right away. Let's go!
What are Stories?
Of course, you may have already guessed, when we say "Stories" we don't mean a book or something like that. Stories are a type of fun, short and engaging content. And what could be better for social media, especially Instagram?

One of the main hallmarks of Stories is the fact that they disappear in 24 hours, and they are separate from all other posts on the feed. Instagram Stories can be photos or videos. You can change them the way you want: add different effects, stickers, texts, masks as well as tag a person, brand account or location.
One more reason why businesses love Instagram Stories – they are posted at the top of the Instagram feed, so a brand's content is always in the front of their audience. Plus, when you post the next story, you will be bumped back to the top of the feed. This increases your reach and the level of engagement several times!
Now that you know about Instagram Stories and what an amazing tool they are for promoting your business, it is high time to learn how you can create them.
Stories creation
This process isn't difficult but the first time you will need to spend some time exploring all the features and options Instagram provides. Here we show you all the stages of Instagram Stories creation. So, you can just open this article on your laptop and repeat the actions as we describe them.
Here we tell you how to create your Stories via the Instagram mobile app.
Swipe right from your home screen on the Instagram app or just tap at the camera icon in the top left corner of your screen.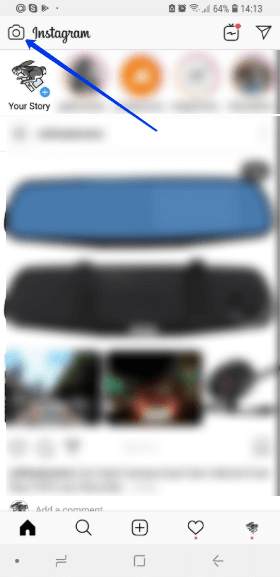 Here you have several options: you can choose one of the recent photos from the Gallery on your phone or you can take a photo or record a video.
To take a photo, tap on the record button one time. To make a video, press it down. If you want to record a long video, press the button for as long as you need. Instagram will automatically cut the video to several parts if it's longer than 15 seconds.
You also have the option of taking a type, live, boomerang, superzoom with different effects, rewind, or hands-free video.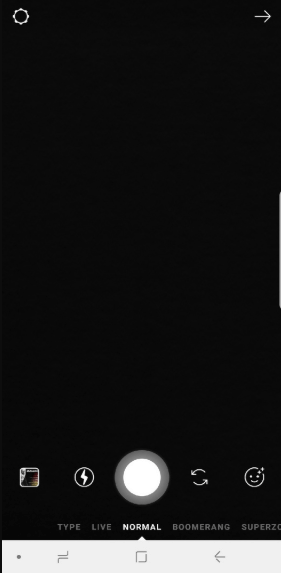 What do the other buttons mean?
Thunderbolt: the flash button
Arrows: switch from a front-facing camera to a back-facing camera and vice-versa.
Face: Instagram's masks – face filters
Let's imagine that you have already taken a photo or chosen one of your recent ones.
If you tap on any place on the screen, a text tool will appear. Then you can write any text you want, use hashtags (first type the "#" sign) or tag a person (first type the "@" sign). You can also choose the color of your text at the bottom of the screen.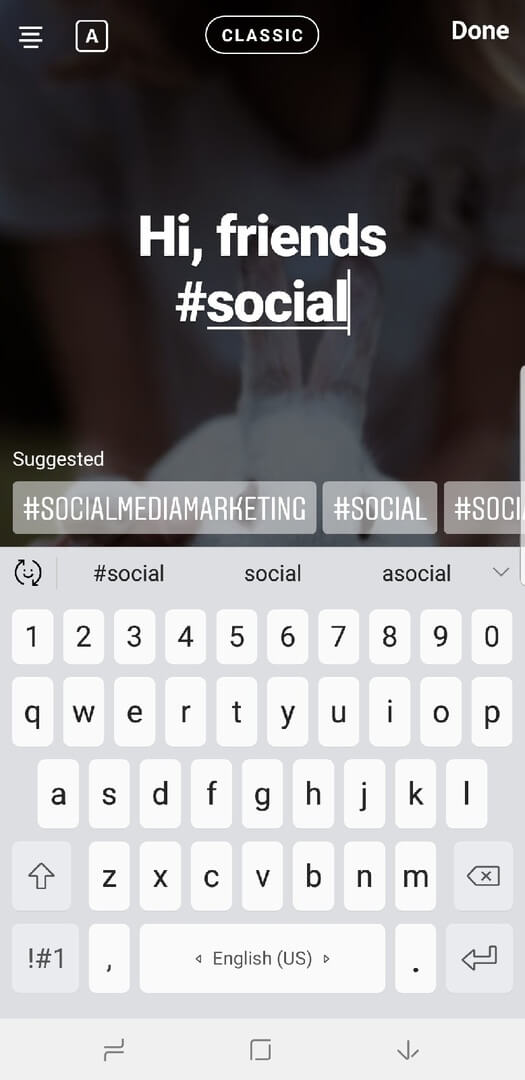 And a little hint: when you add hashtags to your Stories, it helps to reach even more people who are interested in such topics. They will see your Story, too, even if they don't follow you.
You can even add doodles to your photo. There are three different pen styles to draw and an eraser brush in case you made a mistake.
You can also change the size of the brush on the right side of the screen.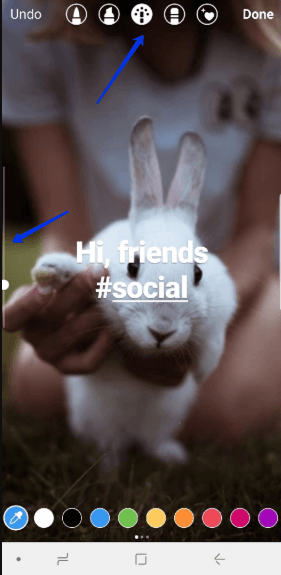 One more feature – stickers. To add stickers click the sticker button in the top right corner of the screen (you can also swipe up on your story) and select the ones you want: the location sticker, poll sticker, hashtag sticker, mention sticker, questions sticker, etc.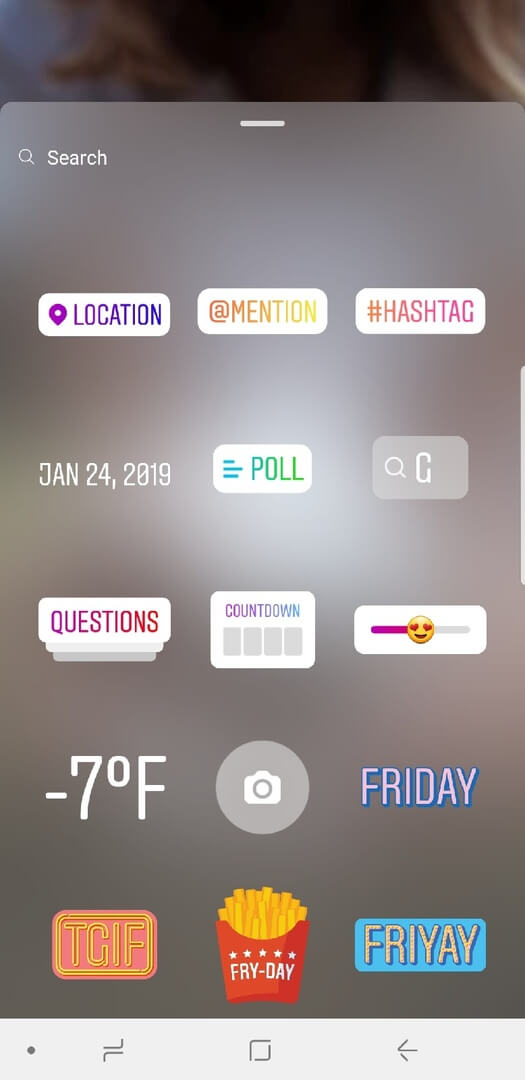 If you swipe right or left, you will apply one of 11 Instagram Stories filters.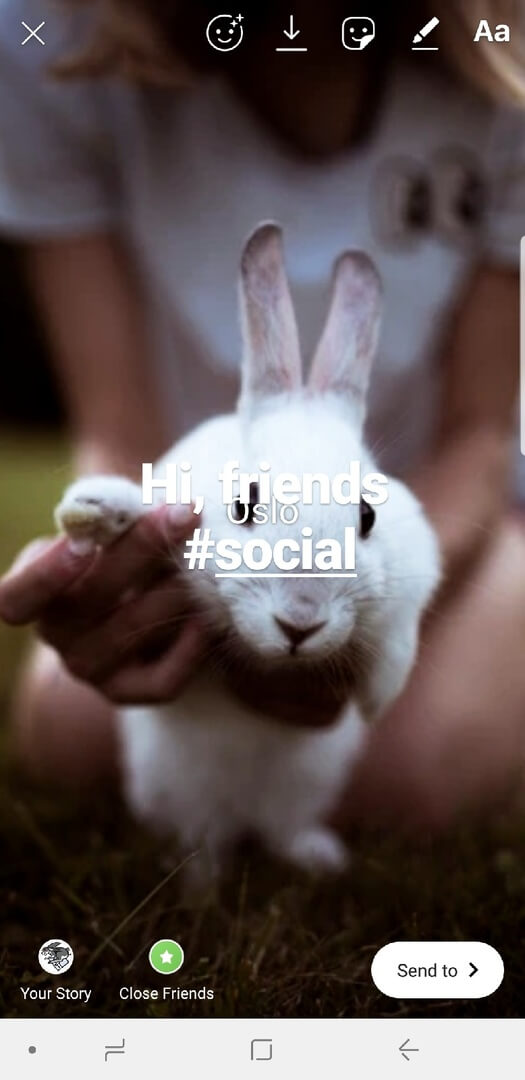 When you finish editing, just click the "Send to" button, and your Story will be published.
Then you Story will appear at the top of all your followers' feeds. To see Stories, simply tap on the profile image.
It is not a hard task, is it?
But what should you do if you have a lot of other important tasks? After all, when you are a business owner or a professional marketer, you have little time and tons of work.
At the same time, when you post Stories, consistency matters. That's why it would be just awesome if you automate this process and schedule Stories. And one of the most effective and convenient tools for this purpose is Social Rabbit plugin.
Post Instagram Stories with Social Rabbit on full autopilot
We know how to make your life easier and your promotions on Instagram even more effective. Consistency is key to your success.
Social Rabbit is a great tool for auto-promotion on 4 top social media but this time we want to tell how you can automate Instagram Stories.
Social Rabbit has two options for these goals, the Planner tool and the Stories tool.
So, the first option is Planner. With the help of this tool, you can schedule your Stories. Just add your video or photo to the Social Rabbit's Media Gallery and choose the time and the date. The Rabbit will publish it when you want. This way you don't forget to post or miss the best time for it.
The second option is the Stories tool. It is just an amazing tool! Social Rabbit can post photos and videos on Instagram Stories on autopilot. All you need to do is to upload (or import from Pixaby.com or Giphy.com) high-quality images and videos related to your business and choose the frequency. If you want to add some text to photos, Social Rabbit has a build-in image editor.
Social Rabbit will publish content to Instagram Stories according to your preferences.
To learn more about the tool and explore how to set it up, go via the link.
Also, if you are a webstore owner, you can save photos of your products and add them to Media Gallery. So, Social Rabbit will post products on Instagram Stories and increase sales and your profit.
Ready to try Social Rabbit? You can try our demo or buy the plugin right now via the link.
Hey, and before you go!
3 creative ideas for your Instagram Stories
We remember that we promised to share three ideas to increase your engagement level. Also, it would be awesome if you share your favorite ideas for Instagram Stories in the comments.
Your business is you! When you show people more about your work and company, they really love it. You can be sure that people want to buy from other people, not from faceless brands. Show the face of your business, don't be shy.
Do you have a new offer or product? Or maybe you are going to publish a new article? Tell about them and stir your followers' curiosity.
There are many ways you can do this: show a tiny part of your new product, announce the next sale or write a quote from your article. Share just enough to intrigue your followers.
Do you want to increase engagement and sales at the same time? Just start a flash sale in your Stories. It is a great place for this because Stories will disappear in 24 hours and your followers won't ask you why the coupon code doesn't work anymore (which often happens when you share the code in a post).
And what is awesome about these ideas, you can schedule them all.
Automate your Instagram Stories and increase your traffic and sales with Social Rabbit!
Promotion on social media has never been easier. Still have a question?
Don't hesitate to ask, we will be happy to answer in the comments!