Instagram Takeover: What Is It And How To Do It?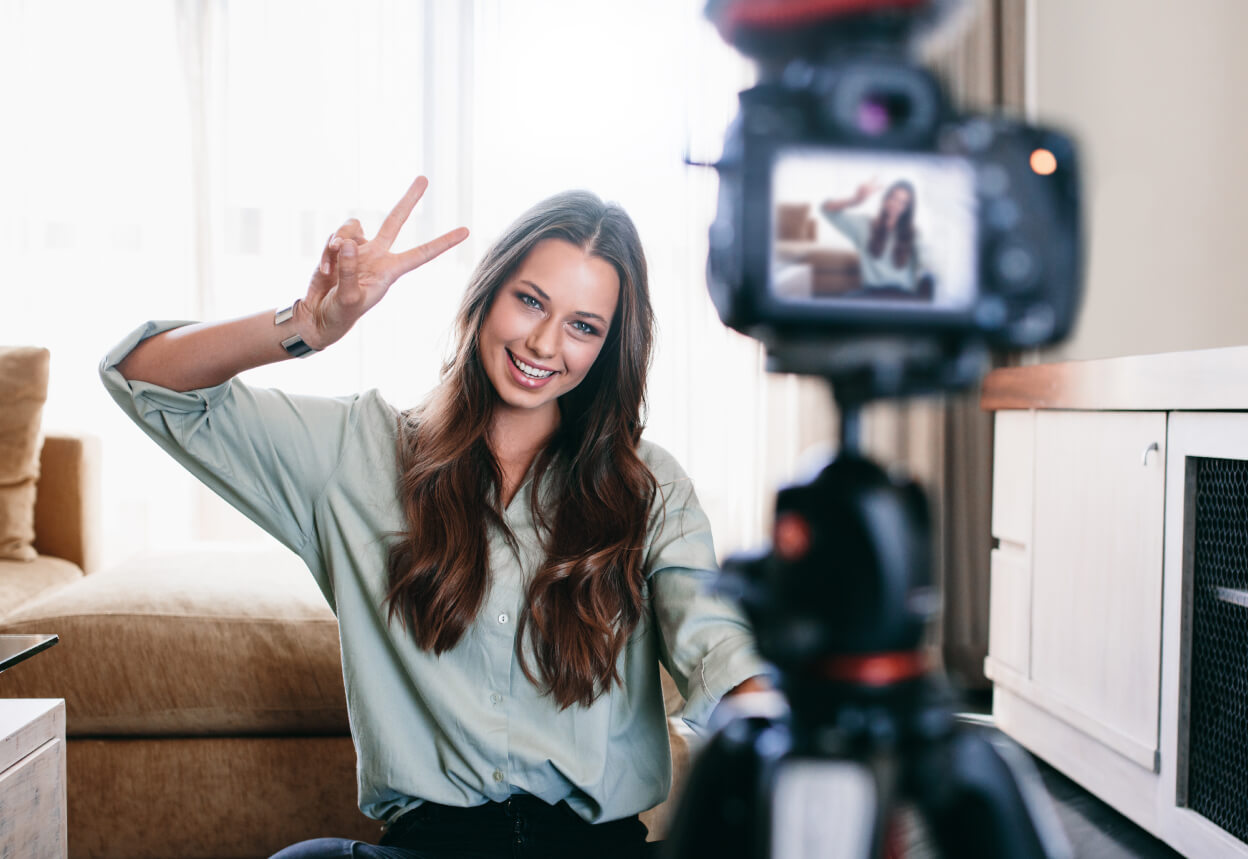 We live in an Instagram dependent time and having visually engaging, informative, and also humorous content is essential to keep the audience entertained. Instagram accounts' owners have begun implementing a strategy known as Instagram takeover. Over the last several years, it has become a very popular method that shows impressive results.
In this article, we will examine what is an Instagram takeover, why it is so useful, and how to try one yourself.
What is an Instagram takeover?
If you're an active Instagram user, you might have come across this method on some popular brand's Instagram page. An Instagram takeover happens when an individual takes temporary control of an Instagram account not belonging to them and actively communicates with the followers via photo/video posts or through Instagram Stories. Usually, it's a well-known influencer, celebrity, or an expert in a particular field.
The benefits of an Instagram takeover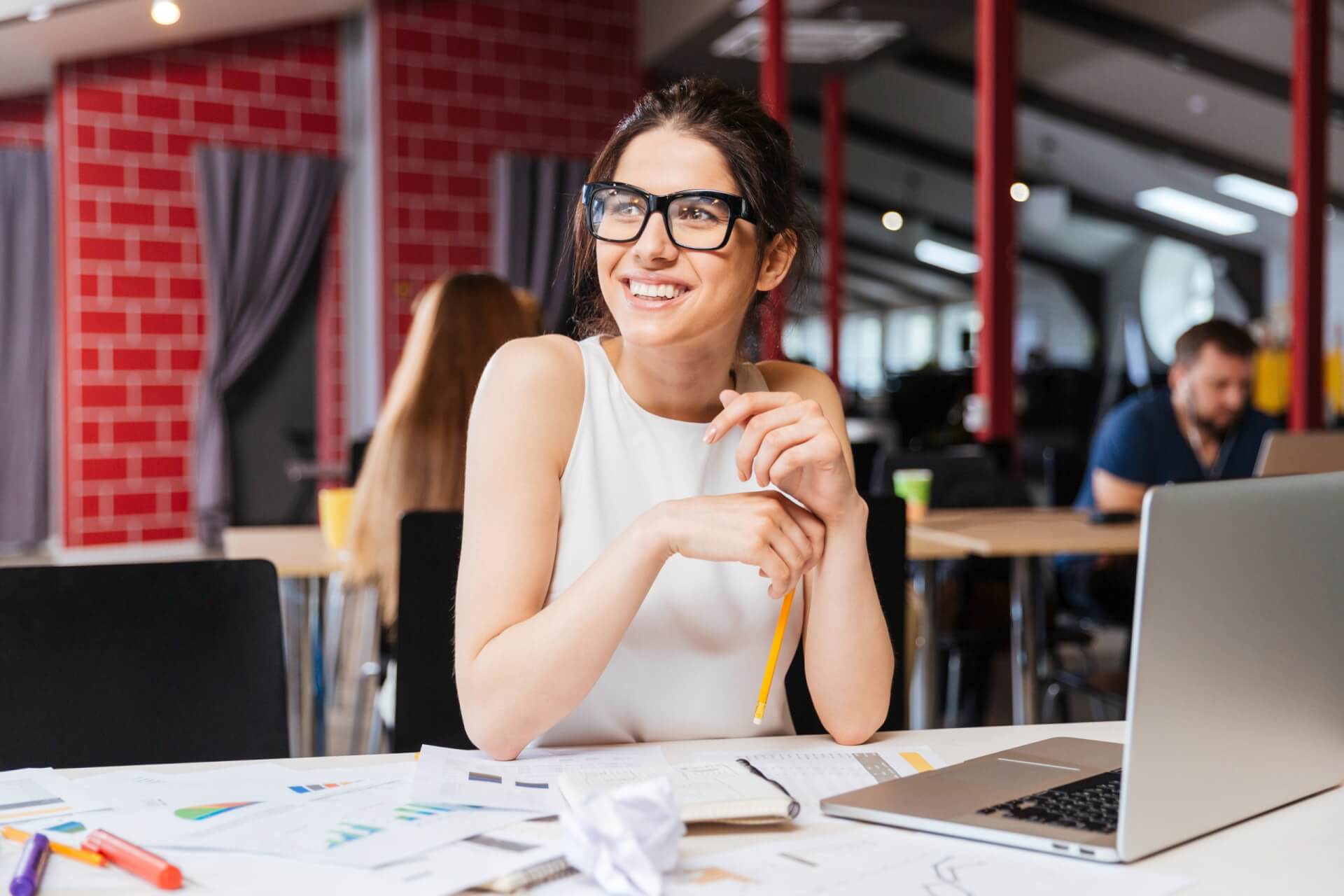 Such a strategy as an Instagram takeover holds benefits for both sides. It is beneficial to the one who takes over the Instagram account, as well as for the initial account that's being used. Essentially, this creates a unique opportunity to attract new followers for both sides.
Let's look at the following example to better understand how an Instagram takeover works. Let's say there's a widely known Instagram account focused on making sports content. For this kind of account, it would be perfect to find a popular sports athlete to cooperate with. Having a sports celebrity host an Instagram takeover will definitely increase the engagement rate, generate more interest, and attract more followers.
Furthermore, it will make the Instagram sports account look more credible and influential for cooperating with a famous figure. And the individual in charge of the takeover will gain more recognition for providing some insights.
How to do an Instagram takeover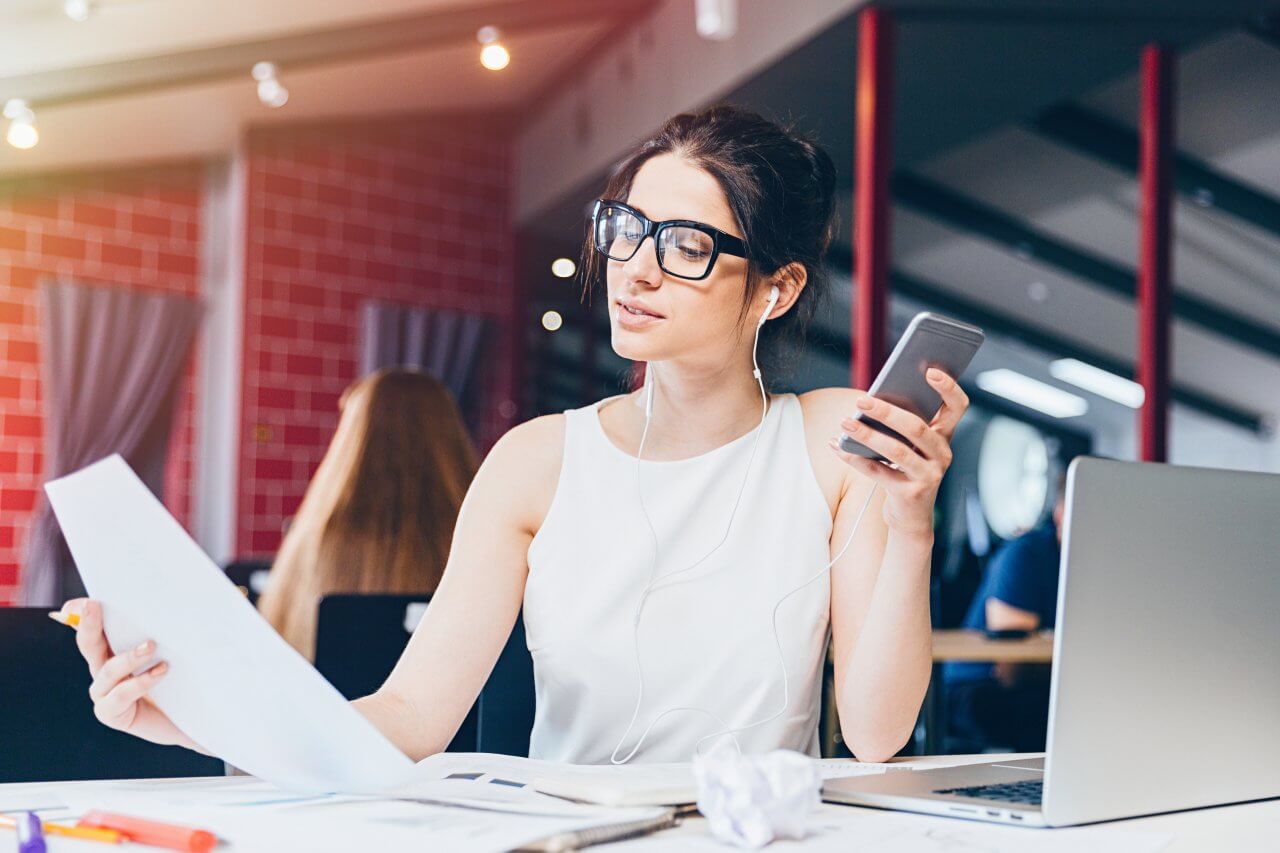 Generally, an Instagram takeover requires a lot of work "behind the scenes". To find the appropriate influencer or media personality, you should keep in mind the following points:
You want to make sure that the person you are giving your account to somewhat shares your ideas and interests, and is legitimately knowledgeable about your specific niche. In addition, make sure that his target audience matches yours.
Although you can't quite measure a personality, you can estimate the engagement rate by looking at the number of followers compared to likes and comments. You can also turn to Socialblade to get a better understanding of the engagement rate.
Check out who has the person cooperated with before. Has the partnership ended up yielding notable results? Did he produce interesting and engaging content?
Once you've found a potential influencer to collaborate with, you need to reach out to them. So, here is how the process of finding the person and planning the takeover looks like:
Direct Message (or DM) or email the influencer and propose the idea of an Instagram takeover! Start off by clarifying what is the goal of this collaboration. Is it to build awareness for a cause, to promote a new product, or simply to grow a following?
State your idea for the collaboration. For example, ask them to post a series of Stories dedicated to a specific topic and offer some tips and professional advice. Be sure to ask the person if he has any ideas, it will help make your collaborative ideas better.
Once you've agreed on what content will be made, you need to decide on the schedule. Don't forget to cross-promote each other before and during the takeover!
Examples of Instagram takeovers
Here are some examples of successful Instagram takeovers carried out by famous brands.
Beautiful Bizarre magazine
Here you can see an example of a popular Australian-based international contemporary art magazine collaborating with the popular actress Emma Roberts.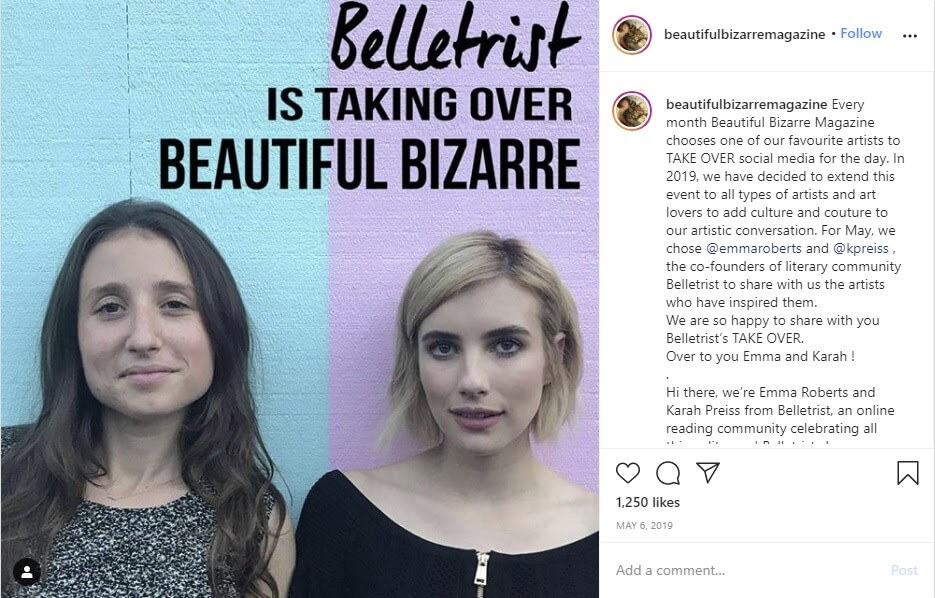 In anticipation of the Beauty And The Beast movie release, Disney's Instagram account was taken over by the lead actor Luke Evans, who played Gaston.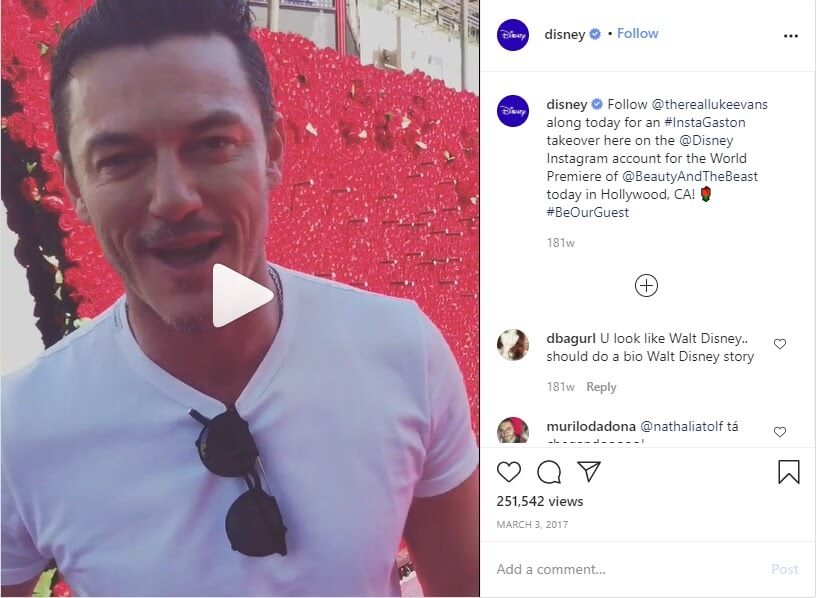 Finland's largest airline, Finnair, took a slightly different approach and allowed their flight attendants to take over the Instagram account.
Each team member had three days to share their experience and provide photos and videos about their life and the places they visited.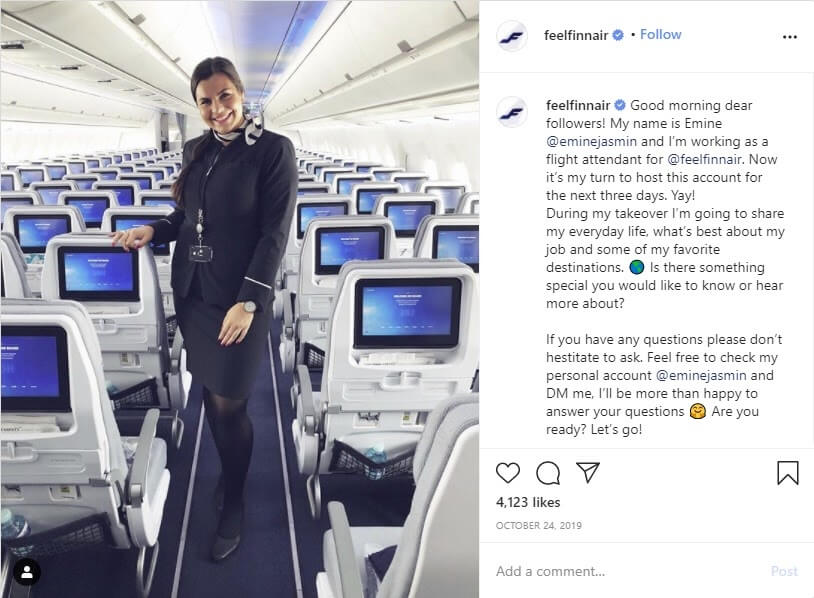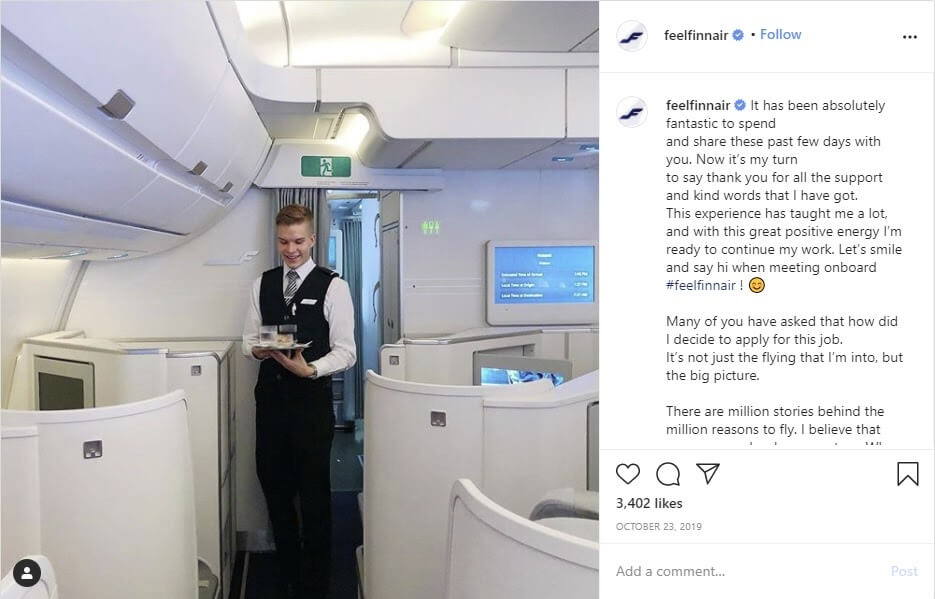 The Instagram account of Sony Alpha allows members of their community to take over its Instagram feed and share photographs taken with the Sony Alpha camera.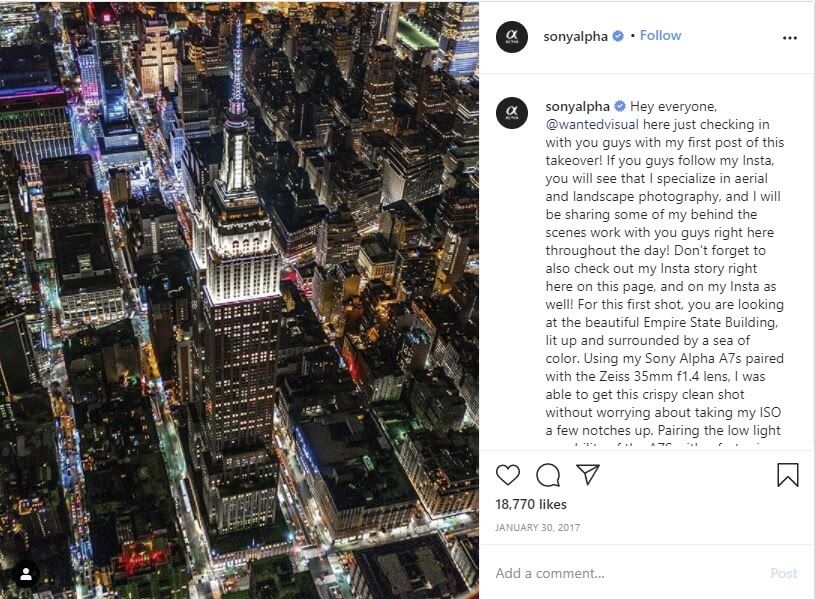 Here we can see the famous Game of Thrones actress take over the Instagram account of Entertainment Weekly. Furthermore, they created a hashtag that made it easier to follow them #EWxGOT.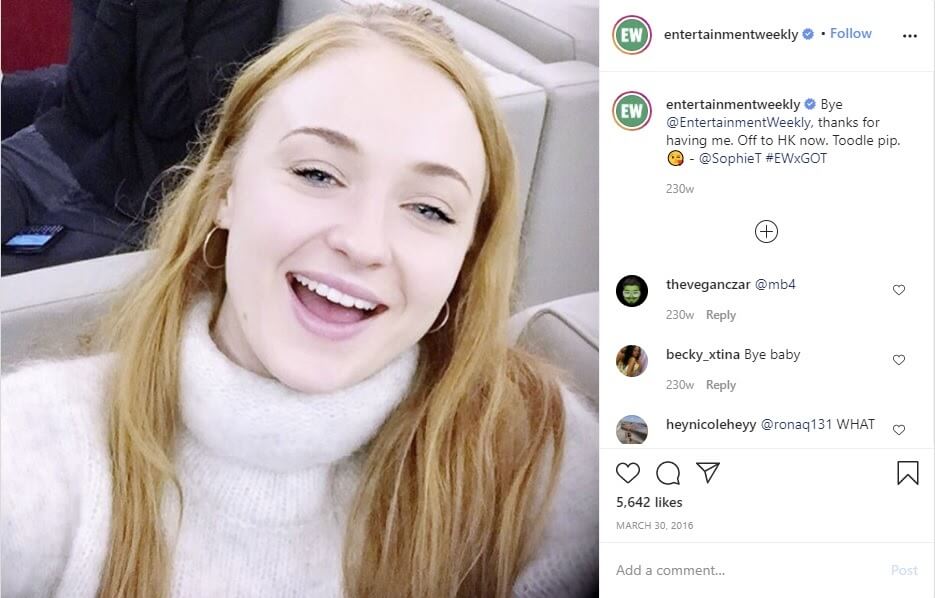 Final thoughts on Instagram takeovers
All in all, the Instagram takeover can be great in terms of increasing your brand credibility and improving your connection with your followers.
The key is to find the right person who will undoubtedly have some informative or entertaining knowledge to share. However, don't forget that you can also take a slightly different approach and allow members of your team or community to show "the behind the scenes".
We wish you the best of luck and hope that this article was useful and that it will help your Instagram account blossom. If you need help with your social media marketing, we are always here 🙂