7 Mind-Blowing Facebook Ads Examples To Boost Your Inspiration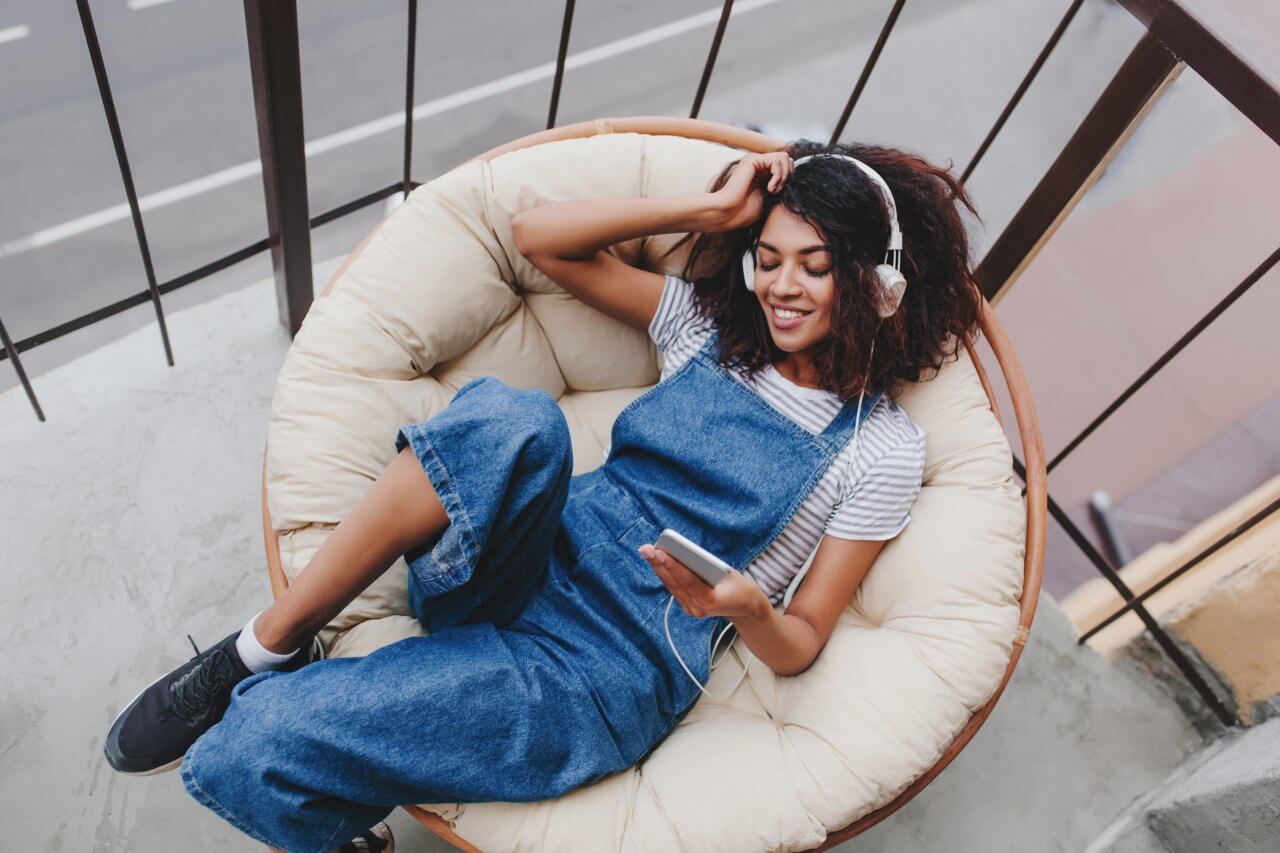 What is a must-have for any online business promotion? Advertising on Facebook, of course. A good ad can bring your venture to a brand new level and help you to earn more. But what is a good Facebook ad? How can you create one?
Let's explore these 7 Facebook ads examples to find the answers! 
Advertising is the key to success.
But to use this key, you need to find the right "door".
What we want to say is that simply spending money on ads isn't enough. You need to find the best format to win your potential customers' hearts and minds.
There are a number of examples in marketing history when the right ad became a game-changer and drastically altered the destiny of a company. Here are just several cases.
Do you know Nike? I can bet you've heard about this company and its famous "Just Do It" slogan. But many years ago, Nike wasn't such a popular brand. Nike's product catered almost exclusively to marathon runners. But everything has changed when they launched the "Just Do It" marketing campaign.
These three simple words could unite all the people around the world in their pursuit to push themselves beyond the limit and reach the best results. This ad campaign helped Nike to become what it is today – one of the most well-known companies in the world.
What was the secret? The right words were headed to the right people.
Here is one more example! This is quite an up-to-date one so you definitely saw it on TV. We are talking about Old Spice's ad "The man your man could smell like".
In fact, the Old Spice company has a long and rich history. But at the moment this marketing campaign was run, Old Spice was getting over challenging times, and all the attempts to revive the popularity had gone down in flames.
The solution was beautiful in its simplicity and originality at the same time. They did a 180 – instead of targeting men, they shifted their focus to females. And it worked!
The idea was that women often buy hygiene goods for all family members including men. Old Spice's marketing campaign "The man your man could smell like" was aimed to lure females and appeared to be one of the most auspicious ads in history.
Why are we talking about these cases? The game-changers in these Facebook ads examples were properly chosen audiences and content. A successful Facebook ad should consist of the same elements. 
Now you know the main components of an efficient advertisement. But before you create yours, it will be rather useful to check the best Facebook Ads examples we collected for you to get a bit of inspiration. 
By the way, we've already created a similar list of Instagram ads examples, you may find it here.
Facebook Ads example #1: Show more to let customers pick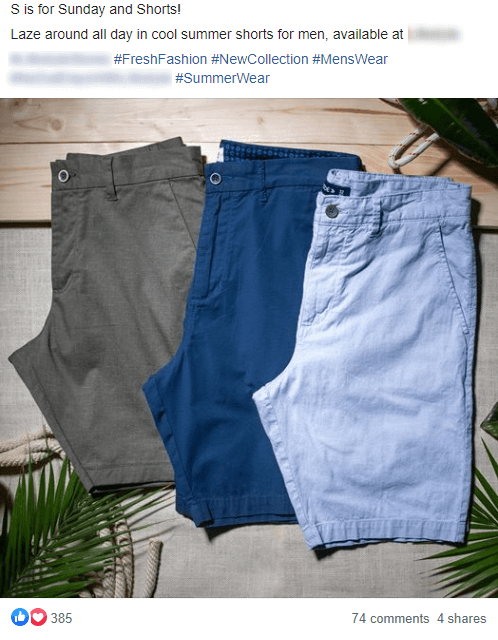 Tastes differ!
People are not similar in their desires and wishes. Sometimes even another color hue can play a role in the decision-making process and nudge a client to buy.
That's why it is a wise idea to show as many product variations as possible in one ad so that customers can select a preferable one as in the example above. Those who don't like light colors can pick another one and vice versa.
By the way, if you have more than 4 product variations, it will be better not to put all of them in one ad image. It can make an ad look messy and confuse shoppers.
For such cases, Facebook and Instagram allow creating carousels with multiple images and videos to provide your customers with choice.
Facebook Ads example #2: Use short videos
Video content is an unofficial king of engagement nowadays. Video ads make people stop and get a closer look at the product, leave a comment, or like.
Plus, this format of advertising opens up new opportunities for you. In your videos, you can not just show your items, but also:
Showcase the results it brings
Give a closer look at the product
Provide reviews
Explain how the product works
The video ad in this example combines all these points and makes people involved. But to motivate them not to delay a purchase, it provides a great 50% discount! You may agree it is quite hard to refuse to buy it!
Facebook Ads example #3: Sweet and cute ads gain more likes
What can be cuter than animals and kids?
Look at this example above. Such an ad not only gets tons of likes but also grab attention and evoke pleasant feelings. That helps to create an emotional connection between your brand and a customer so that he or she makes up their minds faster.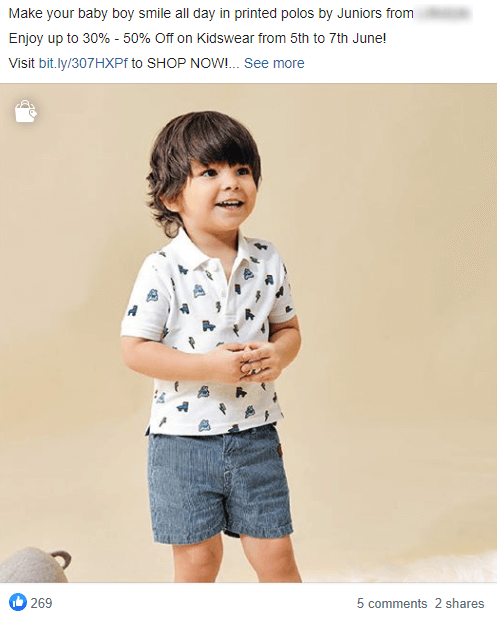 Add a catchy caption with a luring discount to a sweet image with a baby or a dog and – well done – more sales are guaranteed. So if you sell animal accessories or baby clothing, you absolutely should take these ads into account and create a cute Facebook Ad, too.
Facebook Ads example #4: Think of a background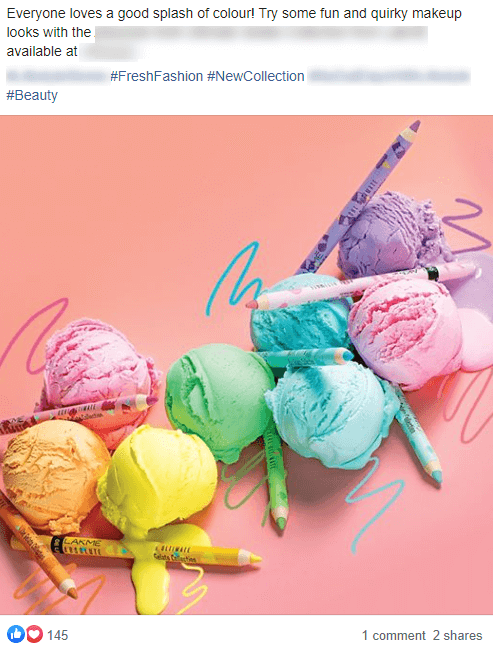 When you select an image for your future ad, you should take care of all the elements in it.
Especially in the background.
In this example, you see the harmony of colors and how they match each other creating one juicy, bright shot. Such a picture definitely grabs the attention of potential customers.
Of course, you can intentionally add some strange thing or a flaw to the background to make your ad more original. But you should be careful with such experiments because not all target audiences will like it and not for all products it will be a suitable idea.
Facebook Ads example #5: Make people want your product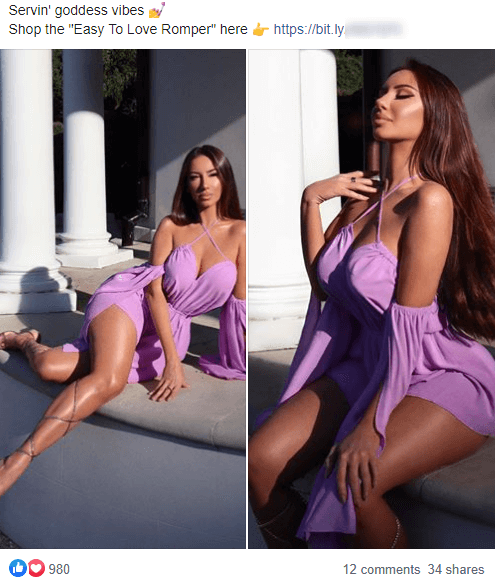 What makes this ad a good example? Of course, the dress is adorable but the main focus of attention here is a gorgeous model.
When people see something attractive, they instinctively want to possess it. It can be an item, a lifestyle, or even an appearance of another person. That's why when we want to look like somebody we wear similar clothes or do similar makeup. This is human nature, nothing more.
How can you use this trick in your promotion? Showing clothes on good-looking models makes customers think that after buying this product, they will look as attractive as the girl in the picture.
Facebook Ads example #6: Let customers get a closer look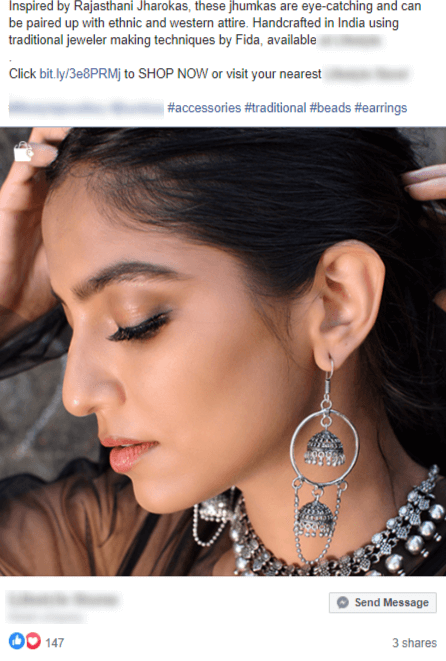 When you buy something, you want to be sure in every detail of your order. And if you can see some zoomed images of a product, it is always a huge plus. This is especially important for stores selling accessories,jewelry, or watches.
In this example, the angle from which the photo was taken helps potential buyers see the earrings closer.
Why don't you implement such a method in your Facebook ad?
Facebook Ads example #7: Create attractive compositions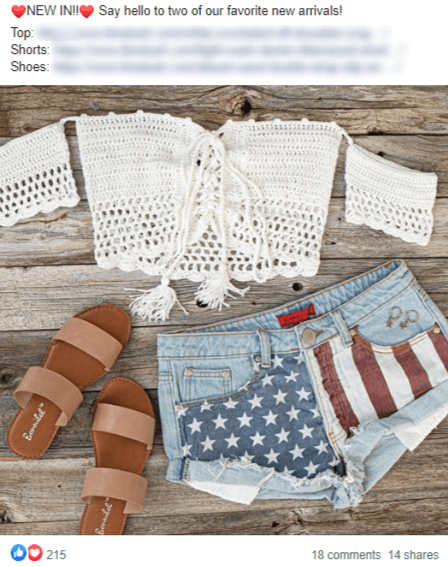 Another great way to get the most out of a Facebook ad is a good composition in the photo.
Here are several advantages of such an approach:
First, this way you can promote several products in one ad.
Second, you show your customers how they can use (wear) various products from your store together.
Third, beautiful pictures with color harmony always attract customers' attention and stop them from scrolling down.
The method of a good composition can be used for many business niches: home decor, gardening tools, apparel, pets' accessories, jewelry, phone cases, etc.
Wrapping up
Obviously, if you want to reach as many people as possible, Facebook Ads are a must. According to recent researches, the potential reach of Facebook ads is 1.9 million people: 43% women and 57% men. Just imagine how many people are waiting to get to know your brand! 
We hope you've got several practical tips from these Facebook Ads examples to come up with the idea of your own amazing ad! Let's quickly revise all the hacks we told you about: 
Show more variations to let customers pick the one
Your customers will be happy if you give them additional options to choose from.
Use short videos
Videos are one of the best content formats nowadays. People tend to watch a lot of videos so why don't use this knowledge for your profit?
Sweet and cute ads gain more likes
Most people can't help leaving a comment or like when they see a nice kitten or a cute baby. You can get a lot of benefits from such an ad especially if you combine it with a luring offer.
Think of a background
This is one of the simplest tips to follow. You just need to find a background that will match your product's color, shape, material, etc.
Make people want your product
Create a feeling that with your product people will look better. A desire to be better than we are is one of the strongest incentives to buy something.
Let customers get a closer look
If you sell some small things, provide your customers with close-ups. People will make up their minds faster because they can see every detail.
Create attractive compositions
Beautiful images always draw attention. If you take care of the visual side of your ads, they will bring brilliant results.
We will be glad if you create a Facebook ad for your store using these techniques! But if you want a helping hand during this process, you can always lean on our marketing team and order a Facebook and Instagram Ads package. 
If you want to share more examples of mind-blowing Facebook ads or have some questions, feel free to write them in the comments.