The Best Instagram Ads Examples: 7 Secrets Of A Successful Promotion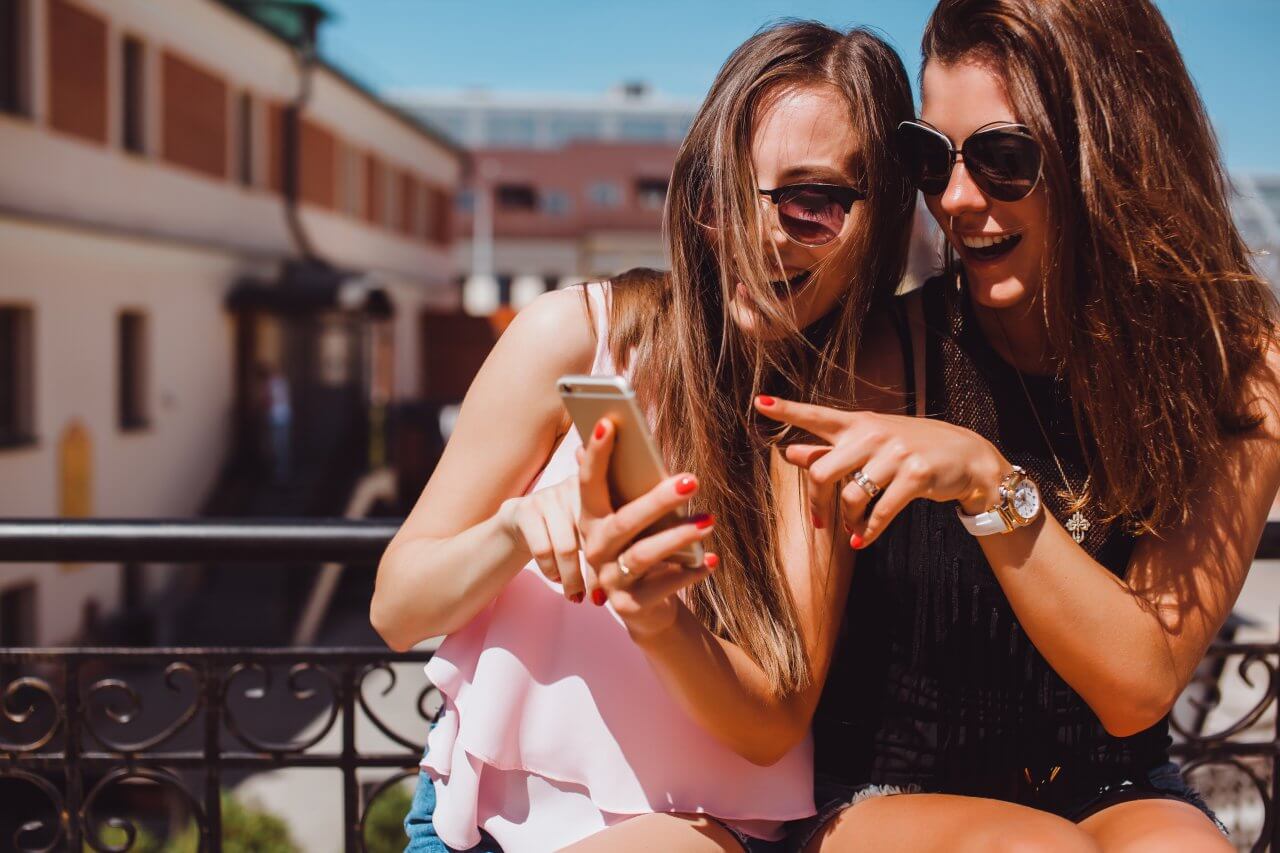 Do you wonder how to generate a great and catchy Instagram ad? Then, you absolutely need a bit of inspiration!
In this article, we've put together the best Instagram ads examples which will definitely help you come up with your own idea.
Are Instagram Ads worth trying at all?
Every day, scrolling your Instagram feed or looking through Instagram Stories, you see hundreds of ads. Some of them you close immediately… but others make you stop, look one more time, read the text or even go to the website and learn more details.
Splendid pictures and catchy texts grab your attention, create an emotional connection and urge you to take some action. This is the entire power of Instagram as a successful social network. And that's exactly what makes Instagram such a great place to promote any business.
A well-built Instagram marketing strategy can help you not only increase a number of followers, but also boost your site traffic, multiply sales, and grow brand awareness.
Of course, Instagram marketing strategy is not only about ads. There are a number of various ways to promote your business on Instagram. For example, here we covered 10 absolutely free ways of promoting your Instagram account.
You also need to take care of your account appearance, its bio section, content you post, giveaways you hold, etc.
And despite the existence of all these various marketing techniques, many entrepreneurs around the world are choosing to use Instagram ads. And there are at least three reasons for you to try them, too:
Audience growth
Instagram is one of the fastest growing social media platforms. The number of its daily users already exceeds 1 billion! And according to recent researches, about 80% of all users follow at least one business account! This is a huge potential audience of people who might like to buy from you.
Connection to Facebook
It may sound weird, but this is one of the most exciting things about Instagram. Due to the fact Instagram is owned by Facebook, it's easier to target your audience based on Facebook data and using Facebook's advertising system.
Better ads performance
Instagram ads are non-intrusive. That means a sponsored post looks the same as an ordinary post. People perceive it as less annoying and are more likely to click on it and go to a website.
So, if you want to get a fast result and tell a wider audience about your business and products, Instagram ads are definitely worth trying.
All that's left to do is to create a cool ad! Let's get some insights from the best Instagram ads to get a bit of inspiration and find out the secrets of their success!
7 incredible Instagram ads examples and simple tips
Instagram ads example #1: Make it cute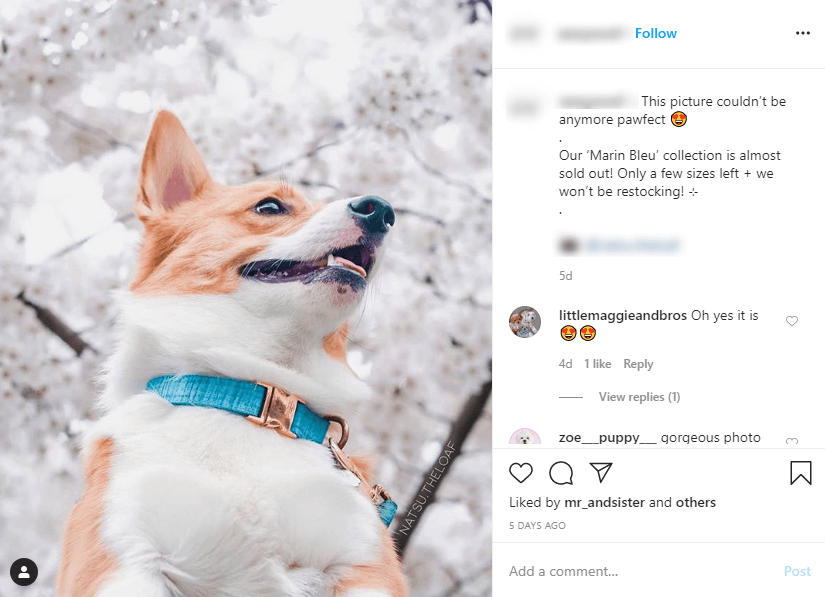 And what are the cutest things in the whole world? Of course, pets and babies. Hardly any person can scroll down a nice picture or video with a funny dog or a laughing child. Such ads are highly effective because they create a strong emotional connection and invoke positive feelings.
Knowing that, you, as a business owner, can easily take advantage of it. Especially, if your business niche is baby clothes or pets accessories.
Instagram ads example #2: Use video content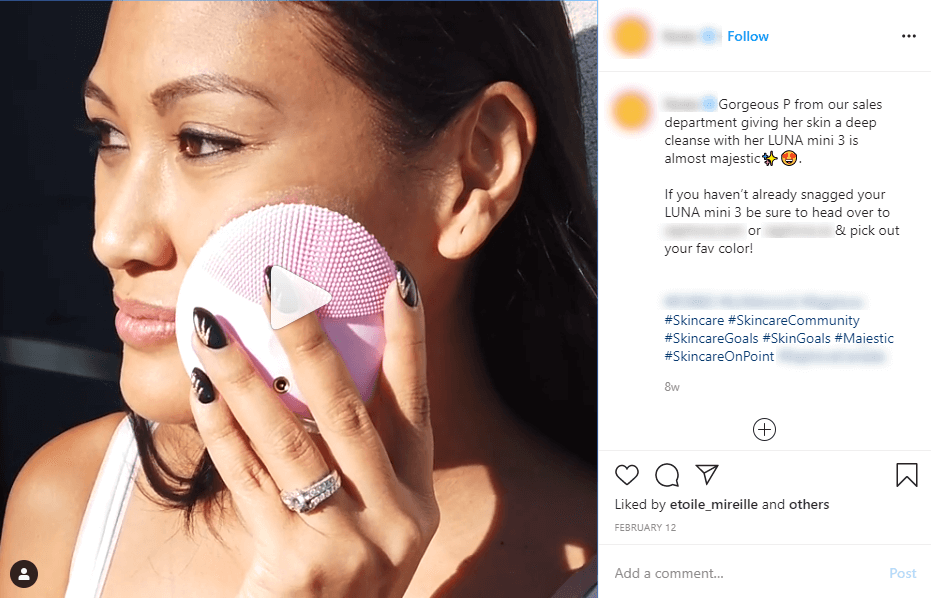 Video is a great way to catch the attention of followers. It's not a secret for anyone nowadays.
This video ad isn't surprising, funny or unusual, but this is one of the best Instagram ads because it is effective. Nothing extraordinary – the ad just shows a product in action and explains how it works to potential customers. Sometimes, the simpler the better.
And a little hint: because Instagram videos are muted by default, to increase the engagement level, along with great visuals you should add text subtitles or stickers.
Instagram ads example #3: Think of composition and colors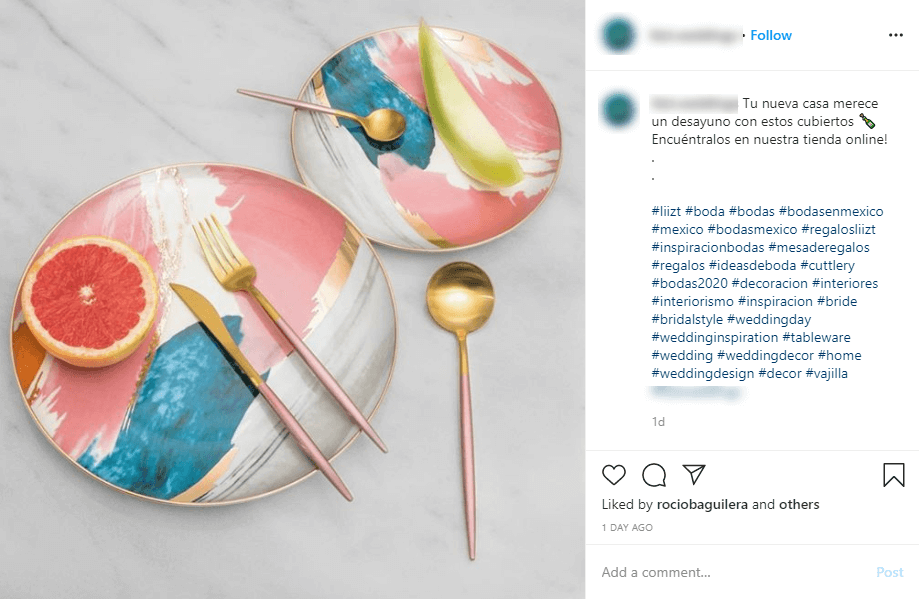 Here is another great example of Instagram ads. What can you learn from it? Why is it impressive and makes people stop and buy? The answer is an eye-catching image: bright and stylish.
The right background and angle in the photo show the items from the best side and make this picture "tasty". It is pretty easy to imagine how these plates will look on your own table, isn't it? That's what you should remember and use in your marketing strategy: Instagram is all about visuals.
Instagram ads example #4: Show the details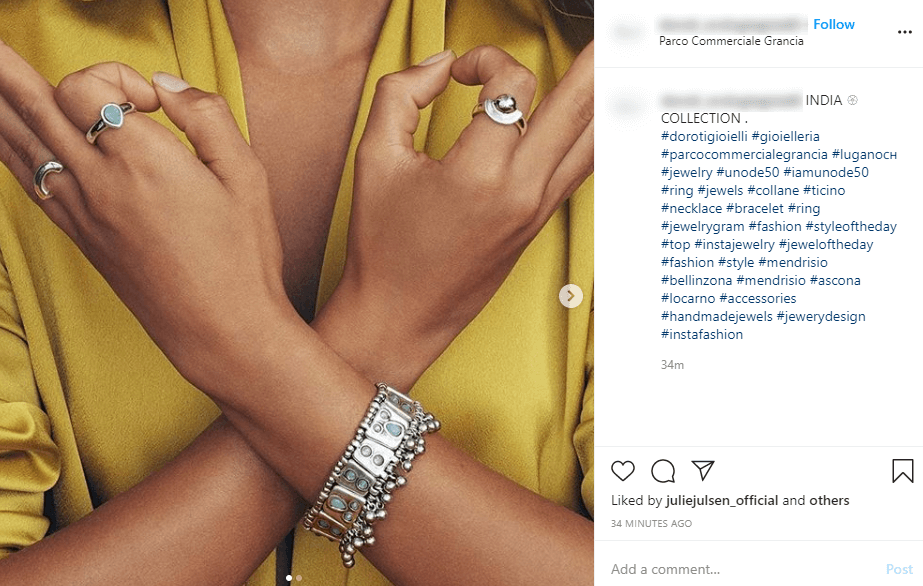 This is always a good idea to show your items in detail. People like to see what they are going to buy. In this case, you can use the photos carousel like in the example.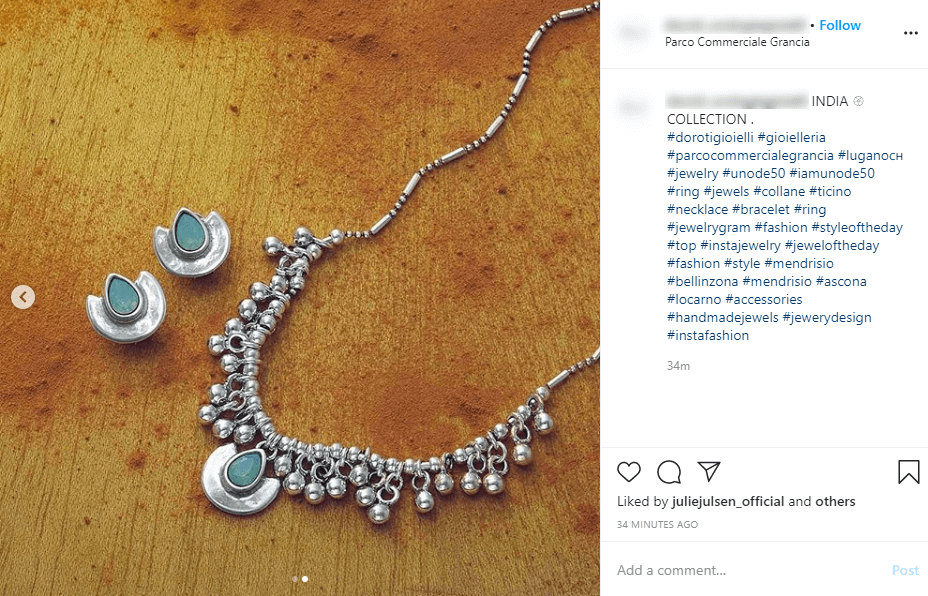 Don't limit yourself with one photo! Show various sets or different colors in one ad. It will definitely increase the chance of purchase.
Instagram ads example #5: Background matters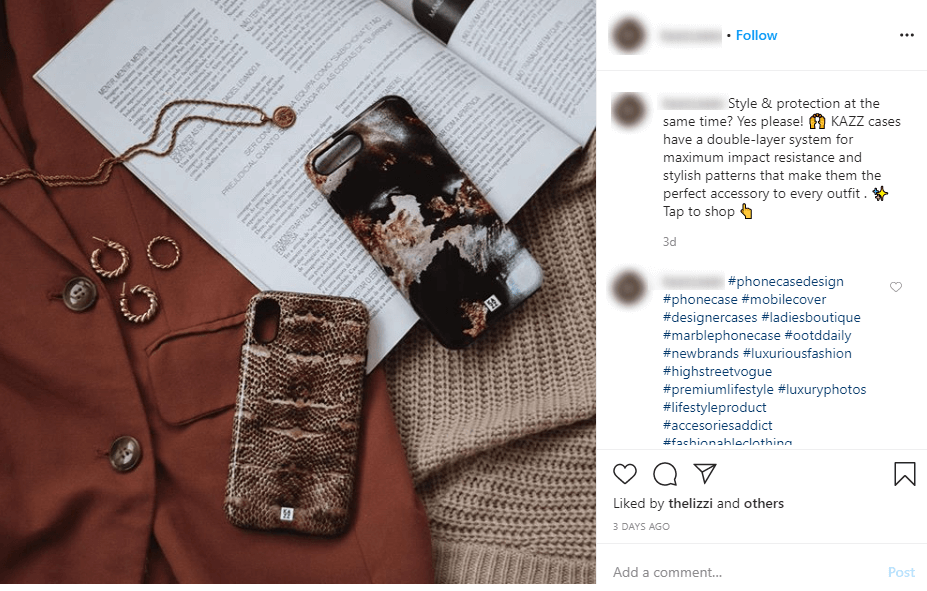 Here is another great example of Instagram ads.
The seller shows how stylish these phone cases are with the help of the background: the color of the cases brilliantly matches it creating an awesome shot.
Do you agree that when these phone cases are photographed on an ordinary table, they aren't so attractive to buy?
Plus, the post's caption has a call-to-action: "Tap to shop". Working together, the text and image nudge a shopper to purchase without delay.
Instagram ads example #6: Add a bit of urgency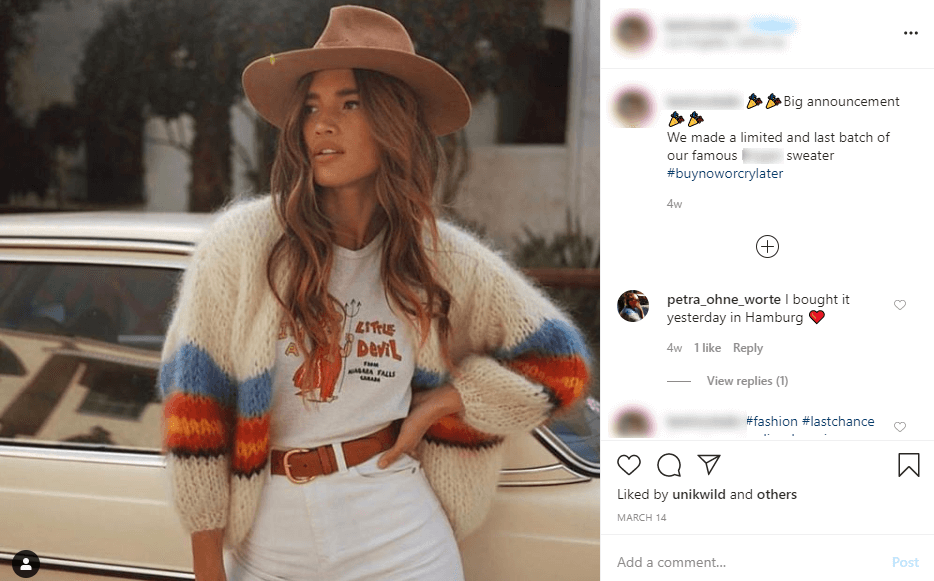 One of the most effective motives to buy which people have is the fear to miss a great offer. When customers see that the item they liked is about to run out of stock, they make up their minds faster.
This is exactly what the seller from this example did – created a sense of urgency with a limited offer in the caption.
Instagram ads example #7: Don't forget about Stories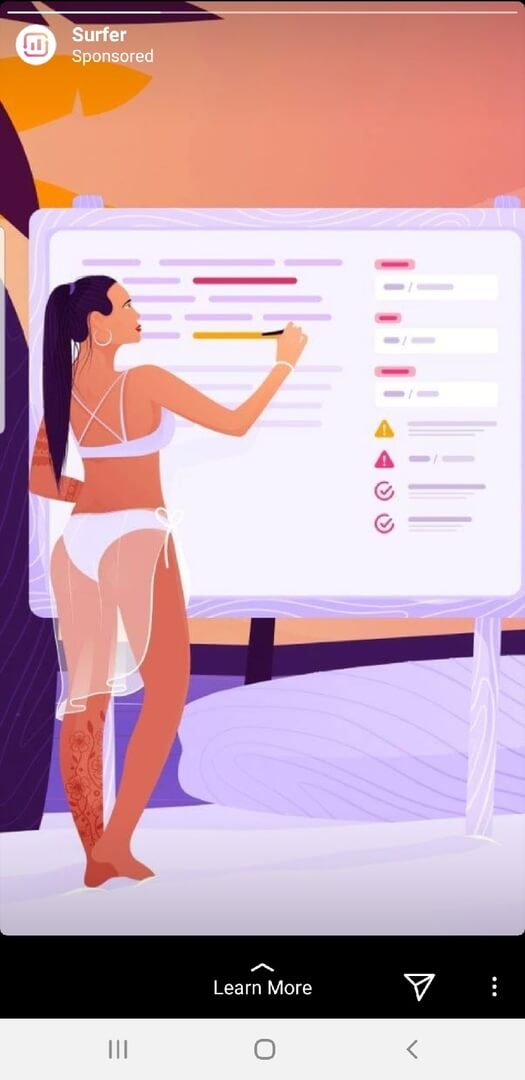 Sponsored posts are not the only channel of paid ads on Instagram. There is one more super effective place: Stories.
According to the recent stats, there are over 500 million active daily Instagram Stories' users, and 70% of all Instagram users watch stories daily! This is such a huge audience you can't just ignore!
Stories are vigorous, eye-catching, colorful, loud. Use all its benefits in your ad: make it bright and "alive" to impress your potential customers and make them swipe up the link!
The best Instagram ads examples: conclusion
Instagram is an awesome place to promote your online business. Using any of these methods, you can create a mind-blowing ad that brings hundreds of thousands likes and sales.
Just don't be afraid, create your Instagram business account (if you still don't have one) and make your business prosper.
Good luck!
By the way, while you are thinking of your own brilliant idea for an Instagram ad, Social Rabbit can run your account and fill it with quality human-like content automatically. It works not only on Instagram, but also on Facebook, Twitter, and Pinterest!
If you have any questions, feel free to ask them in the comments below.