Incredible Updates of Social Rabbit: Meet New Features of Our Social Media Automation Tool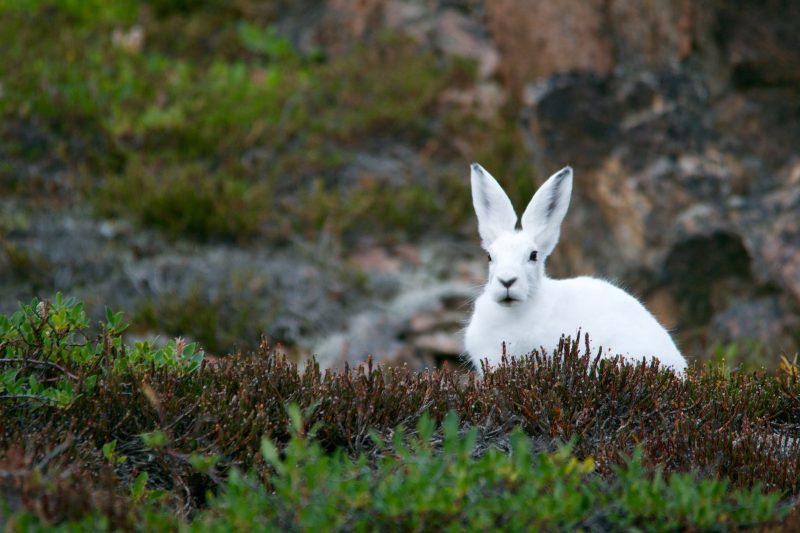 Social Media is a large part of every person's life: people find friends, read news or even buy products there. That's why each online business owner spends lots of time, efforts and money to promote their sites on social networks. We realize that it's a hard work for you and we are ready to give you a hand.
Let's automate all your SMM activities!
We are happy to introduce the latest updates to our Social Rabbit — a plugin for auto-posting and auto-promotion on top social networks.
Wait! What is Social Rabbit?
Let's dive into the main features in case you have never heard of Social Rabbit. I'll explain its functionality in the nutshell, so you'll understand all the benefits you can get.
First of all, Social Rabbit is an incredible tool for increasing your sales through social media activities. Actually, it replaces a whole experienced SMM team! All you need to do is install and set it up according to your preferences. Well done!
From this moment on, Social Rabbit will promote your WordPress site on 4 top social networks: Facebook, Instagram, Pinterest and Twitter.
In accordance with your settings, the Social Rabbit plugin will:
Create engaging posts with the pictures, photos and videos you have chosen before;
Publish articles from your blog on social networks;
Increase your posts' reach with hashtags and a new feature – Mutual Promotion (keep on reading to learn more);
Like, comment and follow the other users' posts which are relevant to your business;
Post products from your online store to advertise them and grow your sales;
Find the most relevant information and repost it in your accounts.
To sum up all the points, this little Rabbit uses all types of content from your WordPress site and turns it into attractive and human-like posts. And what's even better, Rabbit does it without your constant control.
If you have already used this plugin, you might know that there occurred temporary problems with Facebook policies and this network was unavailable for the plugin for some time.
Trying to solve this issue, our team put all knowledge, expertise and efforts to improve the performance of Social Rabbit. As a result, we have found the way to reconnect Facebook and even added lots of features which will amend your workflow.  
Let's finally consider all these new outstanding opportunities. Meet the reborn Rabbit!
Easy-to-use and understandable management system
You might agree that there is no better feeling when you can easily find and setup any tool on your site. That's why we've added an easy-to-manage system and integrated the following elements into the Rabbit.
A little bit more about the interface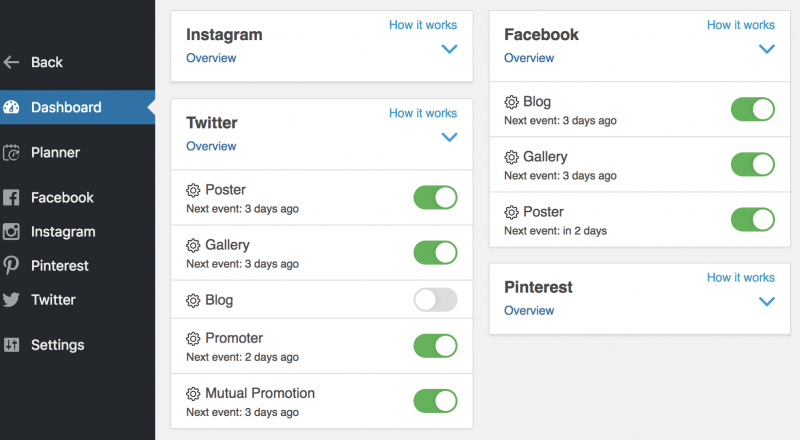 Look at the dashboard in the screenshot above. I guess you have already noticed that we've divided the settings of all social networks. It became much easier to modify their settings within the plugin. I am sure you can handle this even if you have never tried Social Rabbit before.  
But for your convenience, we've collected the main tools inside one tab so that you could see which of them are activated.
Get analytics from your accounts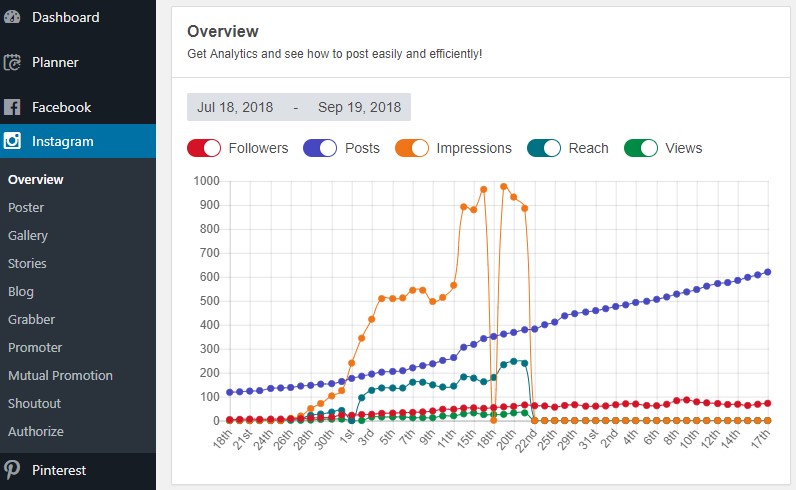 This section is called Overview. Here you can find all social networks analytics within a specified period of time. See how your posts reach or views have increased with the help of Social Rabbit.
Why did we add this option to the plugin? We believe that any business owner should have all the relevant information about the efficiency of his marketing strategy and promotional efforts. It will help to understand when it is necessary to change something or move forward.  
Handy auto-posting
As I've already mentioned, all you need to do is to set up the Rabbit according to your preferences. It means that before the plugin starts promoting your WordPress site, you will need to choose what, when and where the Rabbit will post.
That's why we suggest you several tools for planning your publications. It's up to you which one to use.
Schedule your posts via Gallery
The first tool you can use to publish your content is Gallery. Choose a photo, decide when you want to post it it and schedule. Three simple steps — and you don't have to worry about your Social Media accounts when you have no time or limited access to the Internet.
Enjoy your vacation, spend time with family or friends — Social Rabbit will do all the work for you.
Planner for your delayed posts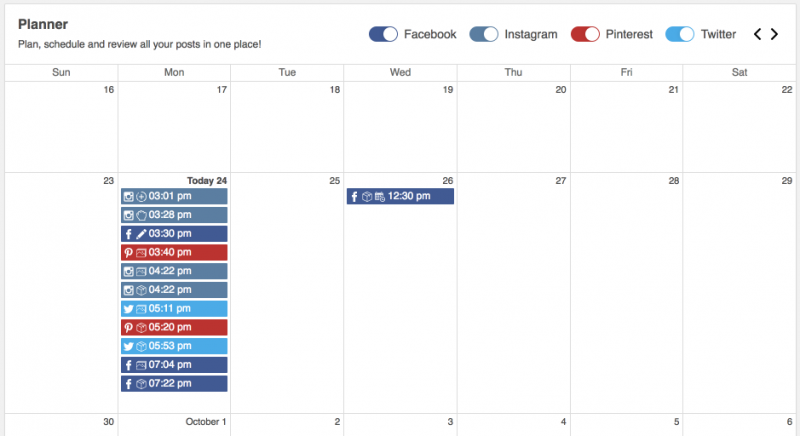 Now you don't need spreadsheets to plan your posts because there is a Planner tool within Social Rabbit. You may see all your scheduled posts in this calendar-like section and understand which information will be published in the nearest future. Of course, you can also create a post here: just click on any day section, choose the publication type and date.
Create attractive publications easily
A modern social account would look strange without media files.
That's why we've added more functions for working with images and videos. It became much easier to make your publications really good-looking.
Download pictures from third-party services right within the Rabbit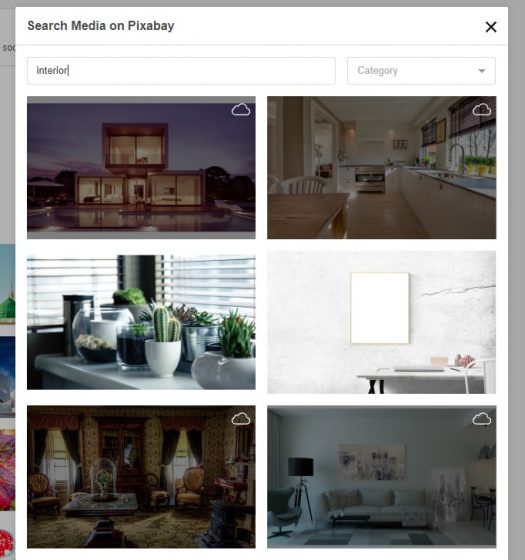 Social Rabbit uses various media files to promote your website. But where can you pick high-quality pictures? If you have your own photos, it is great! But if you don't, it is not a problem anymore.
From now on, the Rabbit can import images from Pixabay.com and Giphy.com databases. You can add one picture or a whole bulk straight to your Media Gallery.
Image editor inside the Media Gallery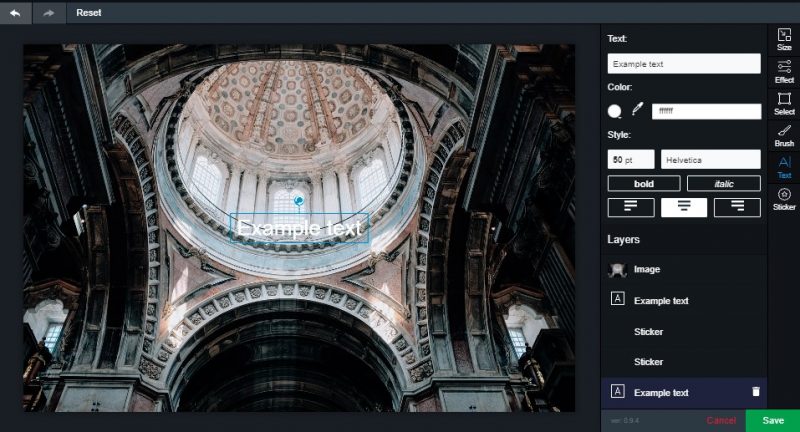 Sometimes you need to edit a picture for a publication. And you have to find an image editor for it. It can be wearisome, can't it?
We are happy to say that now you can edit images right within the plugin: crop them, add a text or a sticker, make it brighter or darker — anything you want. It is really convenient — you will get the desired media file in a few seconds.
Don't forget to save your progress when finished!
New features for your accounts' promotion
As I mentioned before, almost all people in the modern world have at least one social account. It means that representatives of your target audience dwell there, too.
The main advantage of the Rabbit is that it doesn't just post your publications – it also allows you to reach clients who want to buy your products.
For these purposes, we have added several new features to the plugin. Let's consider them further.
Hashtags for your publications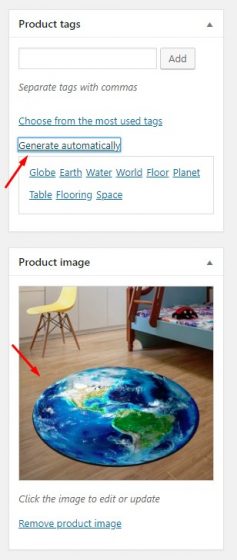 Hashtags allow you to expand your reach and draw the attention of your potential clients to your social accounts. In other words, hashtags are vital for your business promotion.
But you should choose the right ones. To help you do this, we've implemented machine learning in the plugin. So, the Rabbit can "look" at the image of a product and suggest you suitable variants to add.   
You may use this feature in the Poster, Gallery, Planner and Blog Template tools. In the screenshot above, you can see how it works.
Social Rabbits owners can help each other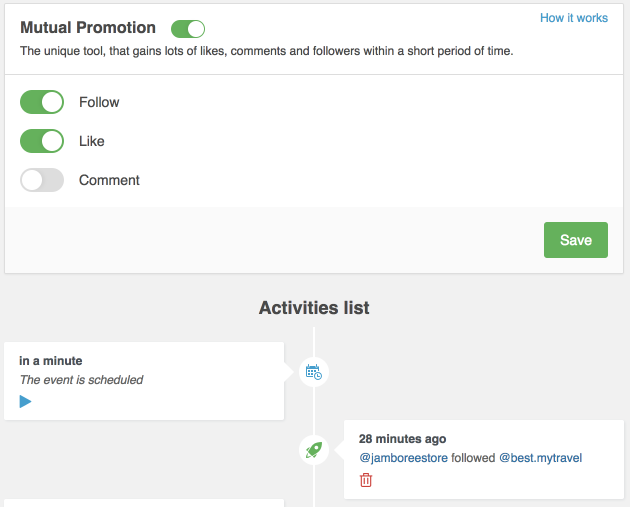 Do you remember that Mutual Promotion tool mentioned in the first part of the article? It's time to tell you about it!
When you turn the Mutual Promotion on, your Social Rabbit will start liking, following and commenting pages of other Rabbit owners on Instagram and Pinterest. And what's even better, they will do the same for you. It is hard to imagine how your reach and a number of followers will increase!
Social Rabbit's opportunities: Facebook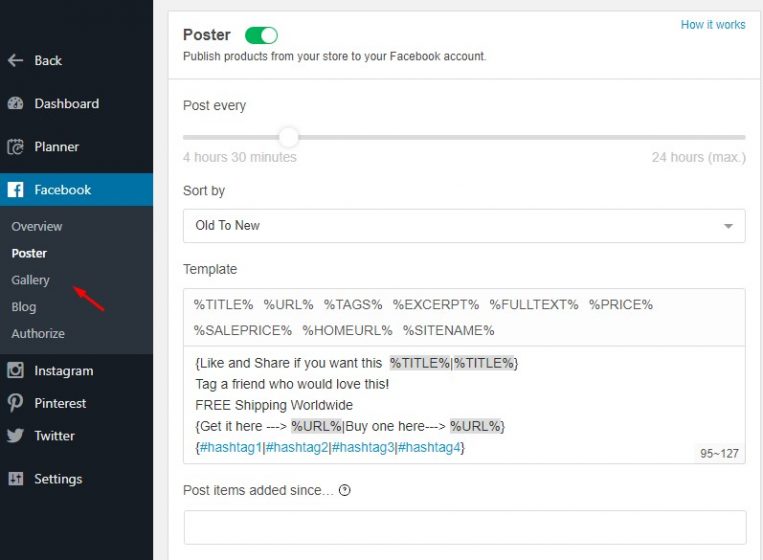 As you may know, Facebook has changed its policies recently. There were problems with this social network: Social Rabbit's clients couldn't use Facebook for posting and promoting.
Of course, we couldn't just let it go! Our team did all the possible and impossible things to reconnect the plugin to Facebook again!
Also, we've ensured that your Facebook account won't be banned. Social Rabbit meets all the recent requirements.
In addition, for your convenience, we've added an opportunity to authorize in your Facebook account within the plugin. So now you don't have to create an app on Facebook.
Social Rabbit's opportunities: Instagram
Instagram is one of the most effective social networks to promote your business. Besides, it has a lot of new functions such as Stories and Swipable Carousel. Of course, we've implemented them in the Social Rabbit plugin to improve your Instagram automation.
Let's see what updates we've got.
Expanded search: use tags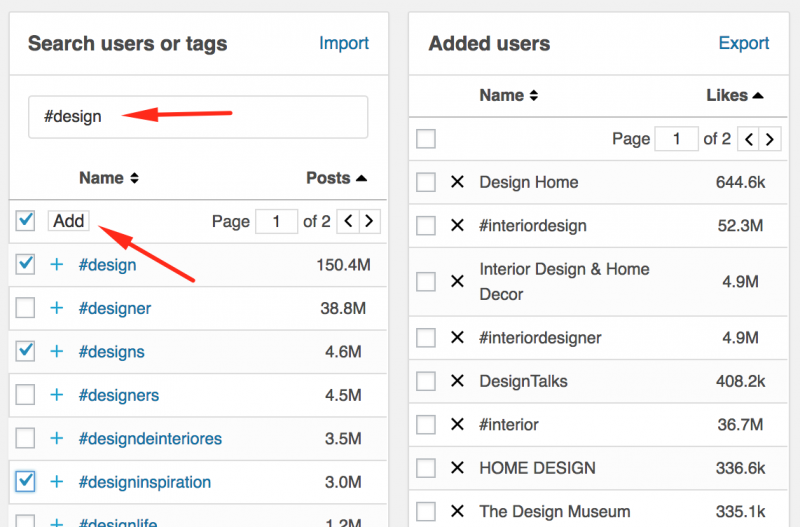 Hashtags are used not only for reaching your audience. It is also a great search tool. That's why we've added a function of searching accounts on Instagram via hashtags. You can use it in Grabber and Promoter for finding relevant people.
Instagram Stories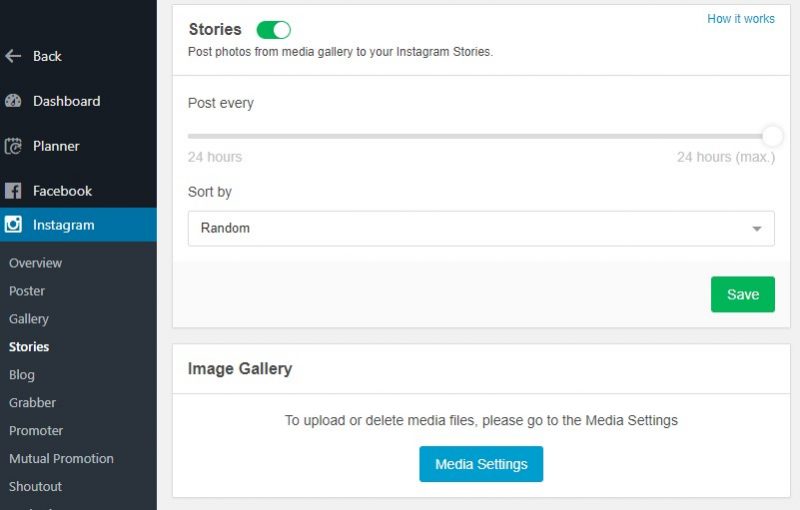 As you may guess, with the help of the Stories tool you can post media files to your Instagram Stories. Sounds logical!
It's a great way to improve your promotional efforts and increase sales.
Besides, you can use both pictures and GIFs for such publications.
Post up to 10 photos in one publication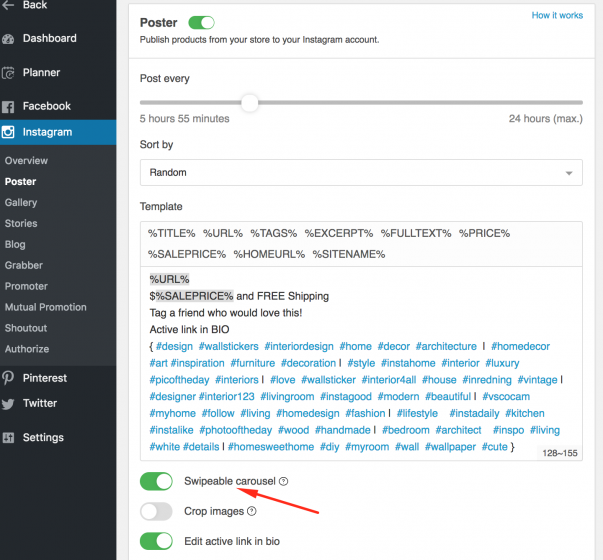 Do you want to post more product's images to show all its advantages? Don't limit yourself! Use the Swipeable Carousel tool.
The Social Rabbit plugin allows you to attach up to 10 photos to one post. This way, your clients can examine all sides and/or variations of the product – and have no doubts left.
Start promoting your business right now! How can you hire Social Rabbit?
Actually, it is as easy as ABC! All you need is to go to the Social Rabbit website and hit the "GET THE PLUGIN" button. And you will get your Rabbit in a few seconds.
What's next? Let's install the plugin. It won't be a problem with a detailed guideline which will come after the purchase right into your mailbox. Also, you may explore the knowledge base here.  
And if you want to save even more time and efforts, the Social Rabbit support team will provide the plugin installation and setup service. Click here for details.
If the Rabbit is already working on your website, you need to visit the Updates section on the Social Rabbit plugin page and download the latest plugin version for free.
From this moment on, you will enjoy all the new features and advantages of the plugin!
Our team wishes you Good Luck! Don't hesitate to contact our support managers if you have any problem.