10 Best Instagram Accounts To Learn From
If you have a business account on Instagram, probably, you already know that this social network is pretty effective for promoting any venture. But, you might agree, sometimes, it's really hard to understand what you should post to get the most out of Instagram. That's why, in today's article, we will go through 10 amazing (and popular) Instagram accounts and find out which of their tactics and tricks you can use for your marketing strategy.
Social media networks are one of the best ways to spend your leisure time: you can chat with friends, learn news, have fun, etc. But what is more important for online entrepreneurs, you can promote your business (or even yourself) pretty effectively there!
To date, Instagram has become a home for many businesses who are eager to spread the word about their products and services. If you are one of them, you must be curious about methods and tricks that popular brands and bloggers use to gain so many followers. Let's learn from the best together!
We've decided to study 10 well-known accounts (we bet you heard of them, too) to find out what you can add to your marketing strategy. Well, make a cup of coffee and get ready to uncover several secrets for your business success!
Is it really useful to learn from other Instagram accounts?
Let's suppose, you already have an Instagram business account. The next step is to make this account attractive and captivating for potential customers.
Once you signed in to Instagram, you have a lot to do: fill in your profile, write a catchy bio, upload photos, and create posts. But how to understand what is trendy now? What should you post about? What will be better to add to your bio? And, finally, how to promote your products and services on Instagram effectively?
To find answers to all these questions, you should go to other popular Instagram accounts and do a little research. Plus, while you are looking through their posts, you can come up with the ideas for your own posts. In other words, you can get a DEEP understanding of what you should do to draw Instagramers' attention and grow your account.
You might say that you can find all this information on the Internet, and you will be right. Still, spending hours studying tons of information is one thing, but seeing how it looks in real life is much more beneficial. That's why we suggest you get a quick glance on this list of 10 best Instagram accounts.
10 popular Instagram accounts to learn from
We don't want just to present the list of Instagram accounts. Actually, you can easily find it on your own just googling something like "Most popular Instagram accounts". We want to give you practical information which you can adapt to your account and benefit from it.
This list isn't just a list. This is an analysis we've made specially to share with you. If you are eager to make your business grow at a rapid pace, the list below is going to be a must-have for you!
Cristiano Ronaldo
Of course, you have heard of Cristiano Ronaldo. This is one of the best football players in the world. But there is something you might have missed – Instagram account of Cristiano has 237 million followers! This is the biggest number of subscribers all over Instagram (except the account of Instagram itself that has 363 million followers). 
Well, it won't surprise anybody Cristiano promotes various brands and products on his Instagram account. One of them is CLEAR.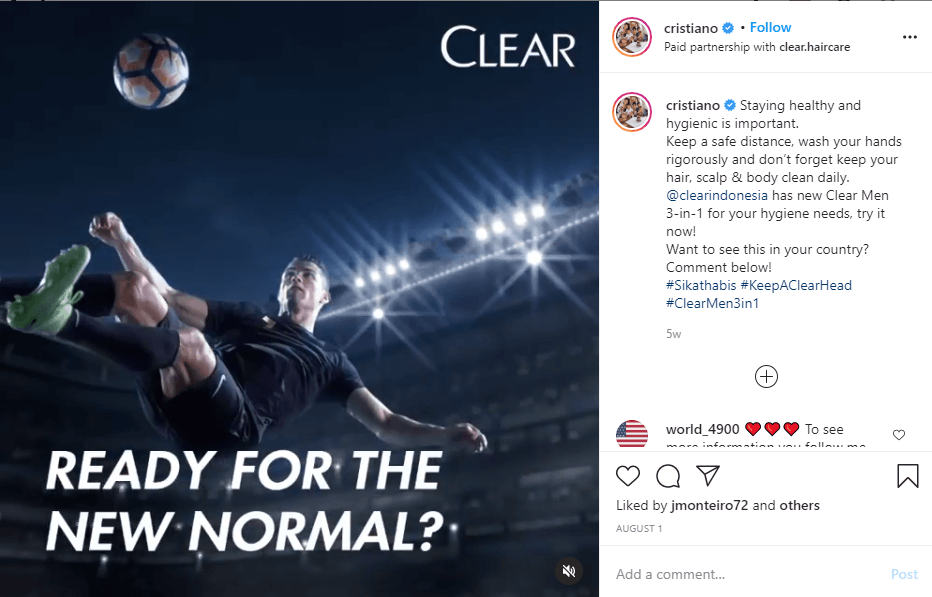 Can you imagine how many Cristiano's fans will rush to shops to get this new 3-in-1 product?
You might know Cristiano isn't only a good football player, he is also a quite successful businessman who owned a brand which is called CR7. And, of course, he actively promotes CR7 on his Instagram account.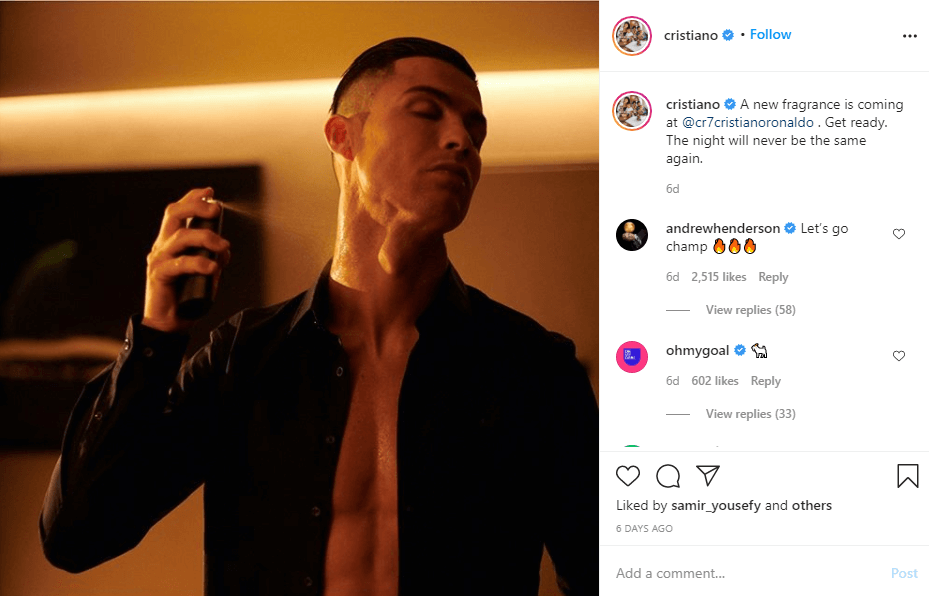 For example, recently, Cristiano has announced that a new CR7 fragrance is coming. We bet, even more of his fans are waiting to get this eau de toilette.
But perfume isn't the only CR7 niche. You will be surprised! Ready?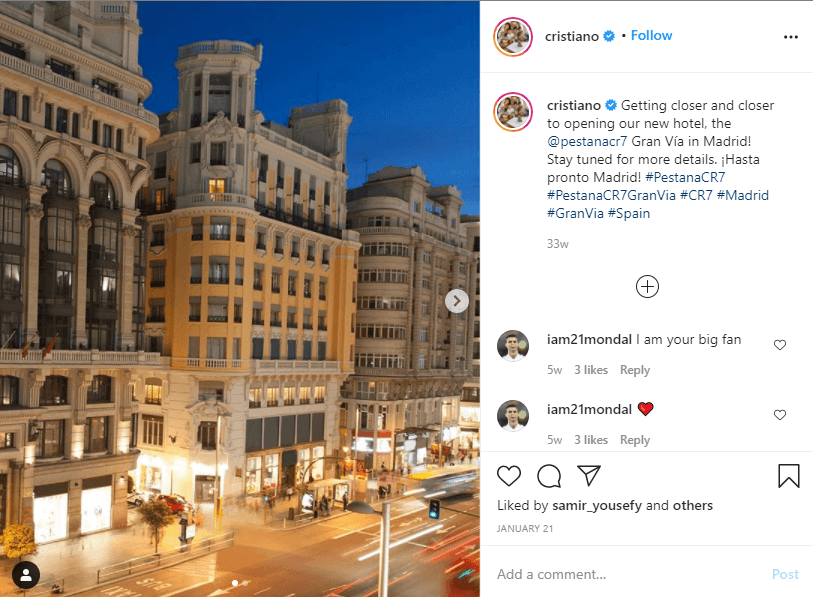 Yes, CR7 also has a hotel chain in different counties. Look at the post above. This is a recently opened hotel in Madrid! Cristiano holds a lot of events in hotels to increase brand awareness and make CR7 and all its products and services even more prestigious.
What did this small review of Cristiano's Instagram account give us? And what can you take for your business promotion as well?
Obviously, Cristiano has a wide range of interests. He invested money in perfume, hotels, sports equipment, etc. He is a great example of the smart dividing of fortune. This is what we can learn from him. Don't get stuck with one niche or business model, experiment around, test other directions while your current business is working.
Also, don't be shy to tell your followers about your success and achievements. How can they learn that you are going to release some new collection if you don't say anything? Plus, such a tactic will also boost the trust level of your brand. New arrivals, awards, reviews, or small wins – all these news must be highlighted on your Instagram account to prove your competence and client-oriented approach.
Balenciaga
Balenciaga is a famous fashion house which is producing shoes, bags, sunglasses, clothes, etc. 
Before 2018, their Instagram account looked very stylish as befits a fashion brand: high-quality photos and impressive models.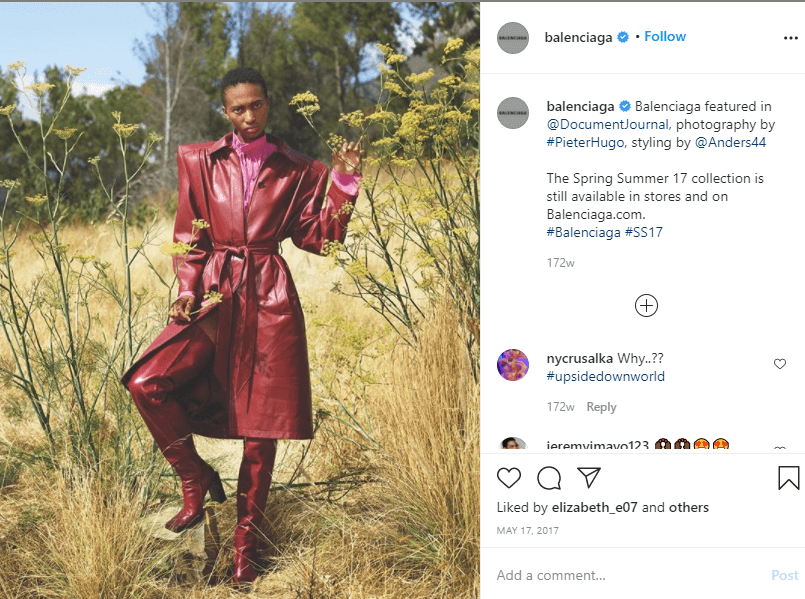 But everything has changed. And now, Balenciaga can boast an extraordinary Instagram marketing strategy. This is how they promote their products now: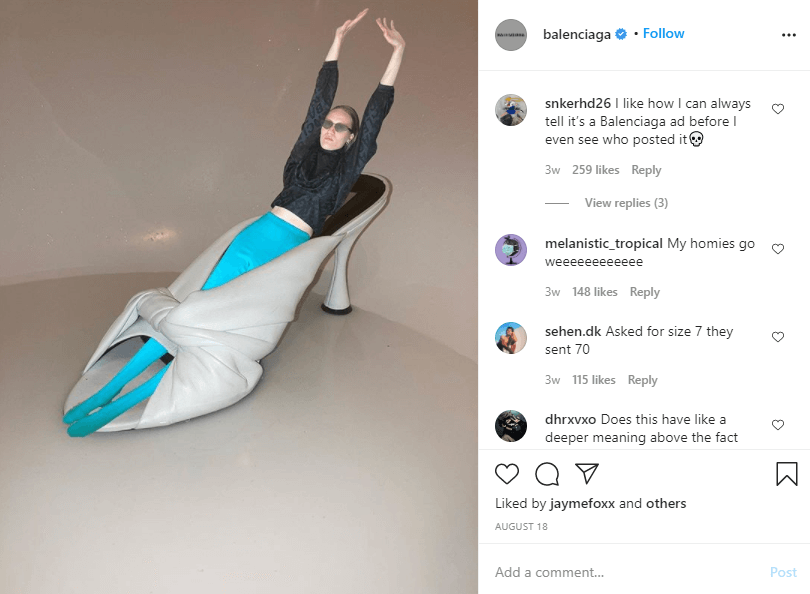 Somebody might say that is awful, somebody might call it ugly but who cares if their posts still gain hundreds of likes and comments? Yes, this is a bold approach for running an Instagram account. But it turned out to be quite successful. Plus, Balenciaga has always been known as a manufacturer who never conforms to any standards in the industry.
When they posted the first post within this strategy, they got a huge hit: a lot of fashion digital magazines wrote about it that made Balenciaga even more well-known and popular. Even those people who hadn't heard about this brand went to Instagram to see their new posts with the shots like this: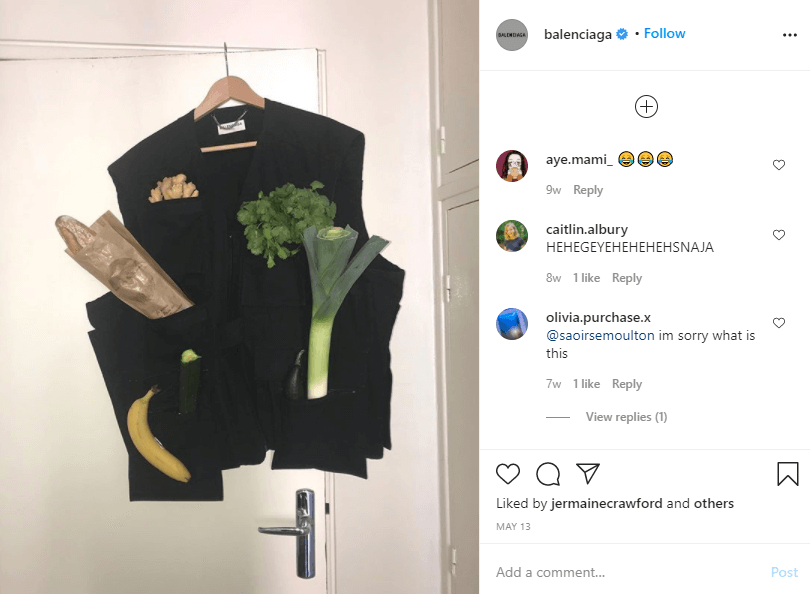 What can you get from Balenciaga? Don't be afraid to try something new and be creative! At least you will make people curious about your brand and Instagram account as well, so they won't have any chance not to follow you.
NASA
The third Instagram account on this list belongs to NASA. This is the US agency whose goal is to explore our planet and space. And their Instagram account is like a collection of amazing shots of our incredible universe from various angles! We are not alone in our opinion. NASA's Instagram account has more than 60 million followers!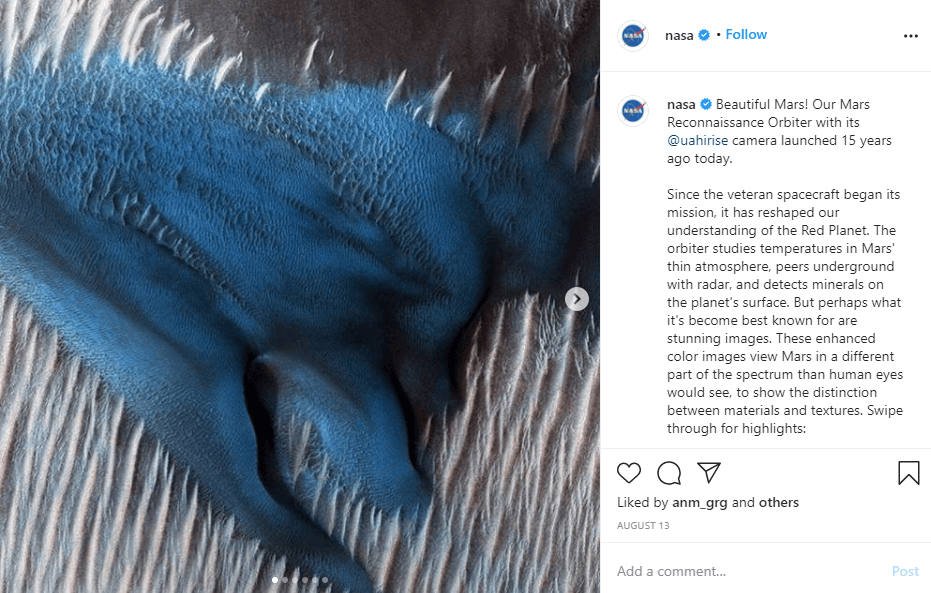 In fact, their account is not just a collection of stunning photos of different planets and stars. This is a real encyclopedia of the universe! Their posts educate people about the space and give them a clearer picture of where we live.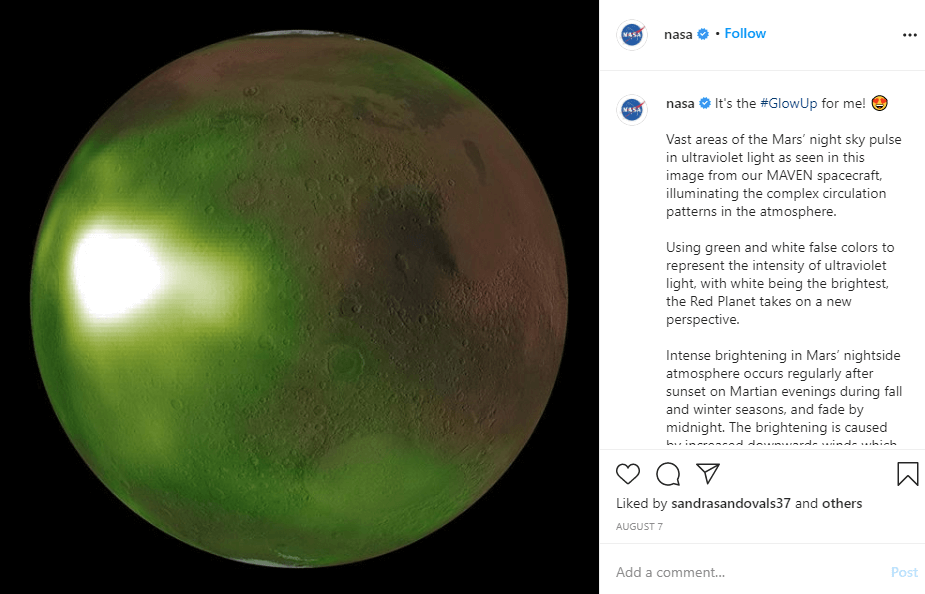 If you think there is nothing to learn from NASA, we don't agree. Of course, it would be strange if you start posing images of planets on your Instagram account of a pet's accessories store. But, you still can teach your followers and provide them with interesting and educational information related to your business niche. It will give additional reasons for people to follow you.
GoPro
The next brand on our list is GoPro. This company is famous for its portable action cameras. Its account has more than 17 million followers. How can they gain such an enormous number of followers? Let's find this out!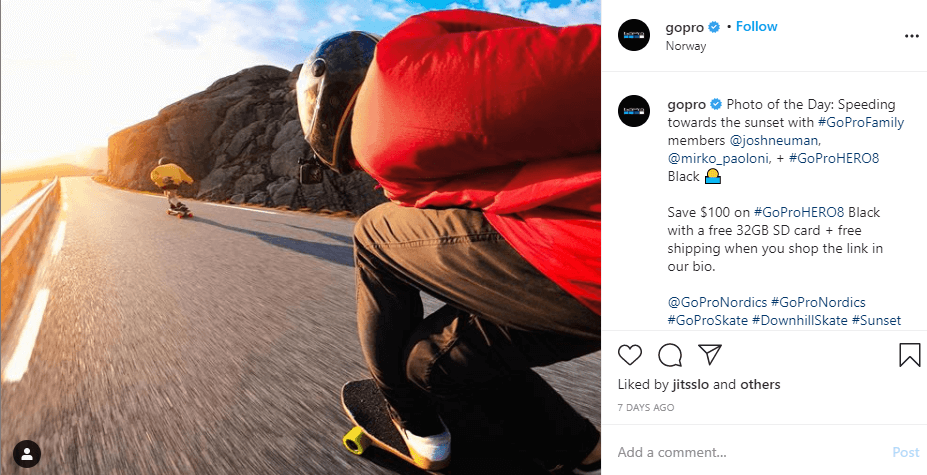 First of all, in its Instagram marketing strategy, GoPro focuses on breathtaking images. Such photos do not just impress followers around the world, they have a secret goal – show how GoPro's cameras work in real life!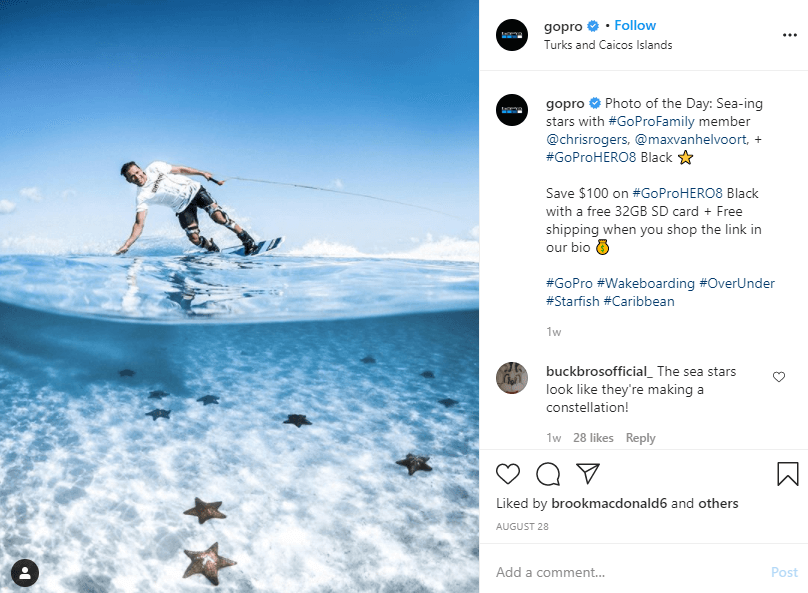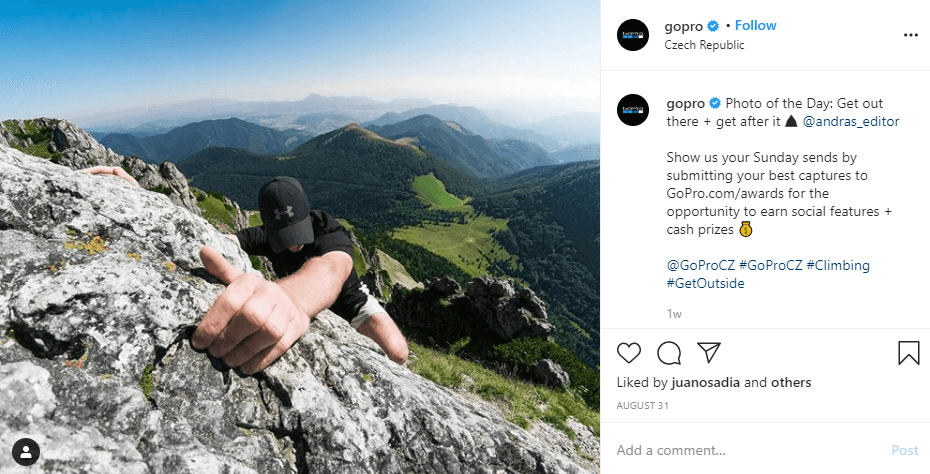 It doesn't matter where you are: in the middle of the ocean or at the top of the mountain, GoPro provides you with the best shots and helps you save these memories for the future.
Plus, almost all the images in GoPro's Instagram account were made by the company's "family members" – their users. This is also a great strategy to keep followers engaged and involved in the brand's life.
You can use these tips for your marketing on Instagram. Remember about the power of content and use your images and posts to show all the features of your products and all the benefits your customers can obtain.
Nike
Is there a person in the world who hasn't heard of Nike? This is one of the most famous sports brands which Instagram account has more than 120 million followers. 
Let's look at their account to see what we can learn from their strategy!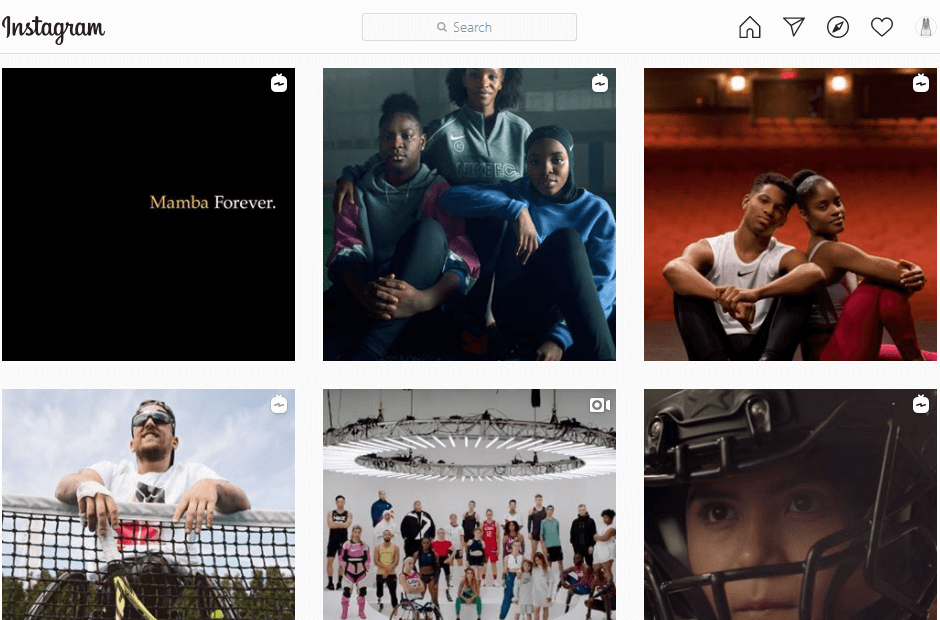 See? Look closely. Almost all their posts are videos! And what is the most engaging and popular type of content nowadays? Of course, videos!
The content of Nike has always been inspirational. They tell about sportsmen and sportswomen, they show the moment of maximum effort and, of course, the moment of victory. This is why people love Nike. Just do it, and you can achieve whatever you want.
Plus, when you look at the photo or watch a video on Nike's Instagram account, you will never forget on which page you are now: the logo of the company is literally everywhere!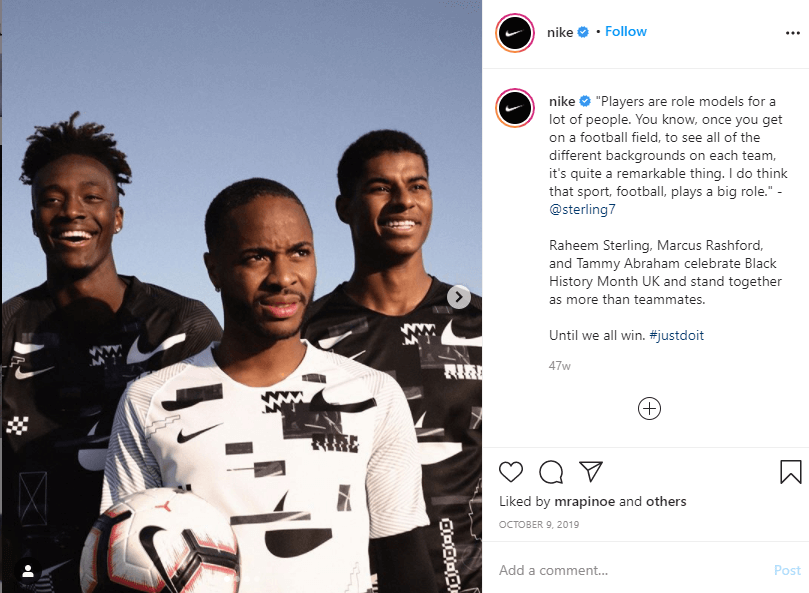 What can you get from Nike? First, don't refuse to use videos! By the way, if you need help with Facebook & Instagram video ads, our marketing team will be happy to assist you.
Second, don't be shy to showcase your store's logo! The more you highlight it, the better your followers remember it.
David Beckham
David Beckham is one more famous football player on our list. He has 60 million followers on Instagram. As a celebrity, David Beckham actively promotes several third-party brands, such as TUDOR. This is a watch manufacturer from Switzerland. 
He also collaborates with the Haig Club company.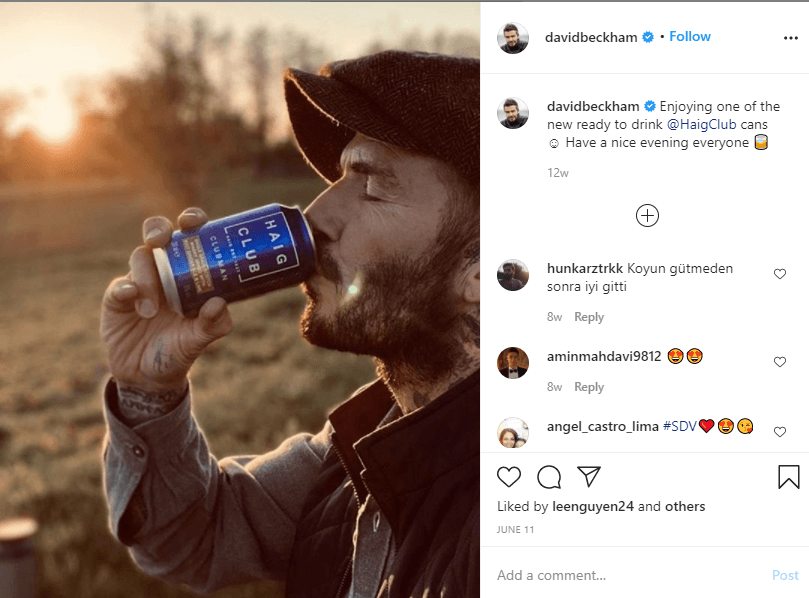 Of course, on his Instagram page, David Beckham also promotes (surprise, surprise) his own brand of sunglasses! And, obviously, he is really proud of his brand and wears it in his everyday life.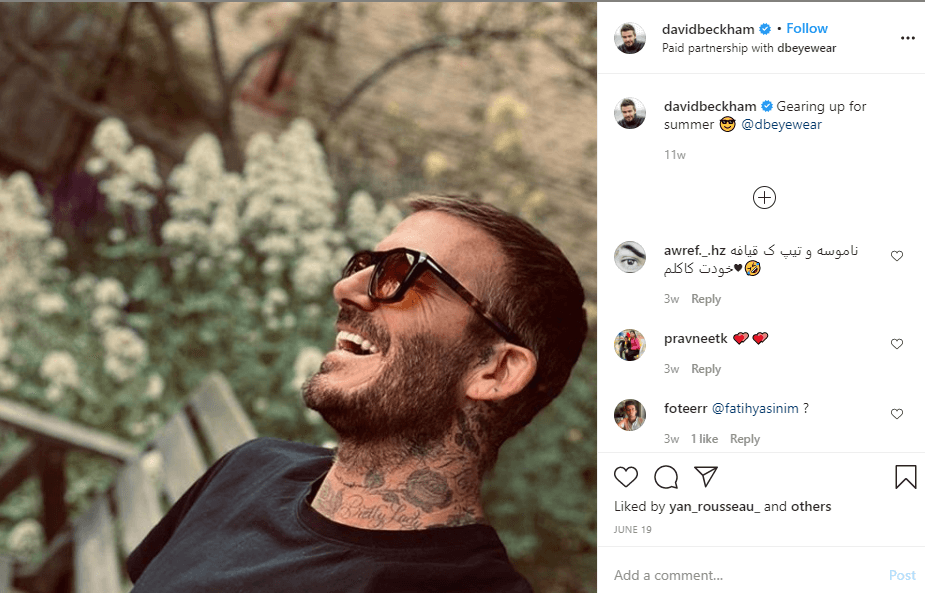 Actually, if you look at the Instagram account of David Beckham, you will see that there is an effective method of promotion. All the products (both his own and third-party's) are shown in use. He wears watches and sunglasses, he drinks the beverage, and he demonstrates it on his page.
This is what you can do for your business, too. Show your followers and potential customers how they can use your products. You don't need special decorations or professional equipment for such content. Just get your item and make a photo!
FedEx
FedEx is the US company providing delivery services. And its 1.9 million-followers Instagram account is really impressive. In fact, it has the same approach as David Beckham – show their everyday routine. This definitely helps to stay closer to their customers and show the "face" of the brand.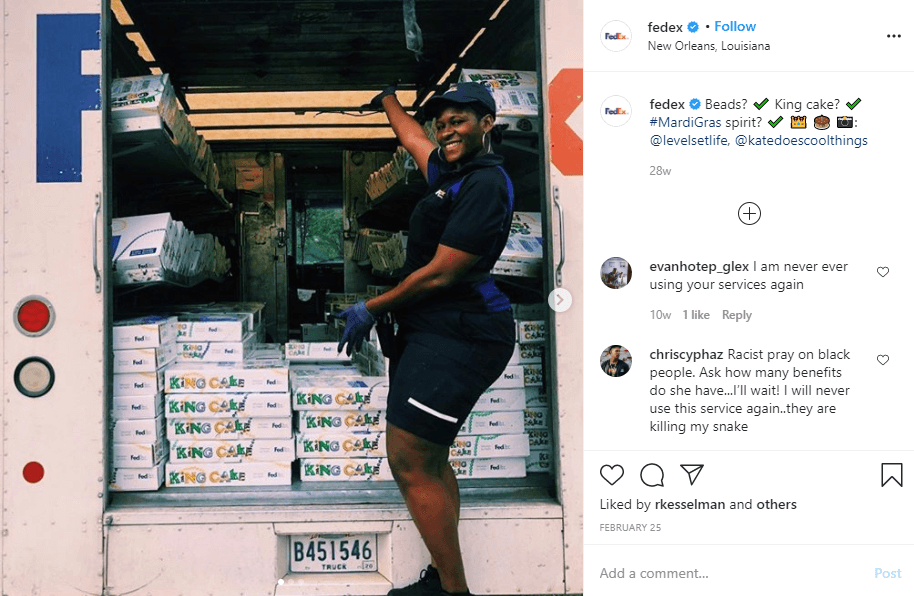 But, there is one more tip FedEx uses to win followers' hearts! They make their posts cute! Just open FedEx's Instagram account and the first thing you will see is a nice puppy or a smiling child. Who can resist this nicest post and don't give it a like?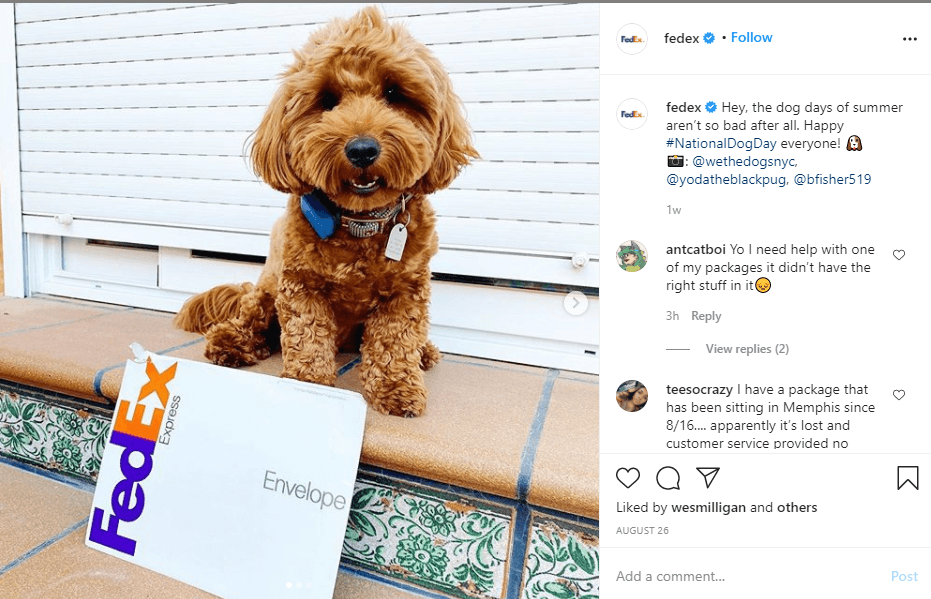 This is what you can learn from FedEx: make your content cute, show your behind-the-scenes, and stay positive! It will help you build emotional connections with people and gain more likes and comments on your posts!
Trader Joe's
Trader Joe's is the US grocery store chain. You can be surprised but its account has more than 2 million followers! That's a good job for a grocery store, isn't it?  
If you have a general ecommerce store, you definitely should learn how to promote various products on one Instagram account from Trader Joe's.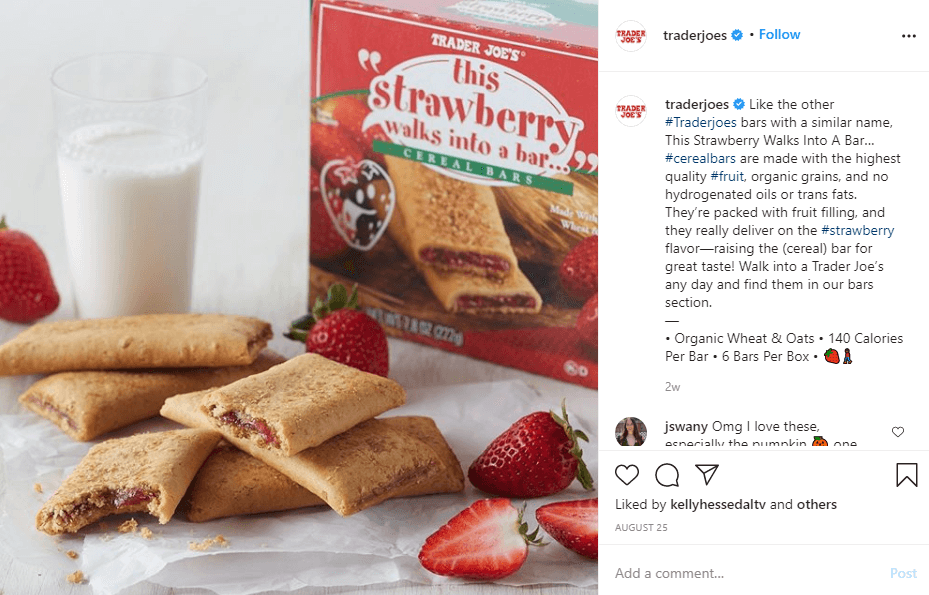 Look at these tasty photos! Their main content strategy is to show different meals which were made with the products from Trader Joe's store.
To keep followers even more engaged, they also post fun posts like this: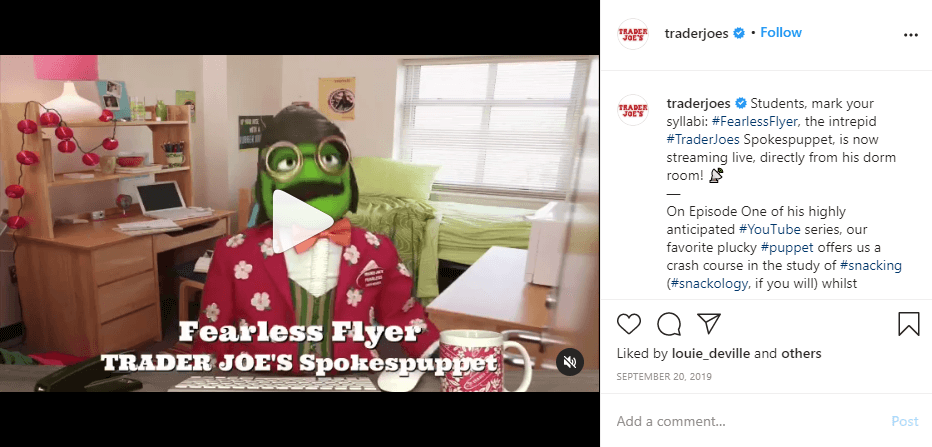 And, of course, they don't forget about the holidays! When the time is coming to, let's say, Halloween, it is always a wise idea to rethink your marketing on social media.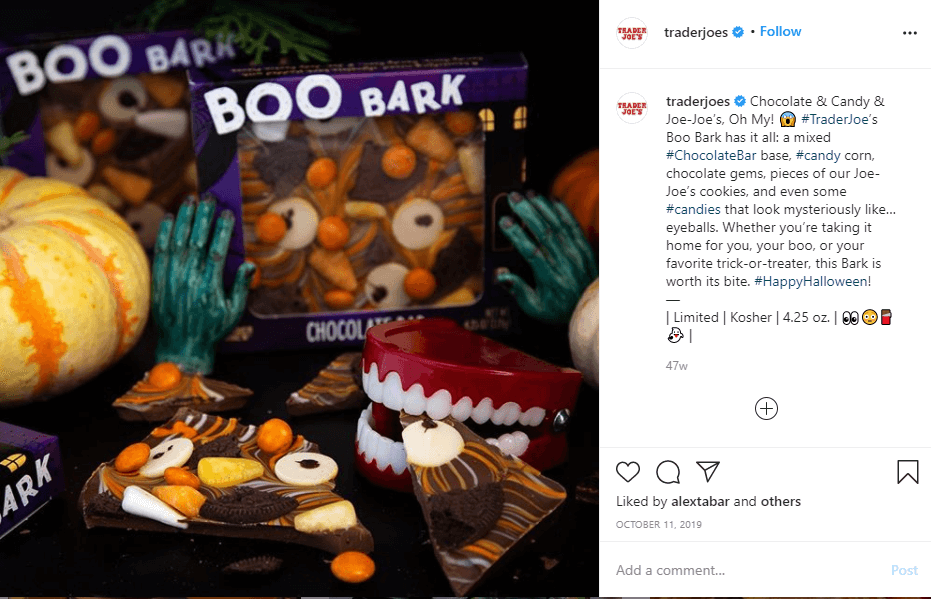 From the example of Trader Joe's, we see that we must always remember that quality photos still matter and gain a lot of likes even if your business is a grocery store. Spice this up with a bit of humor and seasonal marketing, and, well done, your Instagram account became more attractive for Instagrammers!
General Electric 
General Electric is a world leader in power generation and water technologies for utilities, independent power producers, and industrial applications. It specializes in different business fields: aviation, health, healthcare, renewable energy, etc. But, as you might understand, the company has a narrow target audience on Instagram. 
But this fact didn't prevent them from gaining about 500K followers. How could they attract all these people?
Their Instagram marketing strategy is close to the FedEx's one – they show their business from inside and in detail.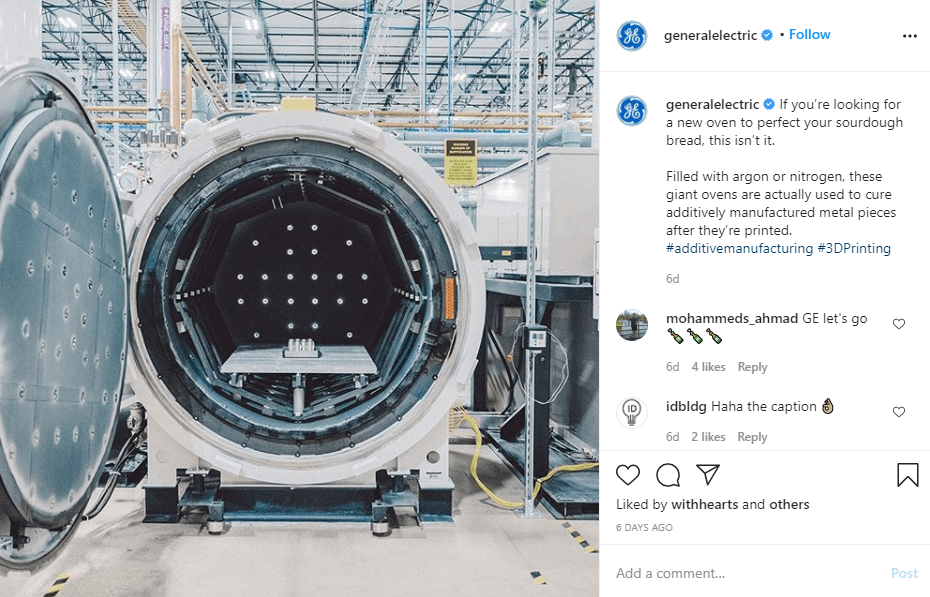 Have you read this fancy caption? This is one more reason to follow General Electric. Here is one more: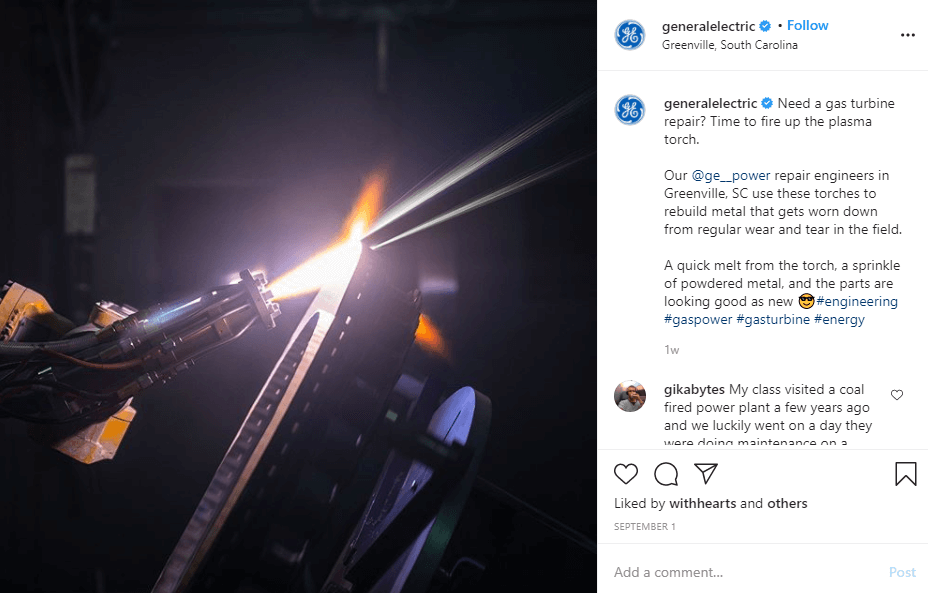 What really helps this company stand out from the crowd is their takeovers. General Electric allows its team members to tell stories on the official accounts. This way they demonstrate their specialists, how they work, and what they think about their job.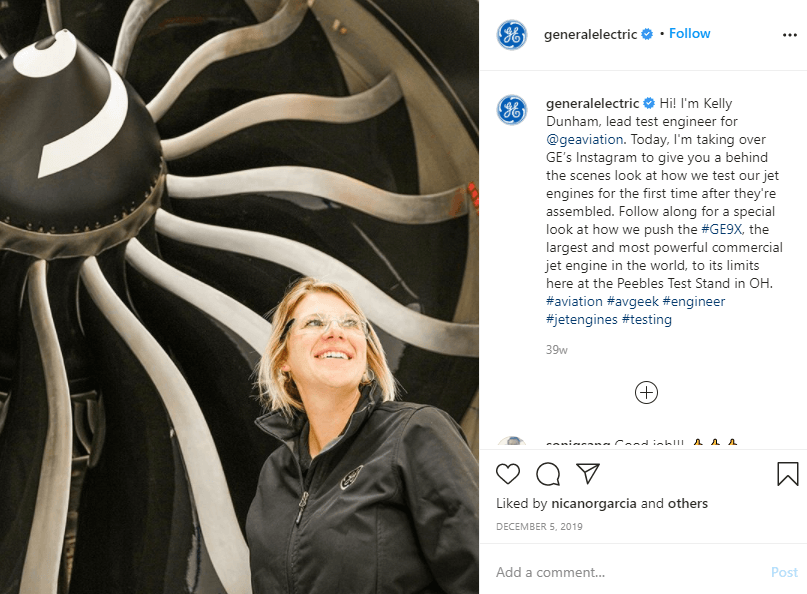 General Electric's experience shows that providing customers and followers with a better understanding of your business' internal operations is a great idea. Of course, you should pick up the most interesting or most important parts of your business routine to engage your followers.
3M
Meet the last Instagram account from our Best Instagram Accounts list! This time we are going to tell you about 3M. Its Instagram account has 169 thousand followers. By the way, have you heard of 3M? You will be surprised but we are sure that even if you don't know 3M, you probably use their products especially taking into account the pandemic situation in the world. 
3M is a company operating in the fields of industry, worker safety, US health care, and consumer goods.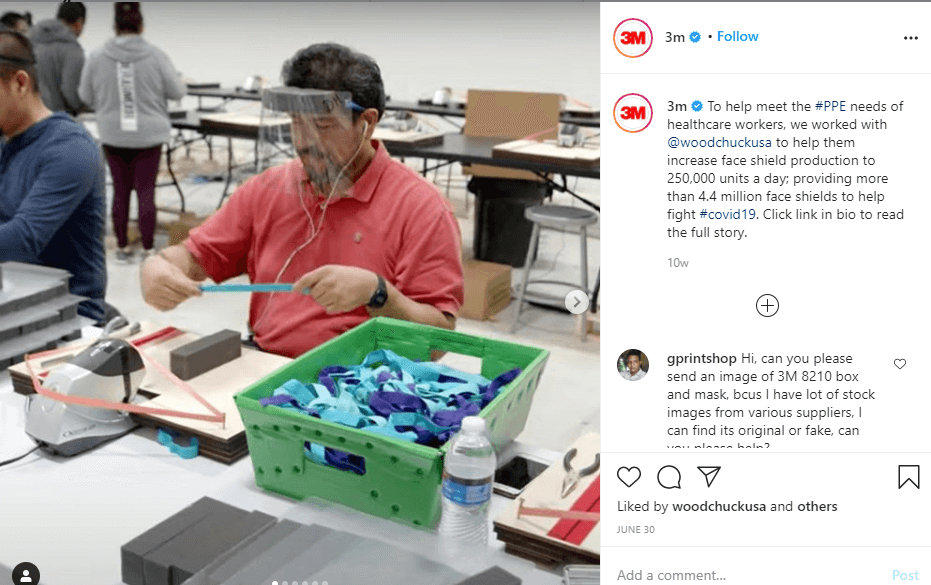 Like General Electric, 3M doesn't have a wide target audience on Instagram. But their approach to running their Instagram account is bearing fruits.
In their posts, they tell people about their input in people's lives. For example, here they spoke about the contribution to producing purifying respirators to help healthcare workers to fight with COVID-19.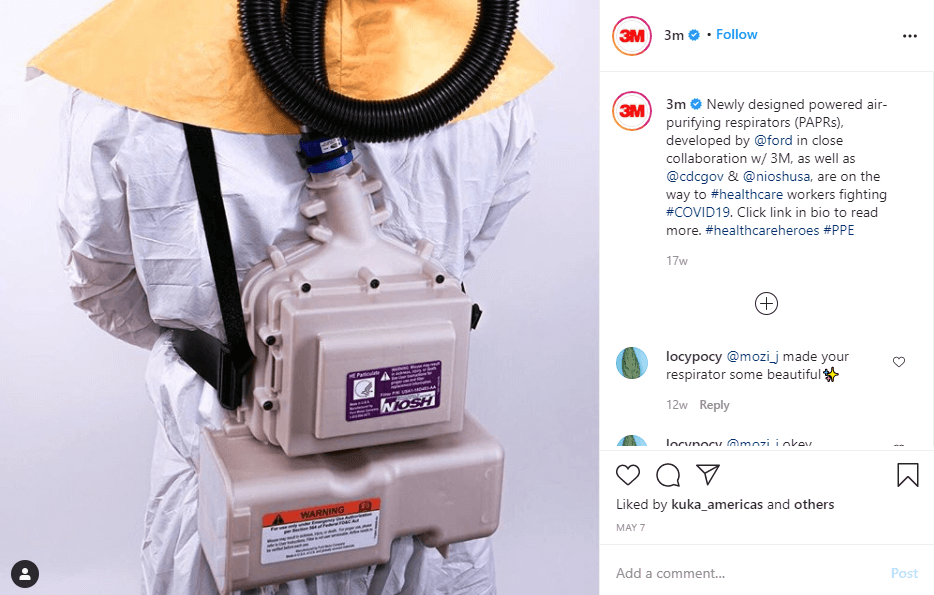 When you think of your content strategy for an Instagram account, try to add information, photos, and videos that are going to have some practical significance for people and their everyday life.
Best Instagram accounts to learn from: wrapping up
When you surf Instagram (or another social network) during your day, pay your attention to the content you see. It will help you find new ideas for your posts or even for the whole marketing strategy. This is extremely useful for both personal and business accounts promotion.
We were glad to show you these 10 best Instagram accounts to learn from. All these companies, brands, and people have made an impressive way to gain their popularity, and we are sure you can do the same!
Which of these recommendations will you take for your marketing strategy? Share your thoughts in the comments below or ask any questions!
Here we are! We hope this analysis will be helpful to you. You can use it as a source of inspiration or a practical manual, it's up to you. If you need help with growing your social media presence, we are always glad to give you a hand.