How To Create The Perfect Facebook Ads That Sell: 12 Easy Steps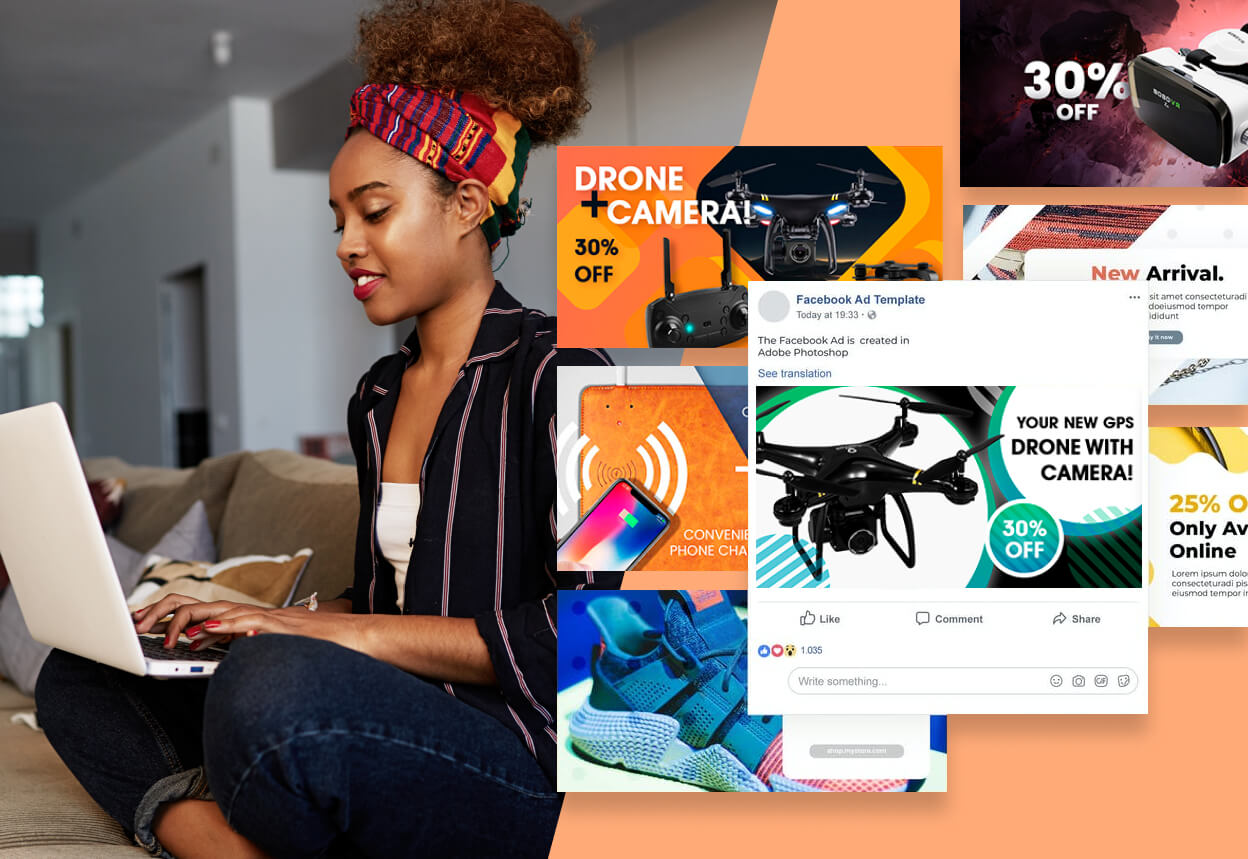 Any ecommerce entrepreneur (even a newbie) knows that if you need to promote your online venture, the best place for it is Facebook. To use this powerful marketing tool in full swing and create the perfect Facebook ad, you should learn effective strategies and techniques.
We have a vast experience in social media marketing, and in this article, we will share our best Facebook ad tips that help you create your own perfect (and powerful) campaign.
First things first: pick up the right product
What is the right product to promote when the time comes to creating a Facebook ad? It's a trending one! As an online entrepreneur, you always should keep your finger on the pulse. Your goal is to catch a trend when it's gaining momentum but before it reaches the peak: after the peak, the trend always goes down.
Make sure to browse Instagram accounts of the brands relevant to your business, go through fashion magazines, check out the latest news. Simply speaking, be informed about what is going on in your niche.
Of course, there are several tools that might be useful at this stage.
AdSpy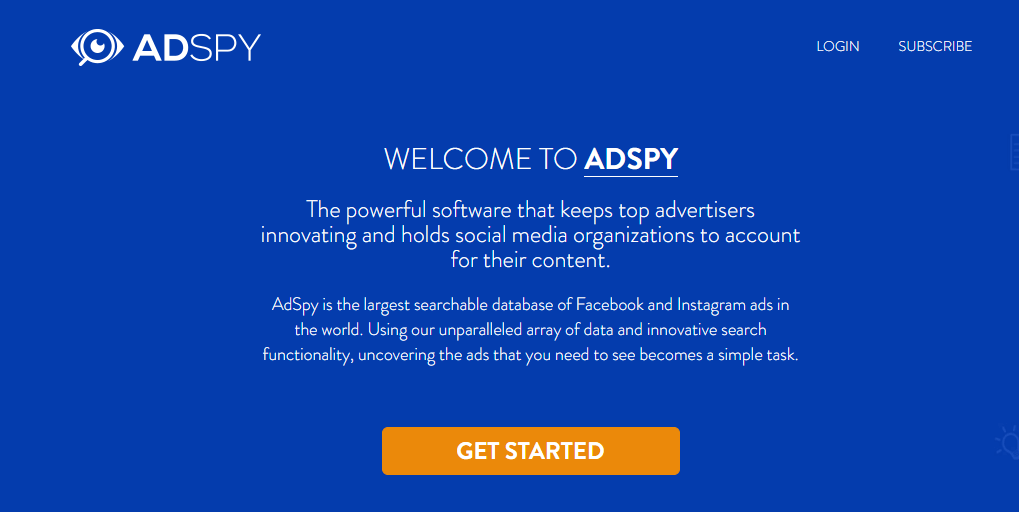 This is always a wise idea to learn from the best, right? AdSpy allows you to do exactly that. This is an ad database where you can find Facebook ad materials of various companies: as really popular brands, as small local stores (of course, if they use Facebook Ads).
You can also check the promos your competitors are using to see what products have the highest potential in your business niche now.
Google Trends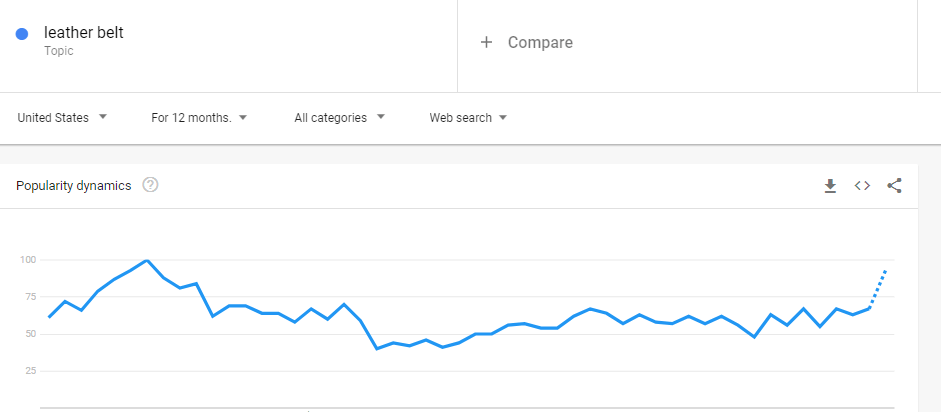 Probably, you already heard about this tool. Google Trends can show you how the number of search queries has changed over time. You can test certain item keywords to see what is in demand. Here is the simple math: the more people google a given product, the more popular it now.
Make your ads unique
Your ads should stand out to catch your potential customers' attention. If it looks like everything they already saw, how will they remember your brand?
People tend to perceive information with their eyes. That's why this is really important to take care of the appearance of your Facebook ad. The rule of thumb for creating a good promo is to use high-quality images with bright colors.
We'd also recommend adding images of people to your Facebook ad design. According to recent researches, this little hint can increase conversions by 35%!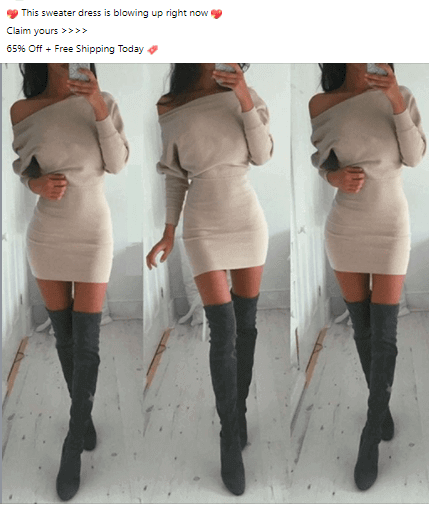 Play with a sense of urgency
Nobody wants to miss out on a good deal! And you as an online business owner can benefit from this fear. Add a bit of urgency to your Facebook ad to nudge people to act now.
There are many various phrases you can use to evoke urgency. The most widely used are "limited time only", "flash sale", "only today", "hurry up!", etc.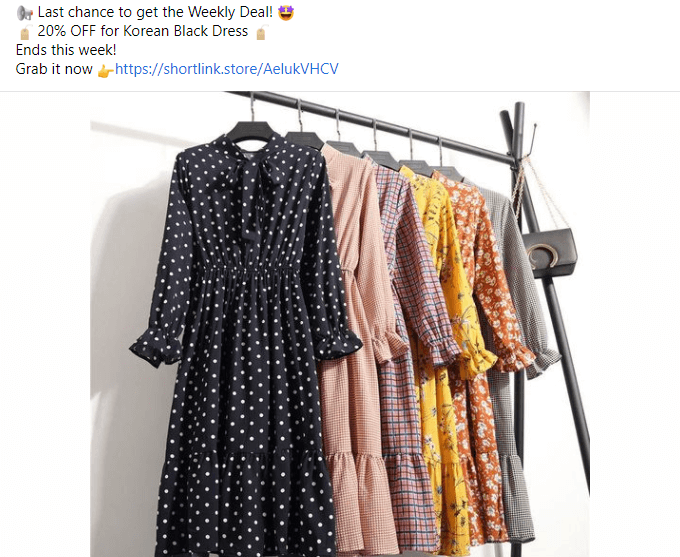 Catch attention with curious headlines
One more way to make your potential customers interested from the very first second as they saw your ad is to write an intriguing headline.
When you create your Facebook ad, think not only of its appearance, but also about a text that should be provocative as much as possible to make people stop scrolling their newsfeeds.
Offer not a product, but benefits and emotions
When you are going to buy one more nice t-shirt, your logical side might say something like: "Oh, come on, we already have dozens of t-shirts!".
It could stop you from the purchase because rationally it doesn't make sense. But if the ad for this t-shirt touched your heartstrings, you may buy it impulsively without studying all the pros and cons.
Your customers behave the same. If they notice something more than a boring offer in your ad and come across something valuable for them, they can't resist buying.
In other words, your Facebook ad messages should clearly state what benefits customers are going to get from your product and why they should choose it over those of your competitors.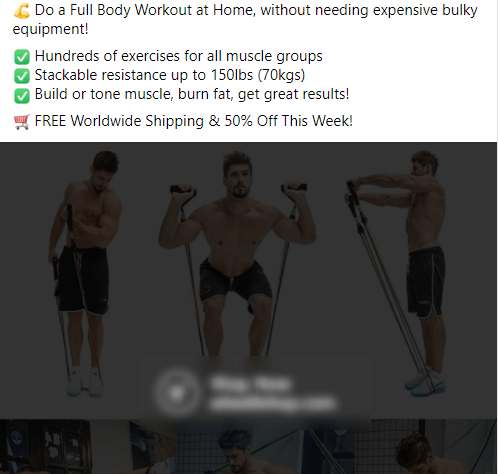 Provide plenty of choices
To give your potential customers various options to choose from, you can use collage or carousel Facebook ads. This way your promo will be even more effective because buyers can see several products at once! If a customer doesn't like these beige trousers, he or she still has an alternative and the chance that he or she makes a purchase is getting bigger.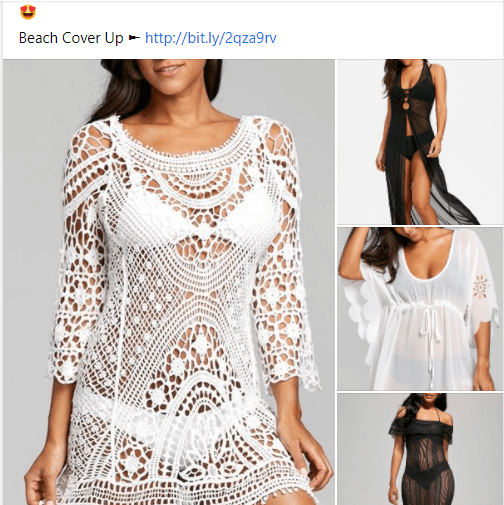 Boost the trustworthiness of your brand with social proof
This is especially important for small or brand new businesses. When people haven't heard of your online store, they can refuse to buy just because they are not confident in what you offer. Simply speaking, they don't trust you. But, breath out! There is a solution.
To boost the trust of your customers, you can leverage social proof in Facebook ads. For example, you can add reviews on your products and services to show that other people enjoyed what they had bought from you. Seeing their rave feedback, people make up their minds faster. \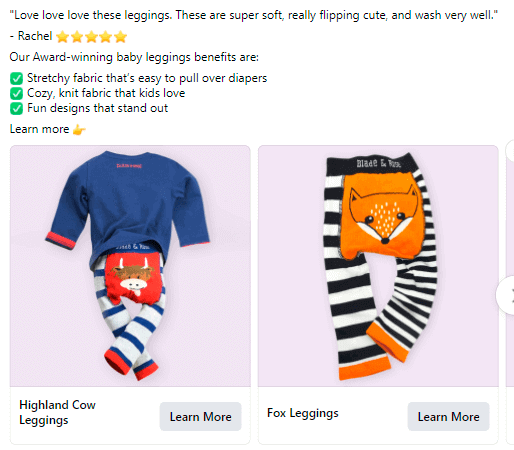 Try videos
It is not a secret that video is the most popular type of content nowadays. People prefer watching to reading, and even social media algorithms show videos higher in the users' newsfeed.
In fact, videos have even more advantages for business promotion:
They are great to present your product in use
They draw users' attention even more effectively than a still image
People trust videos more because they are hard to be faked
If you deсide to use video, we'd recommend you include captions since all the videos on Facebook (and Instagram as well) are muted by default and about 85% of Facebook videos are watched without sound.
Also, don't make a long video, 15 – 30 seconds is enough to show your product and make a customer interested. Of course, it would be better to think of pleasant background music and a catchy headline to boost the effectiveness of your video ad even more!
Set up your advertising objectives correctly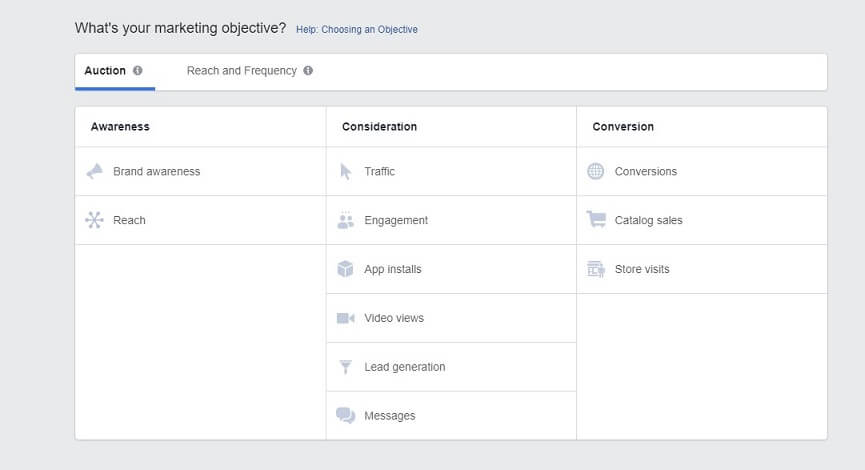 When you create your Facebook ad, one of the first steps will be the selection of an objective for your promotional campaign. Your ideal choice is the conversion objective which allows you to target new and previous visitors based on actions they take on your site – but please note you can use this objective only if you've already had some sales on your site (or at least some events).
There is a likes and comments objective, it is also called PPE campaigns. If you want to test various types of content or several variants of your ad, this objective will be useful. But please note that such a type of campaign doesn't bring sales.
To learn more about advertising objectives, you can read this article. It will help you to spot which one suits your needs and business goals the most.
Target your audience wisely
Obviously, effective targeting is the key to success. Here are several common tips you can use to set up targeting on Facebook Ads Manager more effectively:
Don't target every single person
There is a golden rule: if you target everyone, you target no one.
Study who your buyers are, their age, gender, location but, what is even more important, find out their interests and behavior.
Showing your ads to the right people is a foolproof way to return your investment and multiply your profit. Don't waste money in vain: conduct tests, do research, and find your core audience.
Don't change the settings of your ad campaign after the launch
Before you click "Save", check all your settings! After launching your ad, you shouldn't go into your settings and change anything.
Once you finish the settings of your ad campaign, Facebook starts its learning process (or phase) to study the information and find the best way to show your ad. If you disrupt this process with settings changing, probably your ad performance won't be successful.
So don't try to change your budget, audience, and placements. If you need to optimize your ad, make its duplicate and make changes there.
There is not a common way to success. Every business is unique. That means, what works for one company doesn't necessarily work for another one.
Try different combinations to find your ideal formula to reach at great sales!
Test over and over
As we already said, there isn't a common way to create a perfect Facebook ad for all businesses around the world. So, you will probably need to spend a lot of time on testing to find your winning product and strategy.
Select a product, create ad materials for it, choose the target audience, and then monitor the results.
And even when you finally find your top product, you shouldn't stop testing! With continual tests, you will be able to find new advertising techniques, learn new tips that work for you, and increase your profits even more.
An important point in testing is that a bad result is also a result. If you lost your money, analyze the ad, and find out why it might have happened, you win anyway. This knowledge will help you not make this mistake again and earn more in the future.
Don't break Facebook Policies and Rules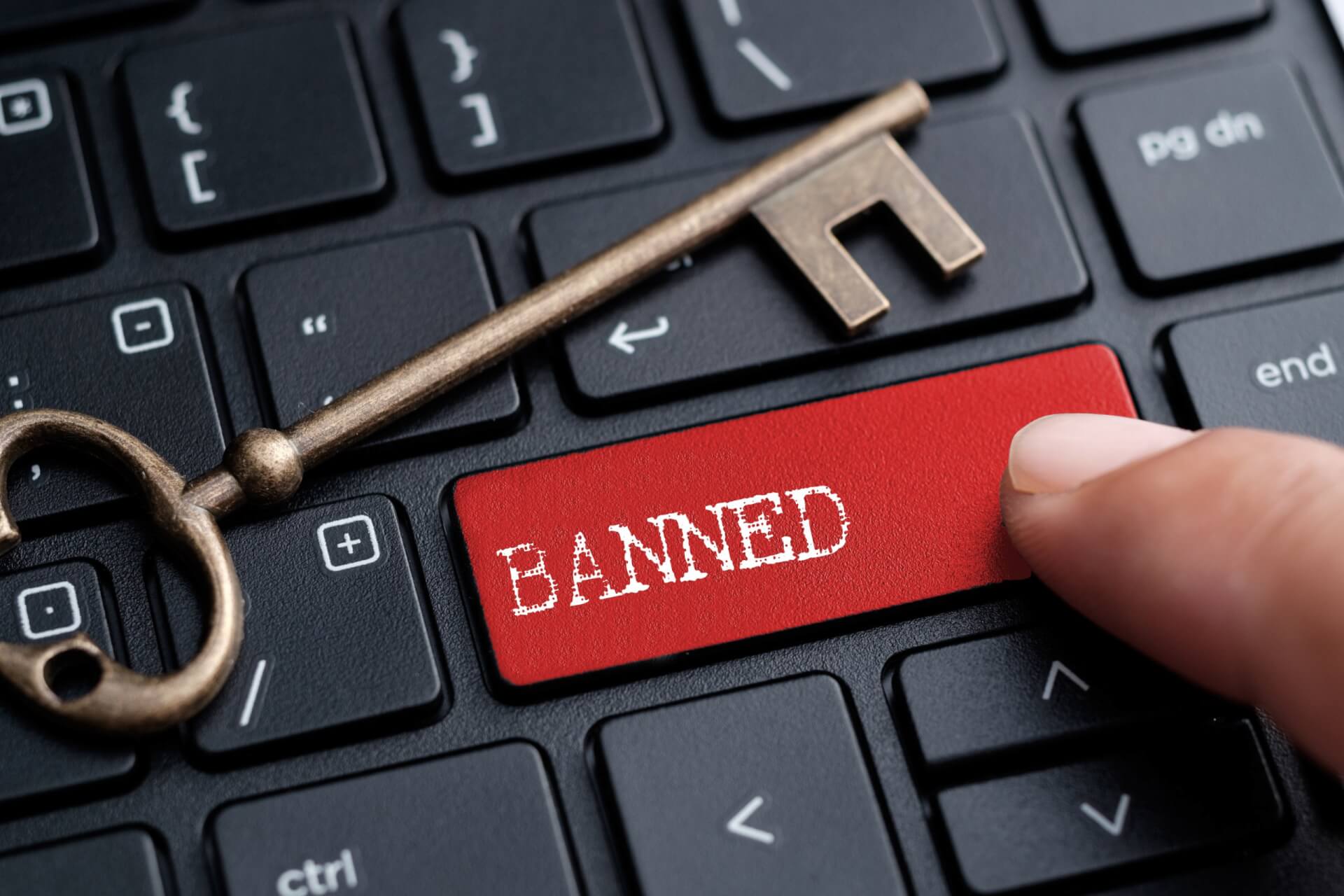 We bet you heard thousands of stories about how Facebook banned some pages or personal accounts. If you don't want to be among them, you should go through them and always keep Facebook Advertising Policies in mind.
Obviously, you can't promote illegal services and products, weapons, ammunition, explosives, adult products. Plus, when you set up your target audience, don't use such attributes as race, ethnic origin, religion, beliefs, etc.
Also, there is a requirement that your ad image shouldn't be covered with the text by more than 20%. Otherwise, this ad will be denied.
Well, we went through all the 12 steps to create the perfect Facebook ad. Wrapping up, we want to tell that the secret of successful advertising is experimenting. The more tests you are conducting, the better you understand who is your target audience, and what is interesting for them. And that means, your sales will grow as well! 
If you are not ready to run your Facebook or Instagram ads on your own, we will be happy to give you a hand. There is a wide range of marketing services on our website including Facebook and Instagram Ads packages.
Share your opinion or ask questions in the comments section below!